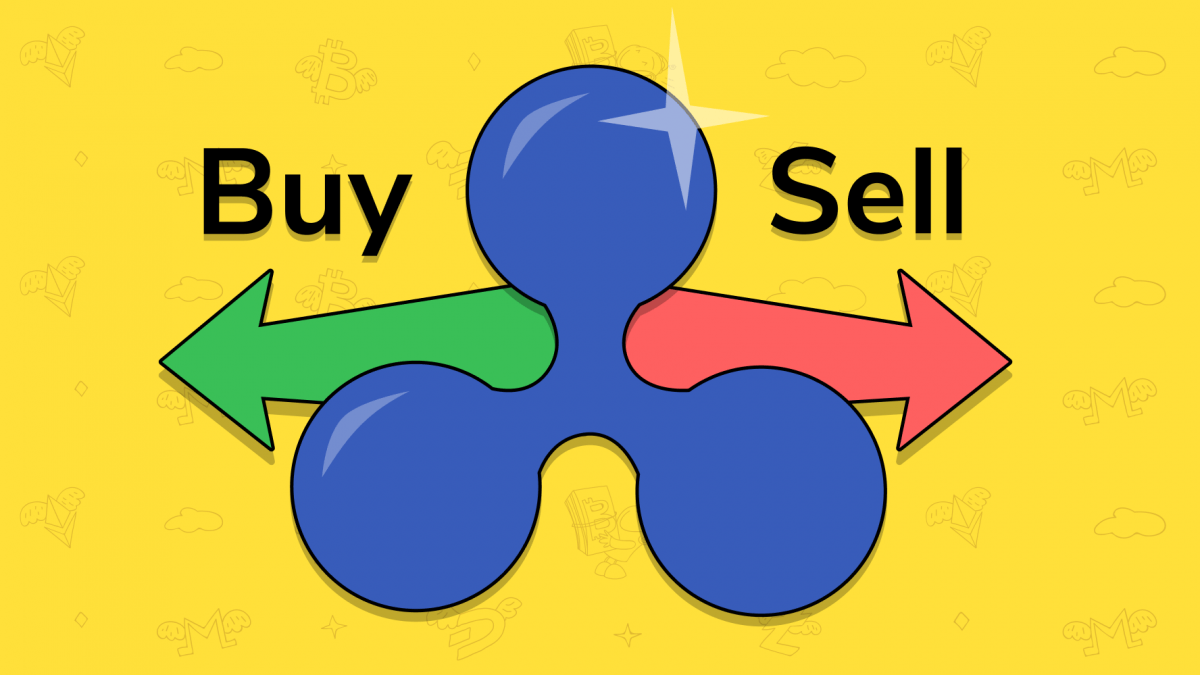 We have already covered Ripple (XRP) in an in-depth article that we recommend you to read if you want to dive deep and learn all about this crypto asset in detail. This review will be more trading-oriented.
We will examine how the XRP price has changed over the years. We'll also discuss the pros and cons of buying and selling XRP.
Additionally, we'll mention trading platforms for this particular asset and explain where to trade Ripple (XRP) on margin.
So, let's start from the very beginning.
Ripple (XRP) review
The Ripple network consists of a total of 300+ financial institutions and is a payment system based on a private, centralized and permissioned blockchain with its Ripple (XRP) token. Such entities as Interbank, MoneyGram, American Express and many more participating in the network make this asset attractive to investors, which pushes it to the top three projects with the highest trading volume in the crypto-market space.
As one of the oldest payment crypto networks in the niche, the concept of the Ripple payment system came to light in 2004. Programmer Ryan Fugger decided to develop a decentralized monetary system that would allow individuals and communities to create their own money.
In 2012, Fugger handed over the reins to Jed McCaleb who, by the way, separated from Ripple and then founded Stellar (XLM) a year later.
The Ripple distributed ledger was released in 2012 and demonstrated the all-time low, $0.002802 USD, on Jul. 7, 2014.
The all-time high price was witnessed by the world on Jan. 4, 2018, when the asset's value increased up to $3.84 USD.
As of writing, the XRP daily trading volume is 157,370 BTC.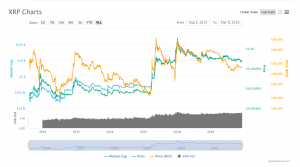 XRP volatility from 2013 to 2019 – CoinMarketCap
These days, Ripple (XRP) is a payment service that belongs to the Ripple Labs company.
In March 2018, Ripple Labs established Japanese Bank Consortium comprising 61 banks to launch a Ripple-powered mobile app.
Several months later, Spanish Banking Group Santander has launched a mobile app for their customers to transfer money abroad, which was based on the Ripple distributed ledger.
Overall, XRP occupies a well-established position in the top three cryptocurrencies by trade volume and is being increasingly used by financial institutions all over the world.
Pros and cons of trading Ripple (XRP)
Pros
Based on the company's financial report, XRP's volatility over the Q3 2019 was 3.6%. This is lower than that of other top digital assets, as BTC's volatility of daily returns through Q3 was 3.9% and ETH's was 4.3%.
Listed on 140 cryptocurrency exchanges
The coin is now listed on many trading platforms; for example, it tops CEX.io, which is the platform that allows investors to buy the cryptocurrency directly.
This means that the barrier to entry is reduced.
Cons
The company has control over the financial health of XRP
Here is the quote from the report mentioned above. "In fact, part way through Q3, we decided to pause programmatic sales altogether, and focus our over-the-counter (OTC) sales on a few strategic partners, who are building XRP utility and liquidity in regions that are strategically important to our growing global business, including EMEA and Asia."
In Q3 2019, total XRP sales were $66.24 million vs. $251.51 million in the previous quarter.
Just like many more cryptocurrencies out there that claim their asset is NOT a security, Ripple is making an effort to throw the case out of the U.S. District Court. In September 2019, Bradley Sostack was appointed lead plaintiff to prove the company sold an alleged unregistered security to retail investors.
If the court decides that the asset is a security, all other market regulations ranges can be applied to traders' assets.
Ripple (XRP) trading platforms
To start trading Ripple (XRP), you need to choose an exchange from the list of exchanges presented on the company's website and buy the asset either for another crypto or for a fiat currency.
You can trade Ripple (XRP) on UPbit, Huobi, Bittrex and many more reputable crypto platforms where you will have to create an account, be verified and deposit your funds.
For example, with UPbit Global, it's possible to trade XRP either for USD, BTC or SGD. On top of Bitfinex, you can trade the same asset for USD and BTC. Binance will sell you XRP for USD, EUR, CAD, GBP, UAN, RUB, EOS, XLM and a few additional currencies. In turn, you can exchange the coin for BTC, USD,TRX, XZC etc.
So, there are a wide range of opportunities out there, and it's really up to you to decide where you will trade your funds.
Ripple (XRP) margin trading
In general, if you're serious about trading XRP on margin, there is a whole spectrum of options out there that we've already covered in the article about margin trading.
To name a few popular options, you can trade XRP with leverage on top of Binance, Kraken, Delta, Poloniex and BitMEX.
The marginable pairs on Binance, for example, are XRP/BTC, XRP/USDT, XRP/ETH, and your leverage depends on your balance as well as your level, which is automatically defined by the exchange.
With Kraken, these pairs are XRP/BTC, XRP/USD, XRP/EUR, and you can leverage up to 5X.
Also, you might want to visit Huobi Global and trade XRP for USDT with the 5X leverage.
In short, the leverage might differ with every new exchange.
In conclusion
Over the years, the XRP token price has significantly fluctuated with an all-time low of $0.002802 USD and an all-time high of $3.84 USD. The daily trade volume observed so far normally guarantees the asset's the position in the top-5 markets.
The list of the asset's pros includes volatility that is lower than that of other crypto assets. Also, the asset is presented on multiple exchanges, which reduces the entry barrier for traders.
On the other hand, the Ripple company controls the coin and can have an impact on the price. Additionally, due to regulatory issues, it's not clear how to register the asset on your tax form.
Because this is one of the most popular cryptocurrencies in the niche, Ripple (XRP) is available for trading on top of the most popular platforms, such as Bittrex, Huobi and many more.
The suitable margin trading feature for professional traders is also possible to facilitate while trading Ripple (XRP). If you're serious about that, go with Binance, Kraken or BitMEX.