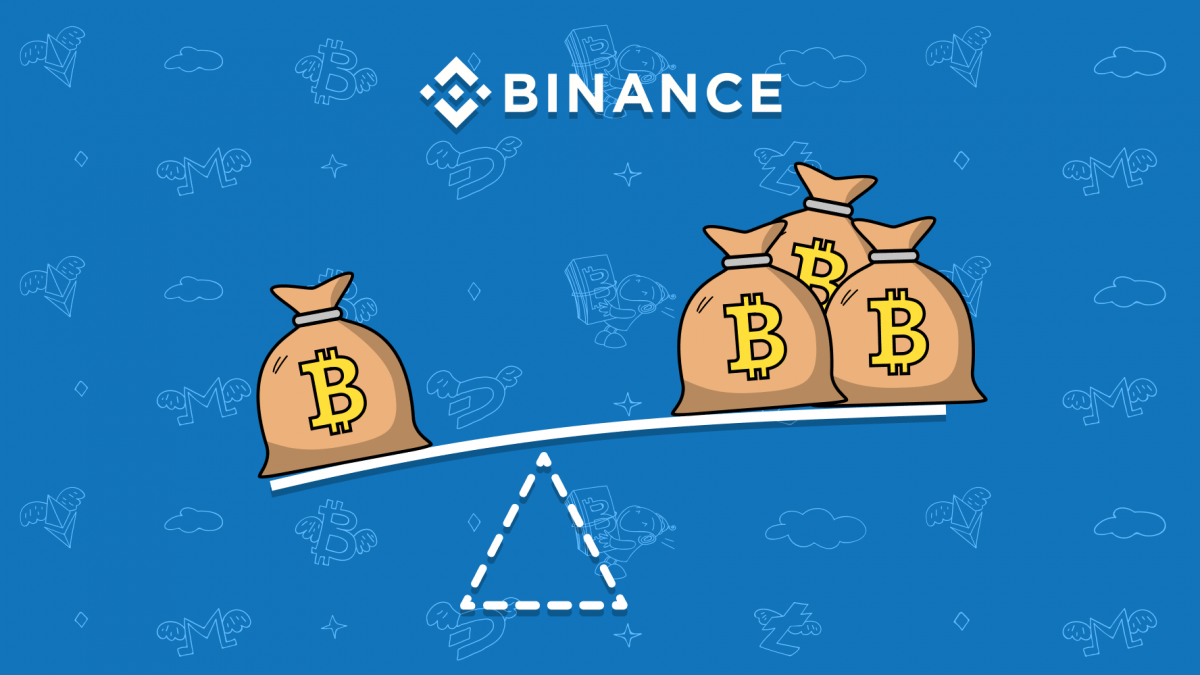 Binance has added the margin trading feature to its platform, providing higher profit potential than trading without leverage—so is this good or bad news? And what does "margin trading" mean? Let's take a look!

What's margin trading?
Before you jump in, if you're new to crypto, know that margin trading is high risk.
We'll go back to those risks in the case study section, but let's start with the basic terms.
Margin is the money you initially deposit into your account in order to borrow more assets to trade with. Traders buy on margin to increase their trading power and leverage gains.
You wouldn't normally borrow margin from a broker in crypto trading. The exchange or other traders would provide you with the funds instead, allowing them to earn interest based on market demand for this feature.
Margin is only a tool to create so-called leverage, which, is presented as a ratio of 3x, 20x, 100x etc.
Still confused? Take a look at the case study!
The case study
Say you have 10,000 USDT and want to try margin trading so you choose a cryptocurrency exchange that offers a leverage of 3x. This means you'll be able to borrow 20 000 USDT from the exchange in addition to your 10,000 USDT.
Now you have 30,000 USDT to trade, meaning you could make more profit as you trade higher volumes.
So far so good.
If you believe Bitcoin price will increase, you may decide to sell the full 30,000 USDT for 3 BTC at a price of 1 BTC per 10,000 USDT. Say the price jumps 16 hours after your purchase and you sell your 3 Bitcoins at a price of 12,000 USDT per BTC, you now have 36,000 USDT.
Now what? You need to repay your lender 20,000 USDT plus interest. If the interest rate is 0.02% for every four hours, you will pay 0.08% of 20,000 USDT, which is 16 USDT.
You now have 15 984 USDT, having made a profit of 5 984 USD.
But this doesn't happen in reality. .
Bitcoin price might drop by 20% the next day leaving you with only 24,000 USDT—and you still owe 20,000 USDT plus interest!
So, after returning your debt to the exchange, you'll be left with roughly 4,000 USDT, meaning you lost more than 50% of your funds.
As you can see, the higher your gains with margin trading, the bigger the hit you'll take if something goes wrong—as we said, margin trading is not for beginners.
That said, some built-in mechanisms might alleviate your losses.
While opening a leveraged position, consider a short-term trade instead of a long-term trade.
Also set stop-loss orders and take-profit orders—these might have different names on different exchanges, but their function is the same. Stop-loss orders close the position at a certain price. Take-profit orders close your trade once it reaches a certain level of profit.
Now let's take a closer look at the specifics of margin trading with Binance.
Margin trading with Binance
In late May, Binance announced that its margin trading feature would support up to 20x leverage.
Yet the exchange's tutorial on the new feature reveals you can now borrow funds at a fixed rate of 3x. "If you have 1 BTC, you can borrow 2 more" states the Binance website, just like our case study!
Binance lends users funds for margin trading, according to their official Telegram channel, unlike other cryptocurrency exchanges where you borrow funds from other traders.
And now a quick overview of other features.
For starters, to jump into margin trading with Binance, you'll have to transfer money from your Exchange Wallet to your Margin Wallet—there are no fees for this transaction!
Once you access your Margin Wallet, you can assess the risks using the margin level or a risk level feature.
Your risk level will be higher or lower, depending on the borrowed funds and the funds you stake as a collateral. Also, as Binance states in their tutorial, "the level changes according to the market movements, so if the prices move against your prediction, your assets can be liquidated".
Know that they'll charge you extra fees for this, so keep an eye out for your margin level!
It's also worth knowing that Binance's marginable assets always get extended and now include
BTC, ETH, XRP, BNB, TRX, USDT, EOS, LINK. Evidence suggests the exchange will not stop here.
Keep in mind that margin trading is all about lender's earning interest, so keep an eye on interest rates on the Binance website.
When you withdraw money from Binance, you will have to complete the verification process, which includes KYC.
You'll also need to check the list of so-called prohibited countries, including the USA, Albania, Belarus, Bosnia, Burma, Central African Republic, Democratic Republic of Congo, Democratic People's Republic of Korea, Côte d'Ivoire, the Crimea region of Ukraine, Croatia, Cuba, Herzegovina, Iran, Iraq, Kosovo, Lebanon, Liberia, Libya, Macedonia, Moldova, Serbia, Somalia, Sudan, South Sudan, Syria, Venezuela, Yemen and Zimbabwe.
Still not sure if you want to use Binance for your margin trading? Take a look at other platforms!
Platforms that offer margin trading
Binance is not the only cryptocurrency exchange that allow you to use a margin trading strategy. Here's a quick look at other platforms that offer the same feature.
Exchange name
Leverage
Currencies for margin trading
Margin trading fees
Binance

Up to 3x

BTC, ETH, XRP, BNB, TRX, USDT, EOS, LINK

Margin trading

fees

get updated every hour

Bitfinex

Up to 3.3x

USD, EUR, GBP, EOS, IOT, BTC, EOS + 17

15% of earned interest

Kraken

Up to 5x

BTC, REP, BCH, ETH, ETC, XMR, XRP, USDT

Up to 0.02% to open a position

Up to 0.02% (per 4 hours) in rollover fees to keep it open

CEX.IO

Up to 3x

BTC,USD, EUR, BCH, ETH

Open fee

Rollover fees (per 4 hours)

XENA

Up to 100x

BTC, USD, USDT

Fee

depends on the amount of your BTC

Bithoven

Up to 20x

BTC, USD, ETH, LTC, XMR, BCH, ZEC, DASH, XRP, EOS

0.2%

OKCoin

Up to 3x

BTC, ETH, USD

0.00%-0.10%

Bibox

Up to 3x

BTC, ETH, LTC, ETC, EOS, BCH

0.025%-0.075%

Delta

Up to 3x

BTC, ETH, XLM, XRP contracts

Fee

depends on a contract

Deribit

Up to 100x (futures)

BTC, ETH, USD contracts

0.5% >

Bybit

Up to 100x

BTC, USD, ETH contracts

Depends on the order type

Huobi

Up to 3x

BTC, BCH, ETH, LTC, XRP, DASH, ETH

0.1% daily fee

Overbit

Up to 50x

BTC, XBT, USD, JPY, ETH + 5 more

0% fee

Monfex

Up to 50x

BTC, ETH, XRP, + 9 more

0% fee

BaseFEX

Up to 100x

BTC, ETH, LTC, BCH, XRP contracts

1.5% fee

BitMEX

Up to 100x

BTC, ETH, XRP, ADA, EOS, LTC, TRX, BCH contracts

Fee

depends on a contract

Prime XBT

Up to 100x

BTC, LTC, ETH, XRP, EOS

Flat

fee

charged daily

Poloniex

Up to 2.5x

BTC, XRP, BCHSV, ETH, LRC, XMR + 11 more

15% of earned interest
In summary…
Both cryptocurrency traders and the market are evolving, meaning they're ready to use more and more professional tools as time goes by—Binance's margin trading feature is a good example of this trend.
So, what does this trend offer you? You can gain more if you're willing to risk more. If you're an experienced day trader, why not try margins for smaller amounts of crypto? But always enter trades with your eyes wide open and only risk the amount you can afford to lose.