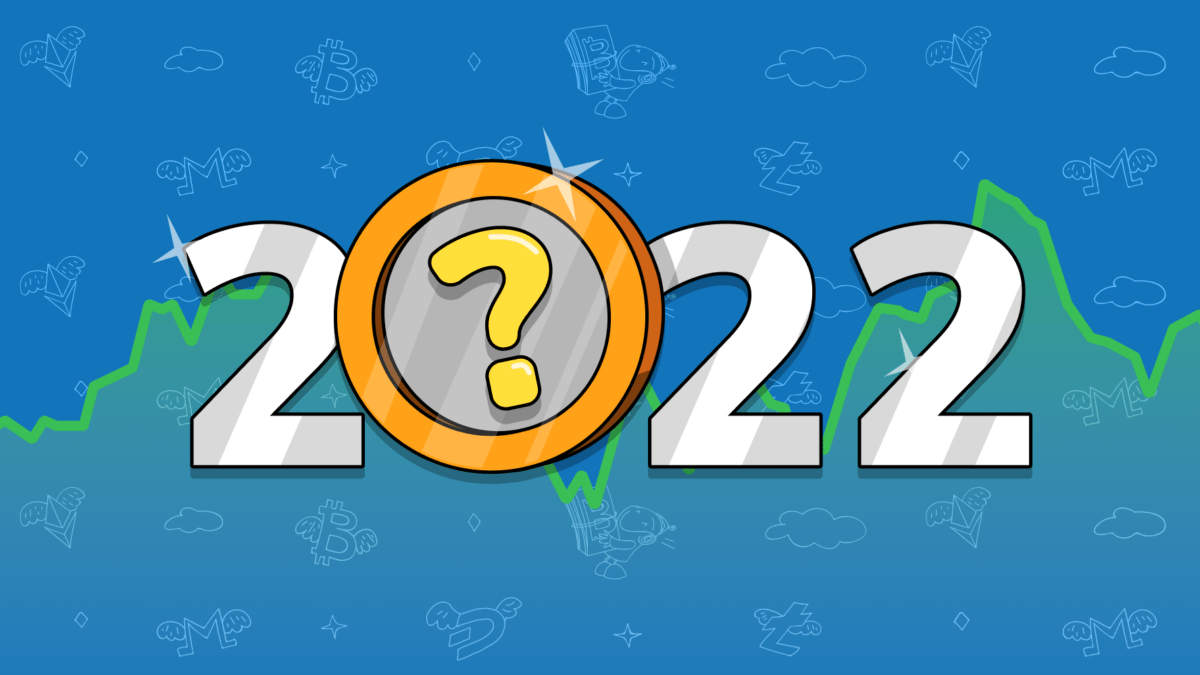 If you've been checking the crypto market lately, you might've noticed that since the beginning of the year, the prices for most of the digital assets have decreased significantly. Should that prevent you from making cryptocurrency investments then? Certainly not! In this guide, we'll provide a roundup of the best cryptocurrencies to invest in during the current bear market, so you won't have to be overwhelmed when searching for the best coins. So let's begin!
The criteria for choosing a crypto for investment
Before we move to the list of cryptocurrencies you should buy in 2022, it is important to highlight the indicators and criteria when picking new coins for investment. We all know that the crypto market is notorious for its volatility, and things can go south pretty quickly, even with the most promising coins and cryptocurrency project ideas. Still, that doesn't mean that you should jump into only hyped projects for good returns
that are promoted by celebrities online. There are some general rules that you should adhere to decide when to start investing your hard-earned money in potential big hits. You should also consider choosing the major cryptocurrency exchanges to minimize risks during trading.
So, what would you be looking for when picking the right cryptocurrencies for investment? Whether you're getting started, or curious about going further with Bitcoin and Ethereum, here's a rundown of how you can consider any cryptocurrency's long-term prospects.
The Whitepaper
Every single crypto project that considers itself a "serious" one always has a whitepaper—a technical document that covers the operation, technology, utility, and tokenomics of a project. Some of them contain information about the marketing plans, the development team and their previous projects, as well as future prospects of the project, including what it wants to achieve one day.
Even though a whitepaper can change during development, the core information and data must be present in the document, and you should get a clear idea of whether the project is worth investing in after reading it. However, if a project has a sloppy written whitepaper or does not have a whitepaper at all, then that should be a red flag for investors.
Tokenomics & Utility
The term "tokenomics" describes the project's underlying economy. Will tokenomics encourage investors and traders to buy, hold, sell for a profit, and then buy the dip later? Try to answer these questions before investing your funds in a project.
On the other hand, if a project has a utility (e.g. a realistic use case), then it is much more likely to succeed, draw more investors' attention, and increase in value over time.
Technology & Uniqueness
Nowadays, when there are literally thousands of crypto projects and currencies that are available on the market, only those that can introduce innovations and/or unique technologies that are capable of solving existing crypto problems have decent chances to become successful and thrive in the future.
After all, if a project cannot compete with its competitors that have much more advanced technology and realistic use cases, then how is it going to gain attention and survive in the long run?
Market capitalization
Market capitalization refers to a coin's network value. You can calculate it by multiplying the current price with the circulating supply of coins. In most cases, the larger the market capitalization of a cryptocurrency, the bigger position it has on the market. That is why market cap is frequently considered as one of the most essential indicators when making decisions on whether a project is worth investing in.
Circulating supply
Circulating supply refers to the total number of coins/tokens that are actively available for trading and are being used in the market for the general public. So, when the number of circulating supplies decreases, it can increase the price of a digital asset. That is a rule from basic economics: the more scarce the product is, the higher the value it has, and thus it can attract investors' interest and draw more attention.
In addition to the criteria mentioned above, there are some other indicators that can assist you in determining the best cryptocurrency for long-term investment. Although they might seem a little less vital, they still should be taken into account:
Media coverage and social presence. Before investing in a project, try to look for its media coverage and see if there's been any negative or positive coverage. In addition, social media presence can give you an insight into how the project's team manages the marketing and how it deals with negative reviews and/or FUD.
Community. A vibrant and devoted community is a necessity for any project to succeed. The community's lack of involvement and commitment should be seen as a red flag for the project.
Dev team's previous projects. Sometimes this option might be unavailable since the crypto world is still somewhat "green" and evolving, so some teams and developers simply don't have previous projects, and sometimes the whole team wishes to stay anonymous, so you simply cannot know who is behind the project.
Best Long-Term Cryptocurrencies For Investment
The cryptocurrencies on this list might be worth checking out if you're looking for a cryptocurrency that can provide potential profit or if you simply want to diversify your portfolio with a few reliable assets. Here are some of the top-rated cryptocurrencies that have proven themselves to be gaining in the long run so far (but nevertheless, with ups and downs for sure).
Bitcoin (BTC)
Nowadays, it's hard to imagine that back in 2009, when Bitcoin was created, its price was lower than $1. Since then, it has gone through its own ups and downs, reaching $20,000 in December, 2017, then going down to less than $ 4,000 just a few months later. In November 2021 it reached $68,000, and currently (as of 30.08.22) it has gone back to around $20,000.
Still, today Bitcoin is the most well-known cryptocurrency in the world, and, due to its market cap, which is higher than any other cryptocurrency, it is obvious why it has the leadership. It can be used for both online and offline purchases (the list of companies is quite impressive), or, you can see it as one of your buy-and-hold assets in your portfolio, since Bitcoin has evolved into more of a safe-haven investment rather than a form of currency.
The last ten years have shown that Bitcoin is only getting stronger. Although thousands of new coins have been developed over the last decade, Bitcoin's position has not changed, and its future still looks promising.
Even though Bitcoin has lost its value due to an ongoing bearish trend, it still holds its ground as the number one cryptocurrency, and no other digital asset can boast such results, and in the 10 and 5 year run it did gain value. On top of that, the fact that Bitcoin has been with us for more than a decade already makes it look like a more reliable investment than recently developed projects, which have yet to gain investors' trust.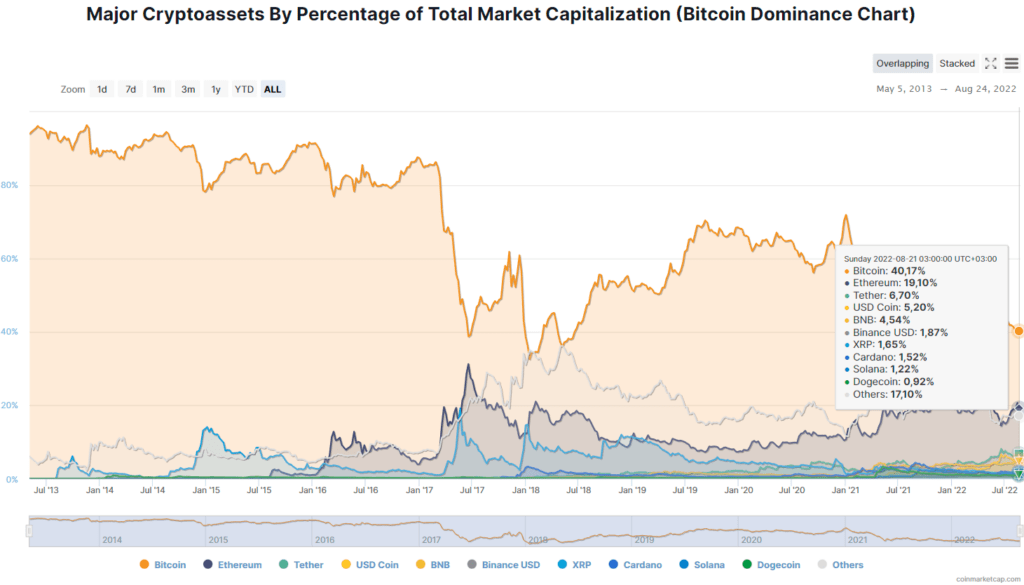 Ethereum (ETH)
Ethereum was presented to the public in June, 2015, and just like Bitcoin, at the beginning, it cost less than a dollar. However, just like Bitcoin, it reached its first ATH in 2017 — its price went up to almost $400. However, the most successful year was in 2021, when Ethereum managed to break the ATH two times in a row: the first was in May, when its price went beyond $4,000, and the second one happened in November, when its price skyrocketed up to $4,865.
Since Ethereum was developed as an open-source platform, anyone with programming skills can design their own decentralized applications, or DApps, which now range from DEXs like the Uniswap to play-to-earn games like Axie Infinity. Ethereum's flexibility and technology make it seem even more promising than Bitcoin.
Ethereum is currently the second-largest cryptocurrency by market capitalization, and it is the most popular platform for all types of DeFi projects, from crypto wallets and DEXs to NFTs. Don't forget about the planned ETH 2.0 update, which will switch Ethereum from the existing Proof-of-Work consensus system to the Proof-of-Stake consensus mechanism. The platform will become much more versatile and quick as a result, and such things as network congestion is believed to disappear.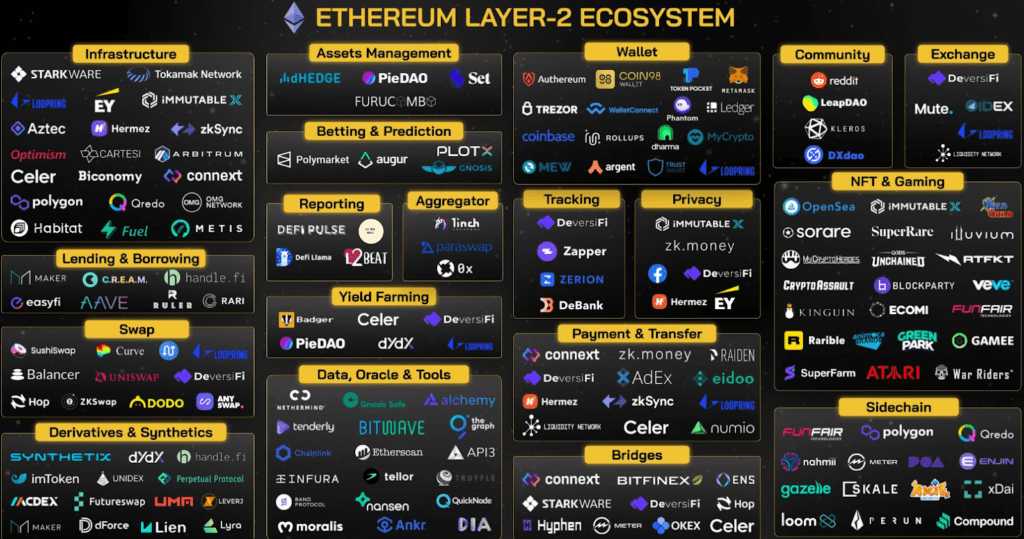 The main question that Ethereum enthusiasts keep asking is whether Ethereum will eventually take over Bitcoin.
Some of Bitcoin's strong believers would say "never" without second guessing. In our turn, we would take some time to think this question over before giving a straight answer. Why? Because even now, with the bearish cycle reigning in the crypto market, the BTC price of slightly above $20K (as of 20.08.22) is still not achievable for ETH. However, with the upcoming ETH 2.0 upgrade anything can happen, so we'll have to wait a little bit more and see whether Ethereum can take the crypto throne.
Binance Coin (BNB)
Binance Coin, or BNB, is the native token of Binance, the world's largest cryptocurrency exchange. The coin got the name Binance after the concept of Binary Finance. It was launched in June, 2017, and at first had a price of around $0.11 per coin. However, in 2021, it reached several ATHs: the first was in February, when it reached $330 million; the second was in March, when it skyrocketed to $675 per coin; and the current price (as of 30.08.21) is $287.
The Binance ecosystem extends beyond the Binance exchange and also includes the Binance Chain, Binance Smart Chain (BSC), Binance Academy, Trust Wallet, Binance Research, and Binance Launchpad projects.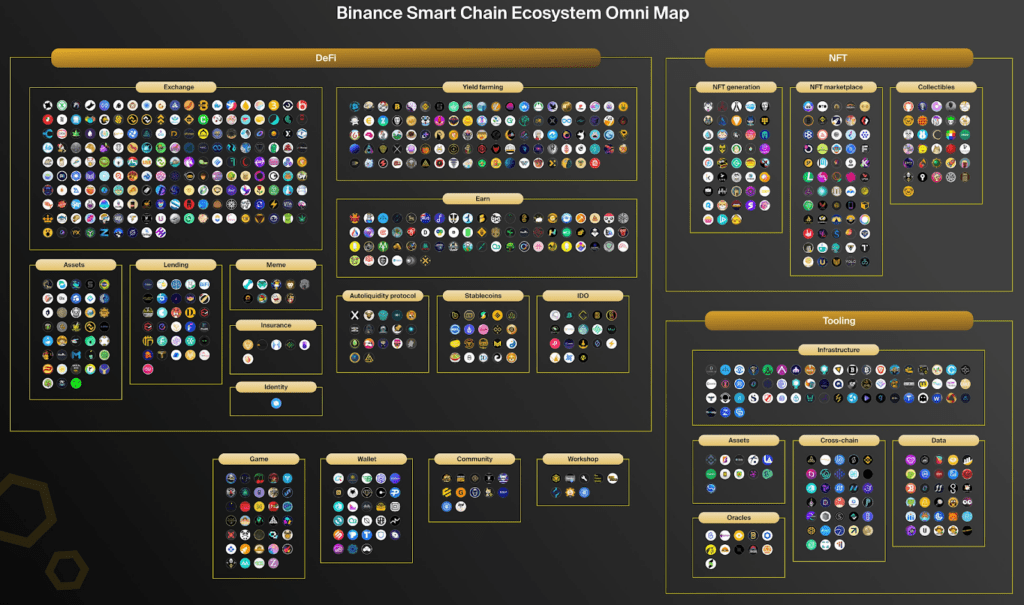 Back in 2017, when BNB was introduced, it was the first operating on the Ethereum blockchain. However, Binance then introduced its own blockchain, the Binance Chain, which makes use of the Tendermint byzantine-fault-tolerant (BFT) consensus mechanism. The Binance Smart Chain (BSC) was introduced in September 2020 as a parallel chain to run smart-contract-based apps because, unlike Ethereum, the Binance Chain was not designed to support smart contracts.
Nowadays, BSC has gained enormous popularity alongside the Ethereum platform, especially among NFT traders and play-to-earn game makers due to low fees and blockchain's fast speed. Currently, BNB is the fifth cryptocurrency in the world by market cap, and it looks like it's not going to lean back any time soon. The price of BNB will increase if Binance Smart Chain keeps growing and extends its presence in the DeFi market.
Ripple (XRP)
Ripple is a peer-to-peer, open-source, decentralized platform that allows quick and seamless transfer of any kind of money, from crypto to conventional fiat money like euros and dollars. Ripple does not utilize mining; alternatively, it confirms transactions using a consensus mechanism via a number of servers owned by banks.
Despite being in the Top 10 cryptocurrencies by market cap, XRP belongs to that type of cryptocurrency that rarely gets hyped by celebrities like Elon Musk. Still, even without praise from influencers, XRP has more than enough potential to make it big. We can only guess as to how far the price of XRP may grow if Ripple succeeds in becoming a global decentralized payment system, as it is hailed as the new SWIFT alternative.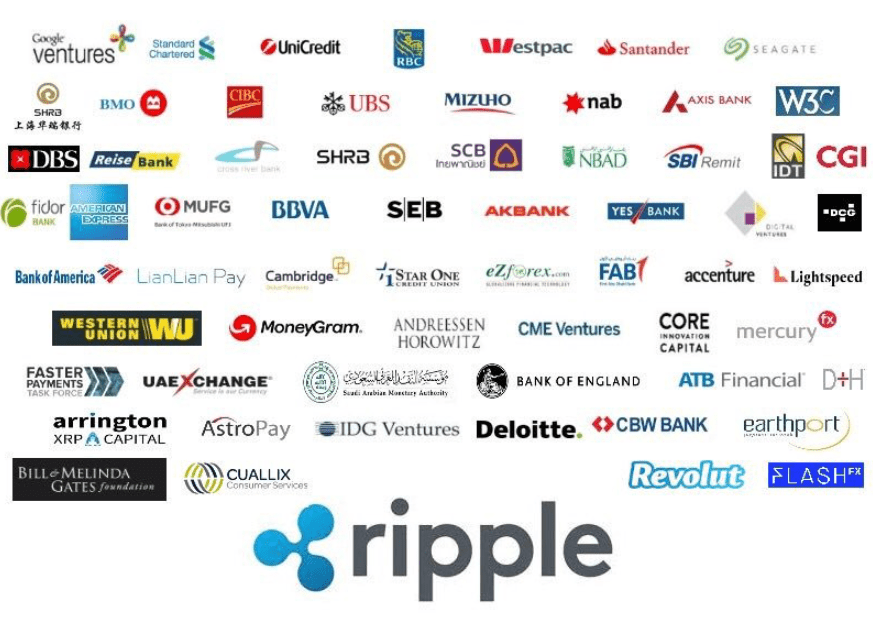 Ripple has partnerships with a huge number of well-known organizations, banks, and businesses. Just to name a few, Bank of America, American Express, Western Union, MoneyGram, and Royal Bank of Canada are among its clients. That fact alone can tell us that Ripple aims to make XRP as widely accepted as possible. And that means, the wider the reach, the more investors would be interested in buying it, thus increasing its overall value.
However, there is one important thing that is worth mentioning: the SEC lawsuit. In a lawsuit, the US Securities and Exchange Commission (SEC) claimed that Ripple Labs had broken the law by failing to register XRP as a security. More specifically, the SEC's complaint alleges that since 2013, Ripple has been raising funds by providing its digital currency, XRP, through the sale of its digital asset, XRP, via unregistered securities offerings to investors in the USA and worldwide.
It is hard to predict the outcome, so investing in Ripple may have certain risks.
Polkadot (DOT)
The company was founded by Gavin Wood, a former co-founder and CTO of Ethereum, and the first whitepaper came out in 2016. However, due to several delays, the project was finished and presented to the public only on May 26, 2020.
Polkadot is a next-generation blockchain protocol that was created with the goal of connecting different independent blockchains into a single cohesive network, and its technology also allows for creating new chains on its platform.
The Polkadot network consists of several user-created parallel chains ( known as "parachains") in addition to a main blockchain known as the "relay chain." Furthermore, it includes a connecting layer, or "bridge," that enables the transfer of data and value between the majority of blockchains.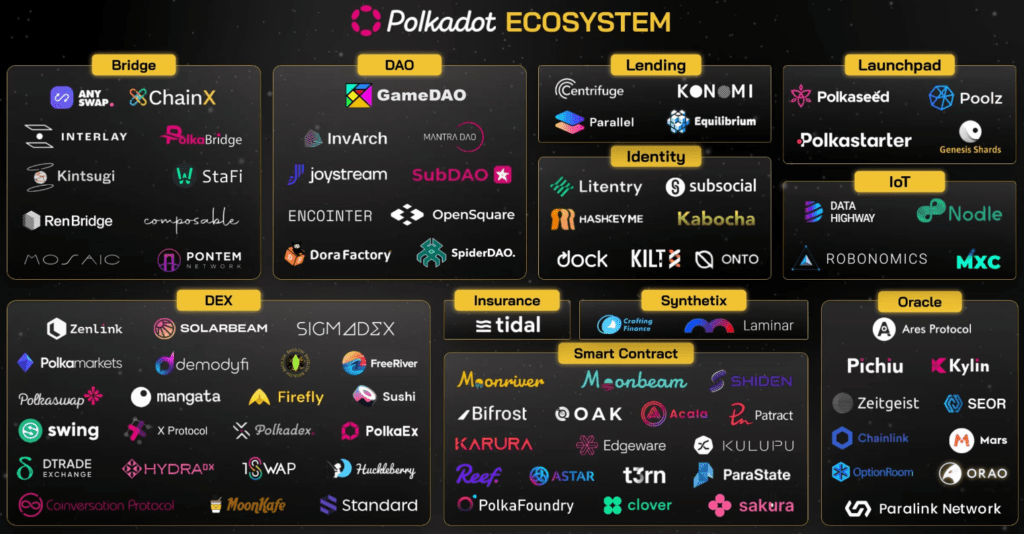 Polkadot's technology reduces the need for projects to choose between different separate blockchains by offering compatibility with already-existing platforms (e.g. Ethereum) with clearly defined community governance and automatic upgrades. Polkadot, rather than claiming to be an "Ethereum/Bitcoin/Cardano/etc killer," focuses on complementing, rather than competing with, the major public blockchains.
Such a technology just couldn't stay unnoticed by investors: currently, it holds 11th place among cryptocurrencies by market capitalization.
Stellar (XLM)
Stellar is an open-source payment technology that works with any type of money, including the US dollar, the euro, the British pound, Bitcoin, Ethereum, and any other currency out there. Stellar apps allow their users to send money to each other, regardless of where they reside. Alternatively, you can also use Stellar's network to buy digital versions of fiat currencies, which is especially useful for users who live in countries with an unstable national currency. You can learn more about this technology in our article here.
It might seem that Stellar and Ripple share the same use case, which is understandable since both projects are led by the same person – Jed McCaleb. Still, there are some major differences between these two projects.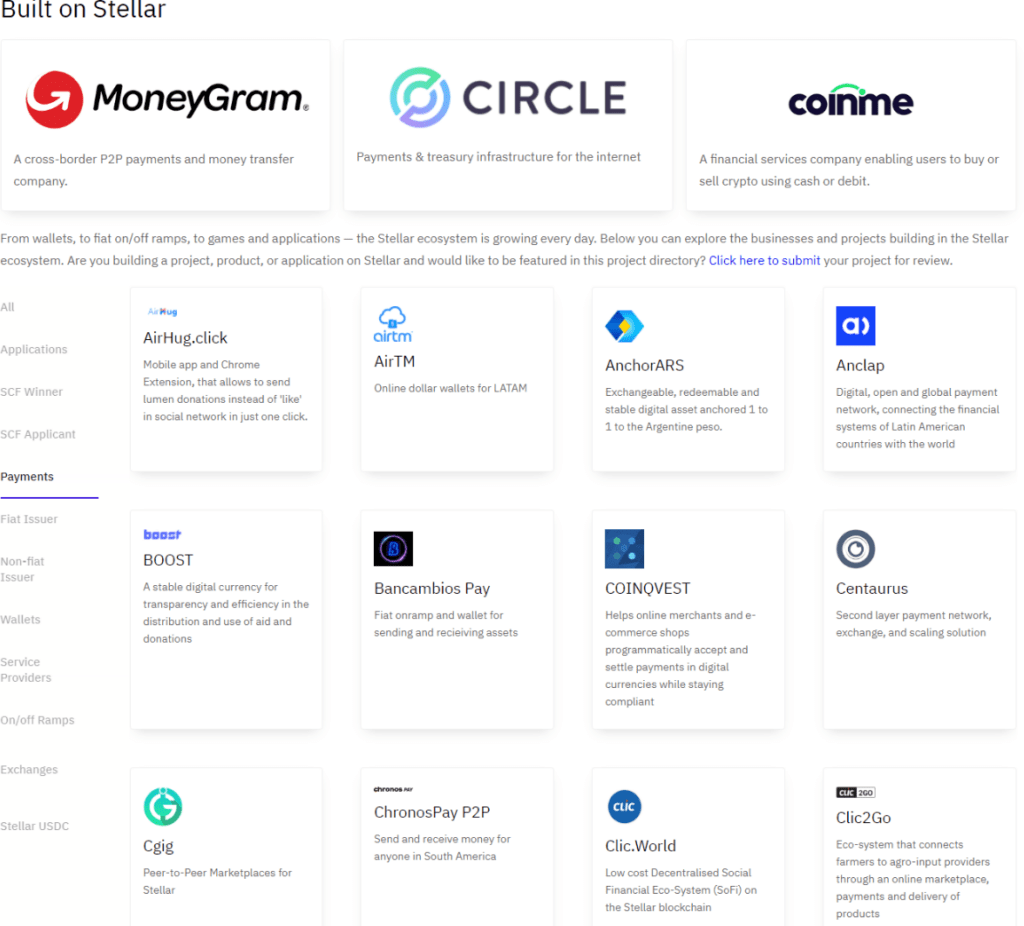 While Stellar is an open blockchain platform, Ripple is closed and centralized.
Ripple cannot be mined nor joined unless you are a financial institution that is an official member of a payment network system. Ripple works only with established financial institutions and helps them modernize their cross-border transfer technologies.
The main goal of Stellar, on the other hand, is to serve the people, not institutions. Stellar's main target audience is unbanked—people who typically reside in developing countries and do not have a strong national currency.
What other cryptocurrencies might be worth paying attention to?
There are already more than 9000 crypto projects on CoinMarketCap alone, and there are thousands of crypto projects that are still in the development stage or that can be found only on DEXs like PancakeSwap or Uniswap. All that means that it can take some time before you can find a decent project that is worth investing in. Still, in addition to those projects mentioned above, we would like to mention some other projects that might be interesting for long-term holding.
Telcoin (TEL)
Telcoin is a decentralized financial platform that functions as a remittance payment system and aims to reduce the cost and increase the accessibility of digital remittances (international money transfers to e-wallets).
The Telcoin platform is an official GSMA member of Mobile Network Operators (MNOs) and Mobile Money Service Providers (MMSPs). It utilizes the Proof-of-Concept (PoC) method, which means that before validating any transaction, the blockchain determines whether the transaction is both technically and functionally feasible in the real world. The Telcoin partners each act as network validators.
Cardano (ADA)
Cardano is a proof-of-stake decentralized network that was created with the intention of giving blockchain developers and entrepreneurs a way to solve the scalability, interoperability, and sustainability problems of earlier blockchains, such as Bitcoin and Ethereum. Cardano offers smart contract functionality, just like its competitor Ethereum, so it can be used by developers to create decentralized apps (dApps).
Cardano is still in the development stage, so long-term investment might work with it.
Solana (SOL)
Solana is an open-source blockchain project that works on a combination of proof-of-stake and proof-of-history protocols that can offer something that no other blockchain could have delivered before: fast operation with low transaction fees. Solana can process around 50,000 transactions per second, compared to Ethereum's 15, although the upcoming ETH 2.0 upgrade is promised to change that.
Solana's blockchain is so fast, it does not get congested, and thus the usual fee is equal to only 0.000005 SOL, or $0.0000012 dollars, which is nothing compared to, say, Ethereum's fee, which can go up to $75 per transaction.
Solana became the world's first web-scale blockchain and that made a real breakthrough in blockchain development: its speed and capacity are far superior to any other blockchain out there, and this technology can grant Solana a potential for future growth.
Shiba Inu (SHIB)
Yes, Shiba Inu is technically a meme coin, but it's not that simple – Shiba Inu is a fantastic illustration of a meme coin that has quickly created a substantial niche for itself, a meme coin that has evolved into something much bigger than it was at the beginning. Over the last few years Shiba Inu anonymous team has created a unique ecosystem which includes NFTs, staking, play-to-earn mobile game, DEX, and more. And in case you find yourself in Paris, you can even pay with Shiba Inu coins in a restaurant there.
Shiba Inu has succeeded in ways that not all "serious" coins have, particularly in terms of capitalization, ecosystem, and community support, and it looks like the Shiba Inu's team will continue to support and develop their project in the future.
Final thoughts
A proper analysis of a crypto project requires a lot of effort and patience, and still, just as always in the crypto world, no one can guarantee you a 100% return on your investment.
However, those investors who conduct thorough research and perform proper analysis have much better chances of finding a project that can make them a potential profit.
Information and research can help to reduce the risk of investing, so you should always be prepared before you make any investment or trading decisions.
FAQ
What are the criteria for choosing a crypto for investment?
The whitepaper, tokenomics, utility, uniqueness, and circulating supply are the most important criteria when choosing a crypto for investment.
Is Shiba Inu a good investment?
Shiba Inu has succeeded in ways that not all "serious" coins have, particularly in terms of capitalization, ecosystem, and community support, and it looks like the Shiba Inu's team will continue to support and develop their project in the future.