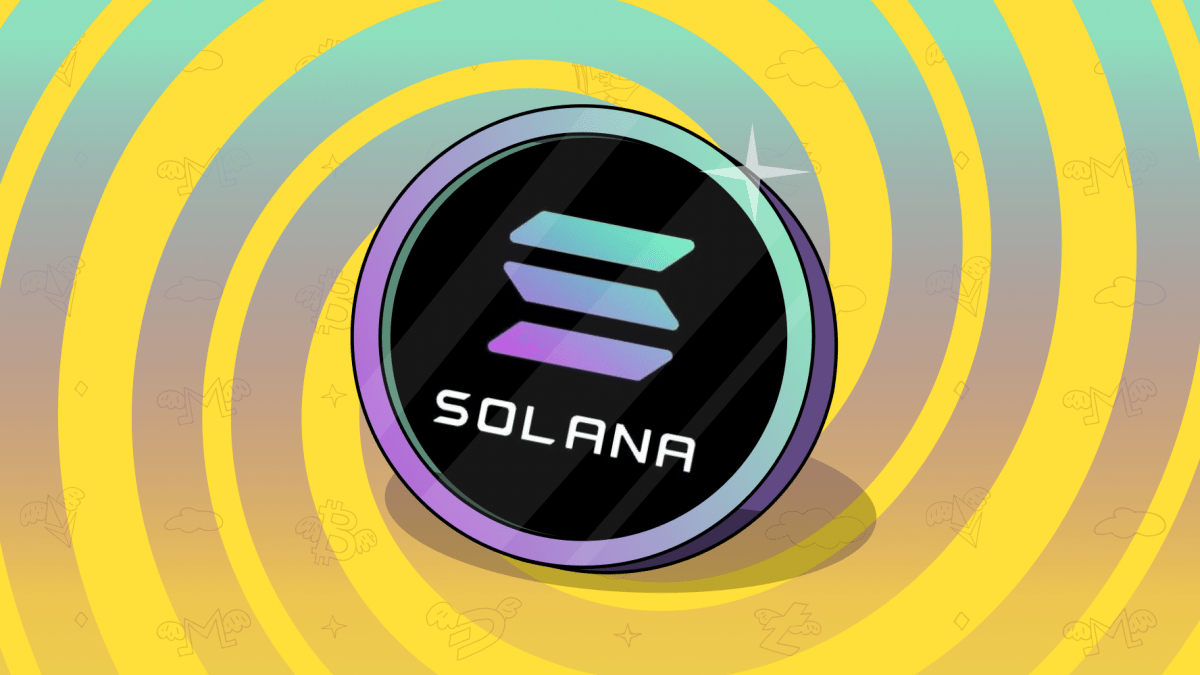 The world of crypto is truly fascinating: it is possible to find almost any kind of project one can imagine, even "the fastest blockchain in the world and the fastest growing ecosystem in crypto". Yes, today we will talk about Solana and will try to understand whether this coin as well as its blockchain has a prominent future that you should support with your investments, and why Solana might become an "Ethereum killer".
What is Solana?
Solana is a blockchain that was specifically created for hosting decentralised applications, or dApps, and with that it is similar to other popular dApp blockchains like Ethereum or Cardano. Its internal cryptocurrency is called SOL. Currently, it is in the Top 5 cryptocurrencies with a market capitalization of more than $67 billion, and its current price is $221.63 per coin (as of 22.11.2021).


Solana is an open-source blockchain project that is run by the Solana Foundation, a company based in Geneva. It managed to get so much attention because it could offer something that no other blockchain could have delivered before: fast operation with low transaction fees. Solana can process around 50,000 transactions per second, compared to Ethereum's 15, although the upcoming ETH 2.0 upgrade is promised to change that.
Since Solana's blockchain is so fast, it does not get congested, and thus the usual fee is equal to only 0.000005 SOL or $0,0000012 dollars, which is nothing compared to, say, Ethereum's fee, which can go up to $75 per transaction.
Solana works on a combination of proof-of-stake and proof-of-history protocols, which is not only a much faster solution, but also a much "greener" and eco-friendly alternative to the proof-of-work protocol that is used in Bitcoin, for instance. Let's take a closer look at the peculiarities of Solana's blockchain to get a better idea of how it works.
What makes Solana so special?
We've already mentioned the proof-of-history protocol Solana uses (more details will be provided below), but there is more to that. Because of this unique technology, Solana became the world's first web-scale blockchain and that made a real breakthrough in blockchain development: Solana's speed and capacity are way ahead of anything else that currently exists. So, technically speaking, Solana was designed from the beginning to be faster and more capable than any other blockchain on the market.
It is a common thing to see when Solana is being compared to Ethereum, even in this article, since they are both used by developers when creating dApps. However, considering the technical advantage Solana's blockchain has, it is safe to assume that Ethereum will have a serious competitor in the near future if it delays the ETH 2.0 upgrade. Still, we are talking about now, and as of today, Solana has all the potential to make a serious impact on the dApp ecosystem. Its blockchain solves so many issues that other blockchains have, and that helps Solana to strengthen its position in the crypto market due to its scalability and cost-efficiency.
It is worth mentioning that without a constantly growing number of partners and projects, Solana wouldn't have seen such a rise in popularity. As of today, the Solana network has more than 500 partners and projects, and the number continues to increase: Wallets, exchanges, games, NFTs — you name it.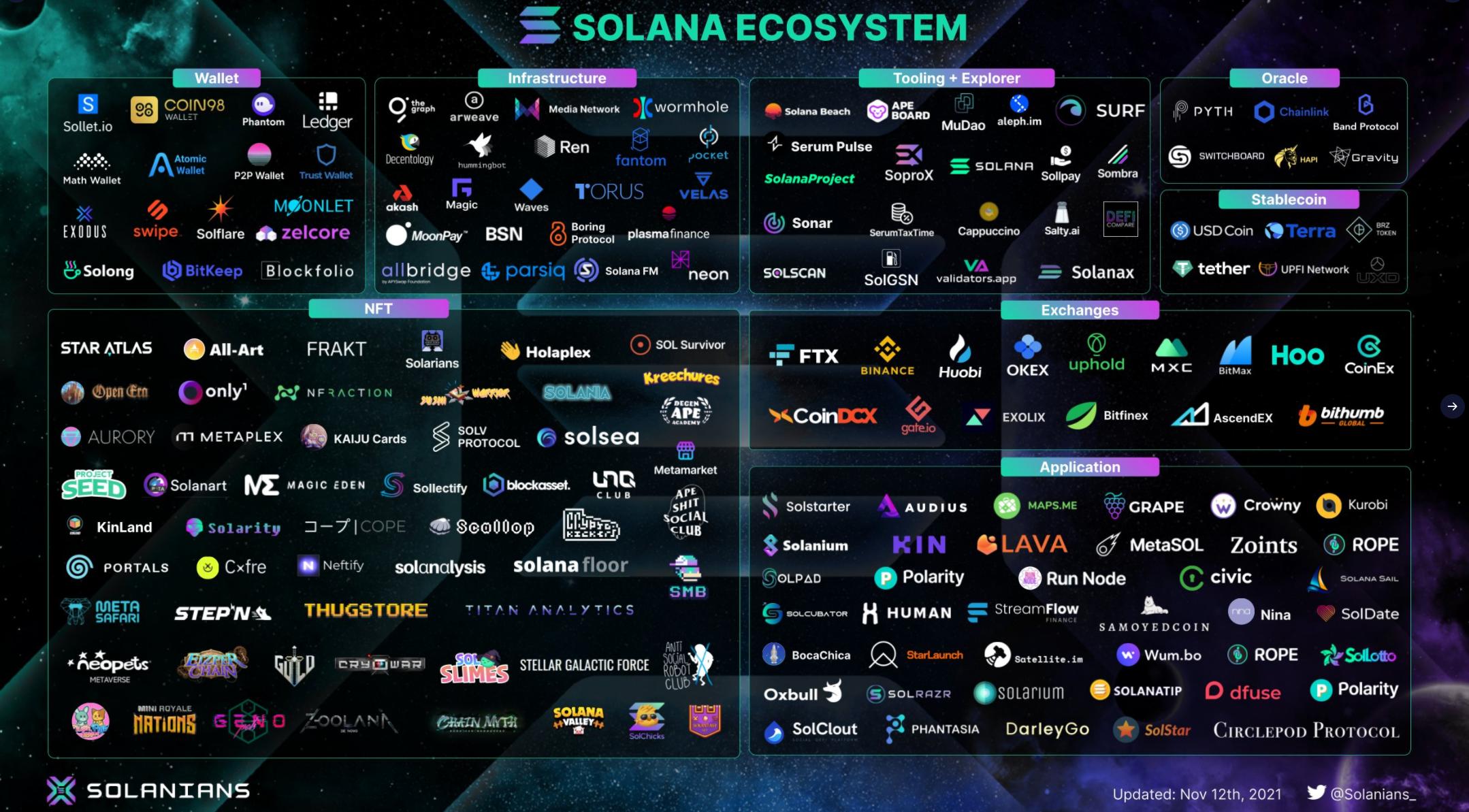 Peculiarities and analysis
Just like it's competitor Ethereum, Solana is a programmable blockchain. What it means is that it can be used for deploying smart contracts that are used for building dApps. As we already know, Ethereum is still the leader in the smart contract space and number one platform for the dApp's developers. However, given the fact how innovative and advanced Solana's blockchain is, Ethereum might not be the leader in the future. The reason for that are the distinctive features that make Solana so unique. Let's take a brief look at them:
Proof of History
By introducing proof-of-history protocol, Solana somewhat managed to revolutionize the way blockchain operates. The name speaks for itself — a proof of historical events. This protocol creates a historical record that proves that an event has happened at a determined moment, and whereas other blockchains' validators are required to come to an agreement that the specified moment has passed, Solana allows its validators to be in charge of their own clock. The transaction verification process is thus reduced, since every node does not need to consult with each other when making decisions, and that leads to overall speed of transaction to be much faster than in those blockchains that rely on proof-of-work protocol.
Sealevel
Solana's blockchain can handle parallel processing of thousands of smart contracts: the built-in runtime uses as many cores as there are available to the validator. This feature can save time and make Solana's blockchain much more efficient.
Tower BFT
The BFT system, or the Tower Byzantine Fault Tolerance algorithm is interconnected with PoH protocol, and this algorithm uses PoH as the cryptographic clock that helps it reach consensus without the need to send a flood of communication between the nodes. It also helps the nodes to continue its work even after multiple failures, so when the failures occur they do not impact the entire ecosystem.
Gulf Stream
Gulfstream refers to Solana's mempool; a mempool is a set of transactions that have been submitted, but have not yet been processed by the network. Via Gulfstream, validators can reduce confirmation time, as well as memory load that comes with unconfirmed transaction pool. That is due Gulfstream Solana can process 50,000 transactions per second.
Pipelining
Pipelining refers to the process of optimising the way of processing the stream of input data, that needs to be processed in sequential steps. So, in simple words Solana allocates the input data to multiple hardwares that are involved in the network, and these hardwares validate the info blocks using the process known as pipelining.

Turbine
This component refers to the protocol that has a goal to pack data requiring transfer between the nodes into smaller data packages. According to Solana Foundation, Turbine propagation protocol is inspired by BitTorrent, and it helps to solve the blockchain scalability trilemma.
Cloudbreak
Cloudbreak is Solana's horizontally scaled state architecture that, obviously, allows Solana to increase its scalability. It organizes the database that is capable of reading and writing transaction input. In addition, Cloudbreak works as a "garbage collector", by collecting old invalid accounts and relinquishing memory.
What do experts say on SOL price?
Solana became one of those digital assets in the crypto world everybody started talking about all of a sudden. The reason is because of its extraordinary performance and significant rise in the price that happened during this year.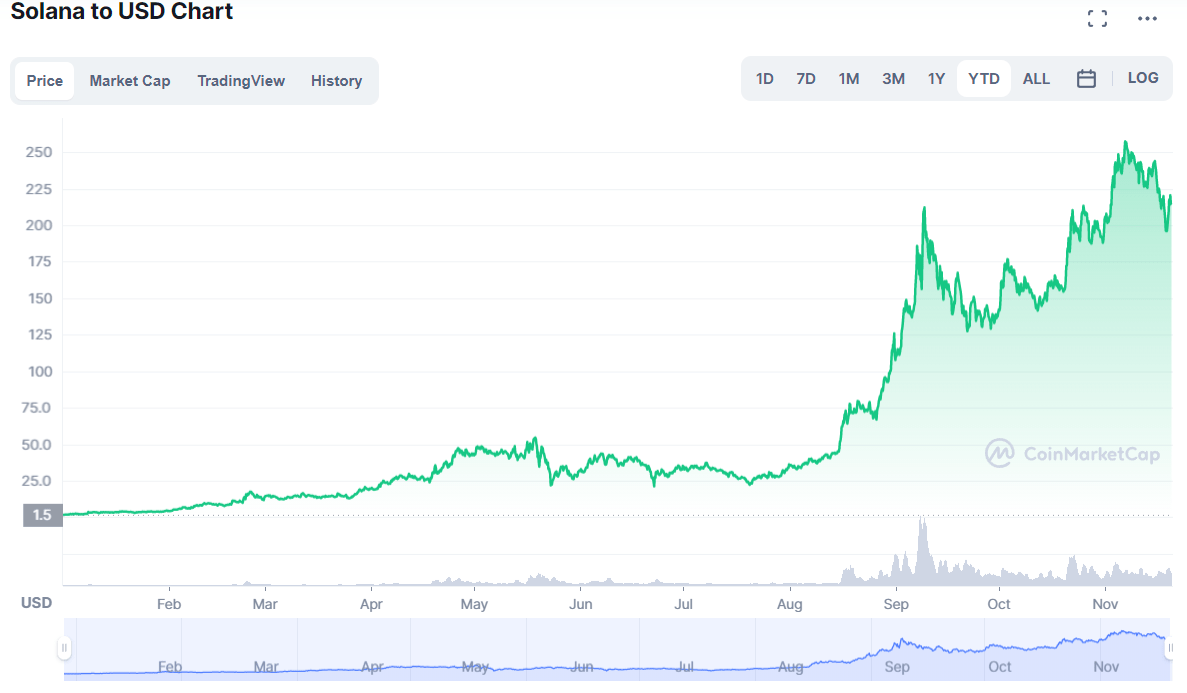 According to fintech specialists and crypto experts that were asked by Finder on their weekly panel, SOL has a very bright and bullish future, to say the least: $1,178 by 2025 and more than $5,000 by the end of 2030 on average.
Joshua Frase, co-founder of Origin Protocol, believes SOL to hit $250 by the end of 2021 and soon will become the most prominent alternative to Ethereum.
Gavin Smith, general partner at Panxora Crypto, also sees SOL to reach $250 by the end of 2021 and a potential threat to Ethereum.
Daniel Cawrey, Cypherpunk Holdings COO, predicts SOL to cost $20,000, since "it scales better than Ether and already has staking".
Coinmama CEO, Sagi Bakshi, on the other hand believes SOL has nothing to indicate it will succeed in the future and predicts it to be around $50 by 2030.
In addition, more than half of the experts think SOL's Proof of History gives an edge over Ethereum. All in all, it is safe to say that most of the crypto experts believe SOL, as well as Solana both have a promising future, with its technology capable of confronting Ethereum's leading position in the world of dApps.
Solana price forecast 2022-2025
Coin Price Forecast is one of those predictors that tend to believe Solana has a very bullish future. In their opinion, SOL will meet the end of 2021 with the price of $324 per coin, and then will rise up to $794 by mid 2022. By the end of 2022, SOL has a chance to reach $890 level. The following years are expected to be extremely well for the SOL price: $1500 by the mid year of 2023 and $2,370 at the end of the year; 2024 might be the year when we'll see SOL to cost $3,520 and then $4,160. Finally, in 2025 the price might fluctuate between 5,300 and $5,640. So in the next three years, Coin Price Forecast believes we can expect to see a super jump for SOL price, climbing up from $324 at the end of 2021 to $5,640 by the end of 2025.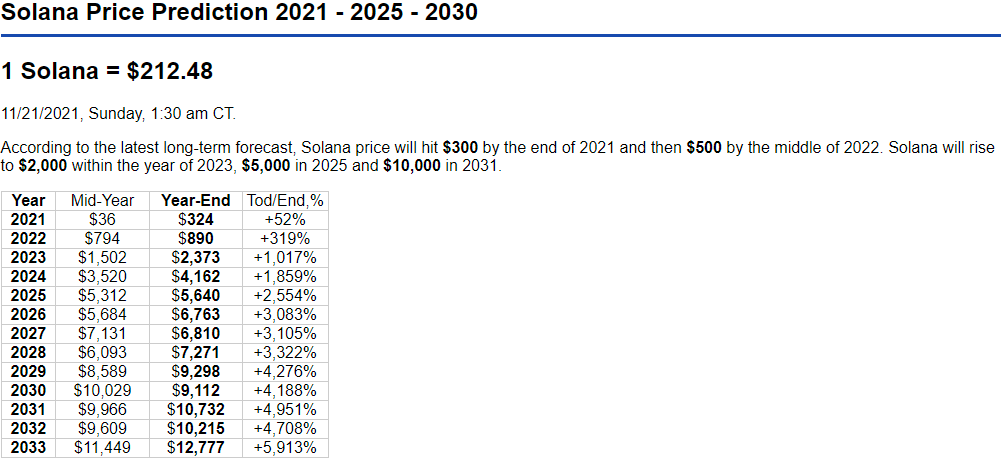 Wallet Investor, in turn, are also optimistic about SOL's future, although they tend to be more down to earth. According to them, SOL's average price at the beginning of 2022 is expected to be around $310, and by the mid year it has the chance to break a $500 level. The end of 2022 might grant us with SOL's price at around $815 per coin.
Throughout the whole 2023 SOL is expected to steadily grow, and the average price is predicted to be around $1300 by the end of the year.
The following year of 2024 it is predicted that the Solana coin will continue to strengthen, and by the end of the year the price might reach a $1800 level. Finally, the end of 2025 is expected to be especially good for SOL, since its price might end up on the $2300 mark.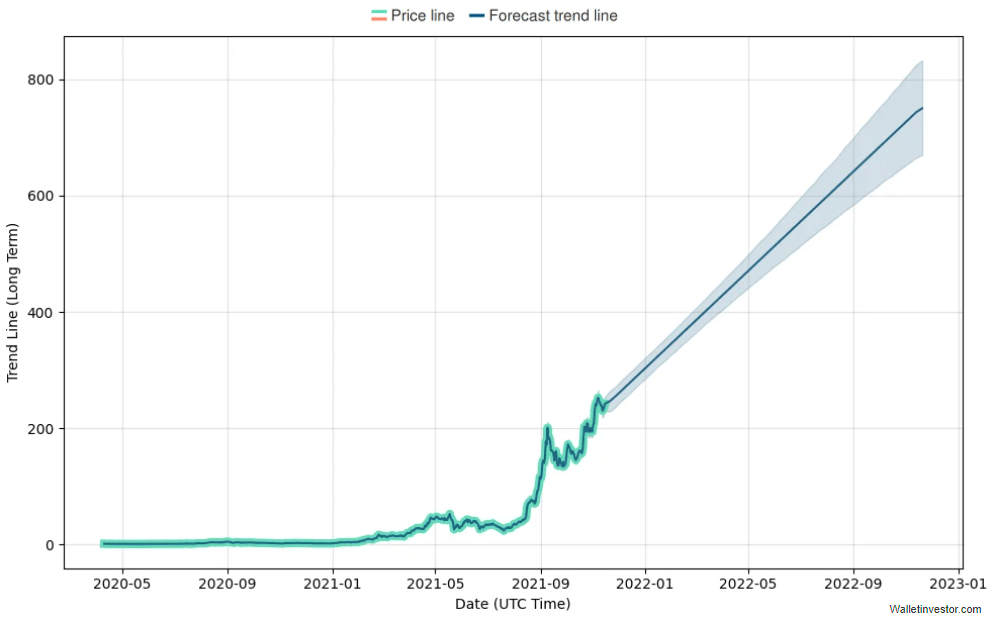 The Economy Forecast Agency (EFA), on the other hand, is much less optimistic regarding SOL's future. They also believe that Solana will increase in price in the upcoming years, but they are extremely down to earth on this matter.
In 2022 we might witness SOL's massive jump from $218 up to more than $630 per coin. However, in the following year of 2023 SOL might face fluctuations throughout the whole year, and go up and down from 600 to 800 and vice versa.
In 2024 the rally might continue, and by August SOL might break a $1000 level, and then follow a correction by the end of the year, dropping down to the $800 mark.
Finally, the year 2025 might somewhat resemble a year of 2023: the price has all the chances to fluctuate throughout the year, going down to $500 and then bounce back to $800 level.
Solana price prediction 2030
As always, it is hard to make such a long-term prediction, especially when we are talking about crypto, even so promising like Solana. Still, most of the Finder's crypto experts when asked about SOL's future were bullish about it and believe SOL can break a $5,000 level by the end of 2030.


Coin Price Forecast is even more bullish regarding SOL's price, and in their opinion it can easily go up as high as $10,000 per coin by the mid of 2030.
According to crypto exchange platform Changelly, SOL coin price can reach a $3,000 level in case Solana continues to show its worth and if it stays in the list of Top cryptocurrencies on the market.
However, all these forecasts are merely speculations. Investors should always remember that the cryptocurrency market is highly volatile, and literally anything can happen by 2030, so no one can say for certain what SOL coin market position will look like.
Does SOL have a future worth investing in?
For now, Solana looks like a very promising project. Moreover, its sudden price jump that happened earlier this year managed to get attention from investors and crypto experts.
It's blockchain also looks like something unique and can boast features that none of the other blockchains have. And the more Ethereum delays the launch of 2.0 version, the more favourable the situation is for Solana's growth and market expansion.All in all, it looks like SOL has a very bright future — a future that investors might be interested in supporting with their investments.