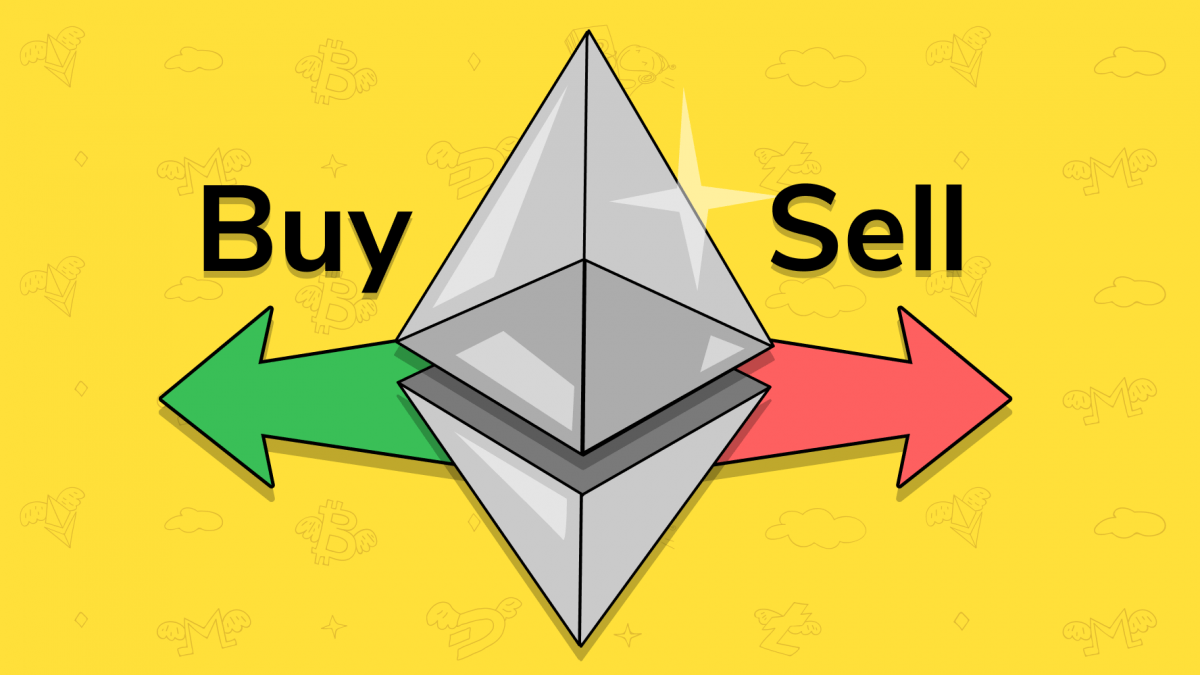 There was a time when Ethereum's price was well above $1300, but now it fluctuates around $180. Has ETH reached its peak potential and what will happen next?
Time will tell. As of writing, the figures show that the amount of ETH locked in DeFi is at a level of 2.8 million, which makes around $645 million in USD.
So if you believe in the power of Decentralized Finance and have seen its explosive growth in 2019, you will probably still be interested in investing in Ethereum.
If so, this article is for you.
Here you will learn about risks and benefits of Ethereum trading as well as trading platforms and apps. Additionally, we'll cover where you can trade Ethereum for Bitcoin and USD, and, also, you will read about places where you can trade Ethereum on margin.
Risks and benefits of trading Ethereum
Unlike Bitcoin (BTC), Ethereum (ETH) was invented to perform more than one function, the function of money. This blockchain was special in a way that it gave life to DApps, decentralized applications developed by thousands of blockchain-oriented projects on top of the network.
This explains the popularity of Ethereum and provides a relatively stable demand for the coin. Although don't forget that this is a cryptocurrency, so assume all the risks associated with cryptocurrency.
Ethereum Benefits
As of writing, in the very near future, we're going to witness the Ethereum Istanbul hard fork that is expected to take place on Dec. 4, 2019. This is important because the constantly improving ecosystem is one of the reasons for the mass adoption of the coin, as well as close attention from the independent investors.
For example, Winklevoss Capital, a VC fund managed by Tyler and Cameron Winklevoss, has invested in many crypto projects, Ethereum including.
Ethereum's wide adoption contrasting to some other cryptocurrencies should be factored in when assessing the asset's benefits.
To utilize volatility levels associated with crypto, you should learn about different trading strategies.
For example, you can use arbitrage and buy at one exchange and sell at another one, making a profit in just one day. As of writing, you can buy ETH on Binance for $183 and sell it for $208 at Bituary.
Or you can go with scalping and earn on a series of small-gain trades in a matter of hours. For instance, based on the Parabolic SAR, MACD and simple moving averages, you can see that a scalper buying ETH would have had several entry and exit points on Nov. 18, 2019.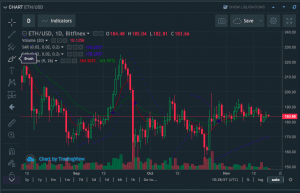 Equally, you could go with short and long strategies depending on your trading style.
So, volatility is a very interesting characteristic of any crypto, not only Ethereum. It can either come in handy or play against you if you don't know how to use it in a right manner. That's why we will also file it under the "risks" category.
Ethereum Risks
Crypto markets are open 24/7 and are known for sudden crashing as well as to-the-moon rises.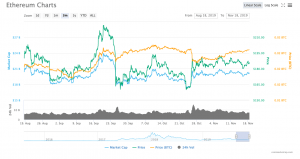 Take a look at the Ethereum chart above, and you will see that just a month ago, the price of the asset was $40 higher than at the time of writing. That implies that a person who prefers a long-term trading strategy could have lost money.
In essence, you should understand your risk tolerance and then invest in the coin with alignment to your risk profile. Interestingly, in this case, it doesn't matter if you trade Ethereum or any other crypto.
A good way to assess your risk is the risk/reward ratio we're talking about in the article on the art of cutting losses.
In contrast to smaller projects, with a modest market capitalisation, the pump-and-dump schemes are less popular with cryptocurrencies such as Ethereum, since its circulating volume is quite significant.
So, although exchanges might report fake volume, and groups of traders might attempt to buy and sell simultaneously at baulk, it's not that easy with Ethereum. Yet, it's possible, so keep this in mind.
Chapters could have been written on the cryptocurrency regulation around the world. As illustrated by the following examples, for tax purposes, different countries have categorized cryptocurrencies differently.
In Israel, crypto is taxed as an asset; in Denmark it's a subject to income and losses are deductible; in Switzerland it is taxed as a foreign currency. So, you see that it will likely take a long time before regulators come to a common ground.
So, paperwork and compliance might turn into a problem on your side when you trade Ethereum.
Ethereum trading platforms
If you think that the Istanbul fork will make the price of the asset go higher and want to trade Ethereum despite the aforementioned risks.
Good. These are the types of exchanges where you can buy and sell Vitalik's coin.
There are multiple trading venues where you can buy Ethereum. According to the Market Surveillance Report by BTI, the top "cleanest" exchanges with the wash trading under 10% include Coinbase, Upbit, Bittrex, Poloniex, Liquid, Kraken, Gate, Bitso and Lykke.
Basically, you can buy Ethereum on top of these platforms with no direct communication between users.
The buyer states the requested price, a bid, and later, the exchange automatically finds them a perfect ask, or a seller who will accept this price for their asset.
This kind of an exchange is completely different to the one described above, because you need to communicate to a seller or a buyer of Ethereum directly. Some people consider this method more libertarian, since there are no middle men in-between such as exchanges.
Localethereum.com falls perfectly into this category.
Sounds controversial?
Yet, these brokers exist. There are multiple solutions in place, and many of them serve traders globally. Google RoboForex, CryptoRocket, FreshForex or eToro.
Just to give you an idea, you can try RoboForex, to trade crypto for fiat currencies. With their R Trader terminal, you have access to the most popular fiat-crypto pairs, such as BTCUSD or EOSUSD.
But be aware of the minimum commission of 0.01 USD and keep in mind that unlike crypto exchanges that charge maker's and taker's fees as well as deposit and withdrawal fees, the broker will probably charge you an extra fee above all that.
There is one more nuance. With a broker, you might be offered not an asset exactly, but a crypto CFD or an index. The former is offered, for example, by AdmiralMarkets, and the latter by RoboForex.
In short, brokerage is not an option for libertarians who want to trade with no middle men in between. But it is an option for those who already trade with a broker and want to try something new.
Where to trade Ethereum for Bitcoin and USD
Normally, you can trade Ethereum for Bitcoin and USD with such crypto exchanges as Bitfinex, Binance, Bittrex and Kraken. But to withdraw and deposit money, you will be obliged to go through the KYC process first.
This is the process where you attach your documents, send it to the exchange, wait for a couple of weeks and verify your identity.
With some of the platforms, CEX.IO and Coinbase, for example, to buy Ethereum is much easier than with the ones mentioned above. How so? It is because of their easier interfaces as well as the functionality designed especially for beginners.
For that simplicity, however, you will have to pay extra fees. You're ready for that no matter what? OK, then. But remember that they will also require you to get verified first in accordance with the law.
If you already have an account on top of an acknowledged exchange with Ethereum in your wallet, you can let TradeSanta bots trade Bitcoin and USD for you.
How and where to trade Ethereum on margin
There are several crypto exchanges in the niche that offer you a margin trading option.
For more information, proceed to our other article about margin trading on Binance. The last section of the article contains a complete list of cryptocurrency exchanges that offer margin trading.
| | |
| --- | --- |
| Trading venue | Leverage |
| Binance | Up to 3x |
| Bitfinex | Up to 3.3x |
| Kraken | Up to 5x |
| CEX.IO | Up to 3x |
Key takeaways
So, you're about to trade Ethereum because you believe in the future of DApps and DeFi.
Well, Ethereum is a good choice, as it is widely adopted, and its volatility levels allow professional traders to use all the techniques and strategies to accumulate gains.
However, there are certain risks associated with any crypto, such as pump-and-dump schemes, ambiguous regulation and – yes, volatility, again. In the hands of inexperienced trader, volatility is a dangerous tool that you should learn about.
But if you think you're ready to trade ETH despite all the risks, take a closer look at crypto exchanges, p2p platforms and even brokers.
Some of them let you trade the asset for Bitcoin and USD. Also, you can put to action professional instruments, such as margin trading.
FAQ
Where can I trade ETH?
Ethereum exchanges, p2p trading platforms, Ethereum brokers.
What is the best way to trade Ethereum?
There are multiple trading venues where you can buy Ethereum. According to the Market Surveillance Report by BTI, the top "cleanest" exchanges with the wash trading under 10% include Coinbase, Upbit, Bittrex, Poloniex, Liquid, Kraken, Gate, Bitso and Lykke.