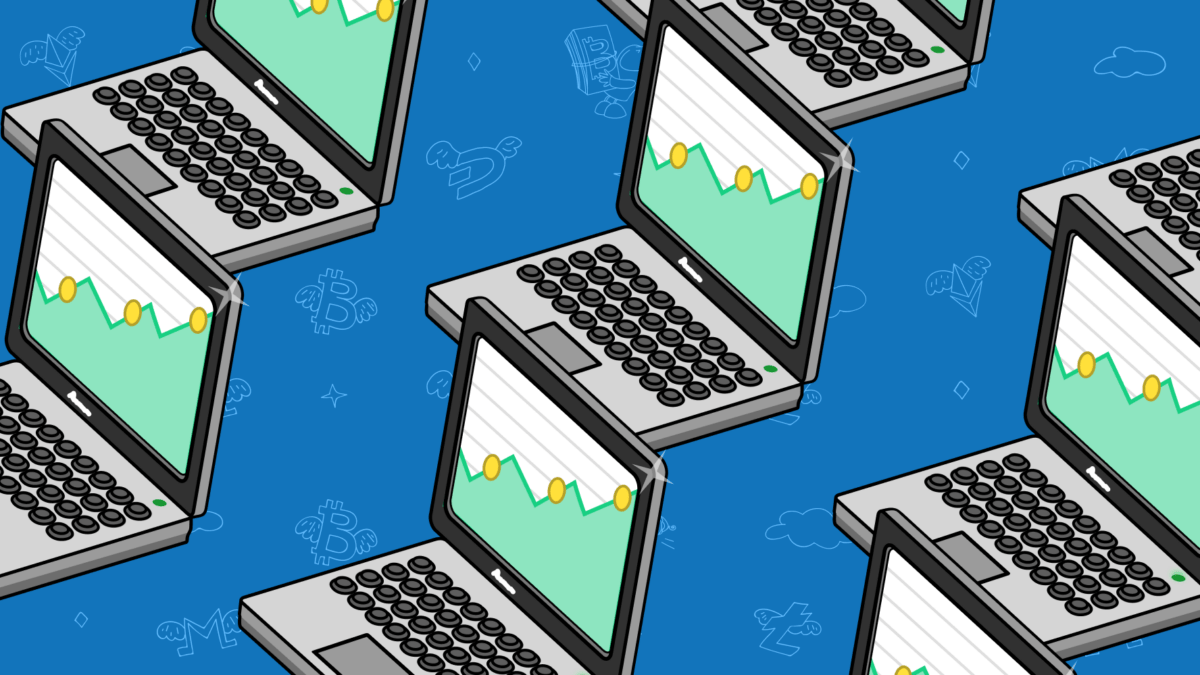 From this quick guide, you'll find out everything you need to know about copy trading in crypto. Also, you'll deal with some confusing definitions and learn how to copy trade on the best copy trading platforms out there. Dive in!
What is copy trading?
When you need advice on life's journey – you never go to someone who has never escaped their jungle. Quite the contrary, you go to those who have traveled and seen much. In crypto trading, just like in life, there are people more experienced than you, who have made more money and know more about all the pitfalls along the way. So, while learning all about the crypto niche, there's no need to wait until you get to that professional level, to start earning. You can start by copying the bots created by successful traders or follow those traders.
Copy trading is a type of crypto trading strategies that has obtained popularity over the last few years, because the role of the community in the niche is strong. Copy trading allows you to take a chance on the best trading opportunities without trading skills, time, and analysis needed to keep track of the market and manage the risks. Simply find the platform that has your exchange in their pool of linked exchanges, copy a certain trader's strategy/bot or a portfolio that returns impressive profits, pay the fee, and make a proper passive income.
How does copy trading work?
Normally, the copy trading software of your choice will do all the work for you behind the scenes, so you don't need to spend a lot of time thinking about technicalities. Let's take a look at this using TradeSanta as an example. Say, you're already logged into TradeSanta, you've already connected your account with the exchange of your choice. Now, then, all you'll have to do is go to the Marketplace, filter all the bots based on parameters important for you (exchange, type of market, pair, bot's age), and choose the bots with desirable return on investment, and, then, click a button Follow/Copy.
The platform will copy one of the chosen crypto trading strategies on your behalf and will automatically execute trades on your exchange.
Advantages of copy trading
Copy trading is a convenient way for beginners to enter the crypto market, because you can choose the trading strategies that have been working and shown a certain performance. It could be a better and easier way to start rather than trying to put together your own strategy.
Copy trading is normally an automated activity that spares you a lot of time. Plus, the transactions will be placed in a timely manner and as quickly as possible.
You can analyze the bots' or traders' statistics before following them. With all the stats and charts presented on the copy trading platforms it's really easy to see if the trader/bot has a lot of followers and a big yield.
For some reason, you've stopped liking a trader/bot/strategy after a certain period of time? Just stop and choose another one.
Disadvantages of copy trading
In copy trading, there's no guarantees even with the utmost professional and seasoned experts or popular bots and trading strategies. Market changes and no trading strategy is so universal that it will perform at its best throughout eternity.
If your copy trading goes well, be prepared to pay to those other traders/platforms helping you. There's no cap in fees a good trader might want to charge you, however, with automated platforms, paid plans are normally set in stone.
Social trading vs Mirror trading vs Copy trading
Have you ever heard of social trading? How about mirror trading? Isn't it the same with copy trading? Let's deal with the confusion once and for all. Unlike traditional financial markets where there can be certain nuances, in the crypto niche, these activities mean almost the same. So the only problematic technicality you should maybe have your eye on is not the terms or definitions mentioned above, but the fee schedule. For different traders/bots/strategies and on different platforms, it varies, and here, you should be careful.
Top 6 copy trading software tools in crypto
Before diving deep in the list of the top copy trading software providers, it makes sense to keep in mind that almost all of them offer a bucket of similar services and work the same.
That is, you can either copy someone else's strategy or become a strategy provider yourself. It all depends on your needs and experience.
Strategy providers are often named signallers while those who copy those strategies are called followers or copiers.
TradeSanta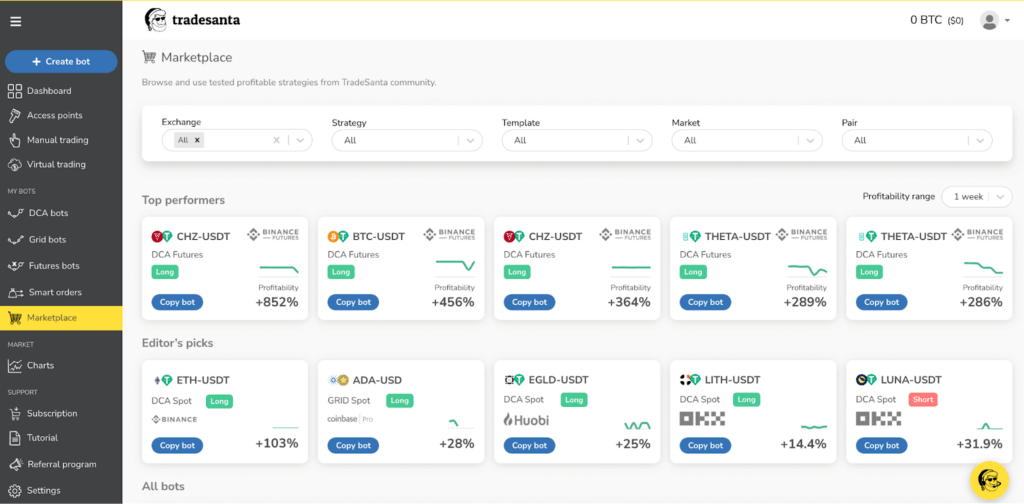 TradeSanta copy trading screen 2022
TradeSanta, founded in 2017 by a team of financial and software engineers passionate about developing better and simpler digital asset trading software, is an automated trading platform that offers you a powerful terminal, trading signals and bots and trading strategies. Marketplace with a number of bots to copy (or follow) is just one of the platform's multiple features, and, as of now, it is absolutely free.
New TradeSanta users are welcome to browse the Marketplace's top-performing bots, click on them, and, then, start copying. Futures and spot instruments are available. The price depends on your subscription plan and starts at as little as $15 per month for an unlimited number of pairs, all strategies, Telegram notifications and 49 bots.
Shrimpy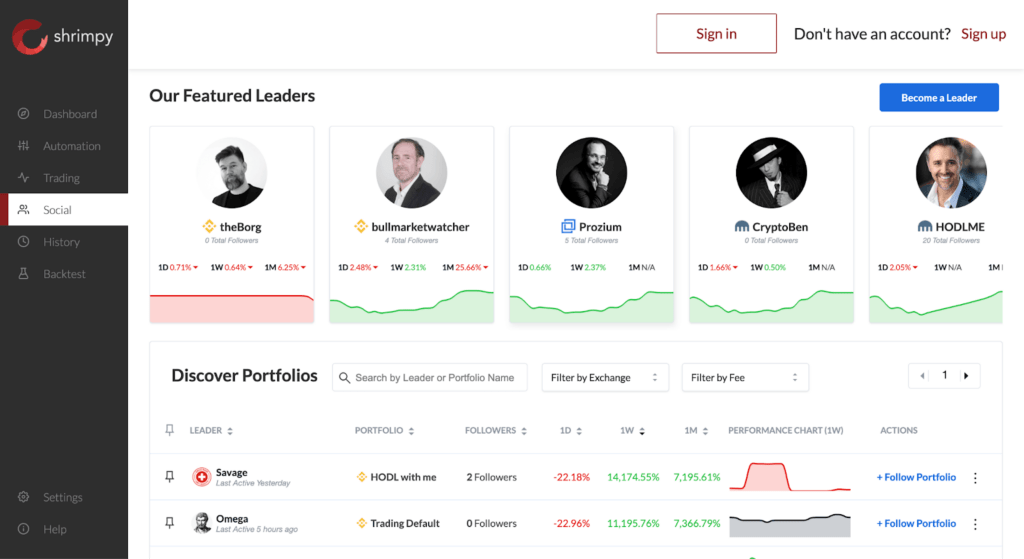 Shrimpy copy trading screen 2022
Launched in 2018, the Shrimpy platform is based in Santa Clara, California, and offers portfolio rebalancing as well as copy trading. Also, users can develop custom cryptocurrency index funds and even automate rebalancing.
Start by going to the "Social" tab of the service's dashboard and, then, find other traders to follow on the same exchange as yourself (on Shrimpy, they are called leaders). Free leaders get paid $4 per follower monthly. This payment comes from a follower's subscription cost.
Premium leaders have an option of charging extra fees for following one of their portfolios, and these fees may vary. So evaluate each leader carefully before following him or her.
If you're a leader, you'll pay 30% of your profits to Shrimpy on a monthly basis.
eToro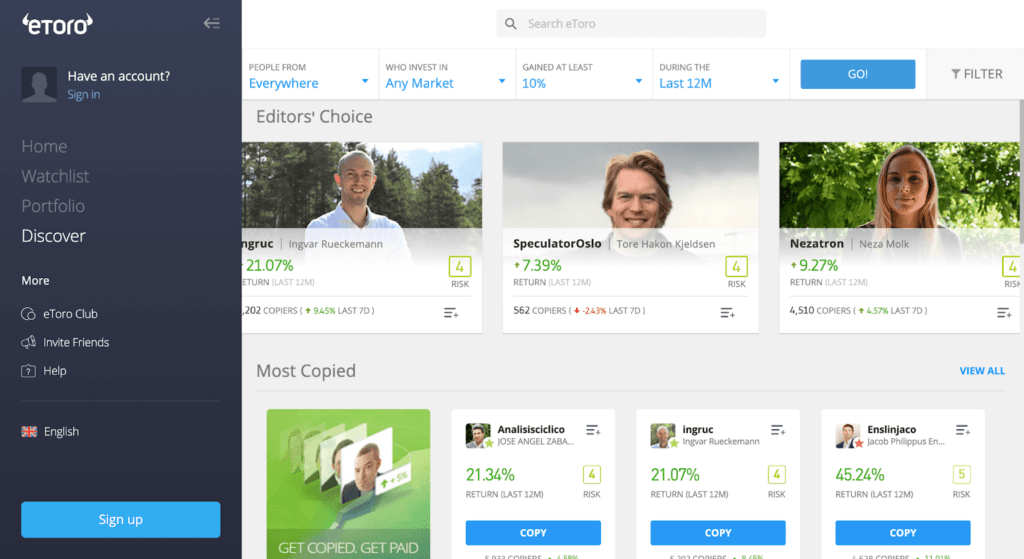 eToro copy trading screen 2022
Founded in Tel Aviv, Israel, in 2007, eToro is a multi-asset investment and a copy trading platform providing different financial services. The founders say they've launched the platform to make investing and online trading accessible to everyone.
Even though none of your money actually goes to other traders, there is a set of requirements to follow. For example, the minimum amount to invest in a trader is $500. The maximum number of traders you can copy simultaneously is 100.
If you want to become a leader to follow on eToro, you will need to apply for a Popular Investor Program. However, if you're accepted, you could earn a 2% annual fee for the total amount that others use to build their portfolio.
CryptoHopper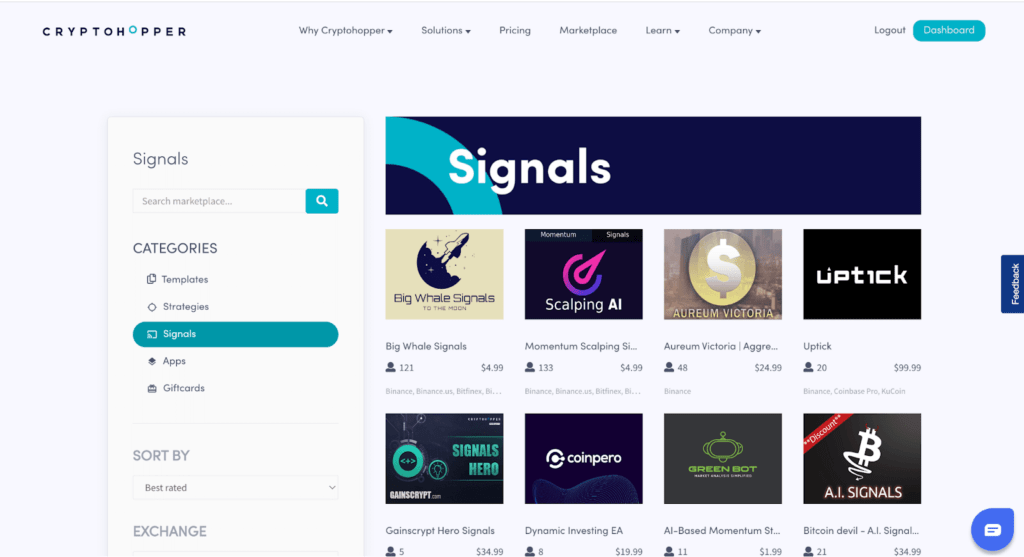 Cryptohopper copy trading screen 2022
Located in Amsterdam, Netherlands, Cryptohopper is an automated trading platform for cryptocurrencies that allows crypto traders to automate their trading strategies. It also offers other services, copy trading including.
In order to start following other traders on Cryptohopper, you will need to create a hopper, first, and, then, subscribe to signalers. When a signaler sends a signal to your bot, it will execute a trade.
Signalers' prices vary just like the prices on any marketplace. For example, you can buy a signal for as little as $4 or don't pay for it at all. Mine the market and choose what fits you the best.
Zignaly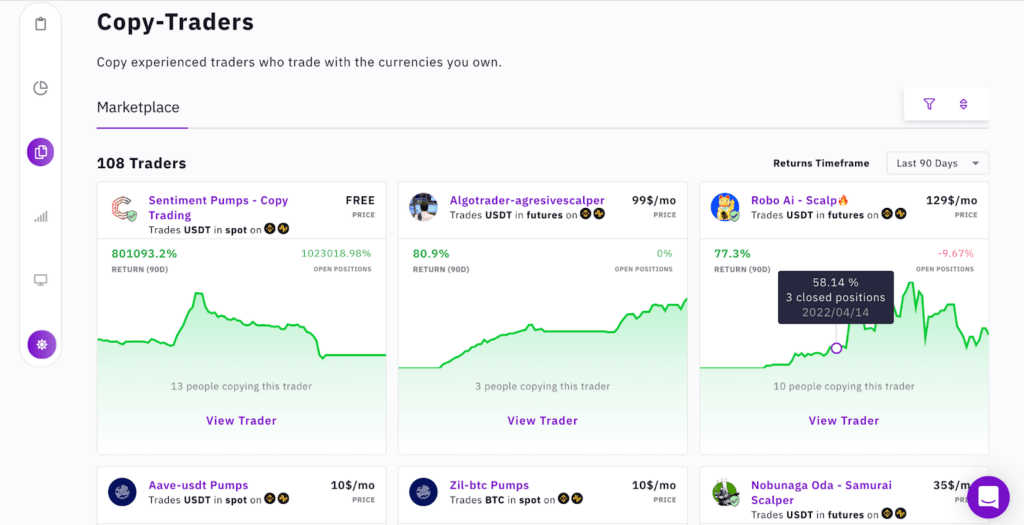 Zignaly copy trading screen 2022
Located in Cordova, Andalucia, Spain, and founded in 2017, Zignaly is an automated trading platform that connects you to a number of crypto signal providers. You can use your own trading strategies and trading signals, or copy free or paid providers' strategies.
How does copy trading work on Zignaly? Profits are split between copiers, the traders to follow, and Zignaly. 85% of the profit goes to a copier, 10% to the trader to follow if the trader's success fee rate is 15%, and 5% to Zignaly.
Coinmatics
Coinmatics copy trading screen 2022
Coinmatics, a copy trading and analytical platform, was launched in 2018. The main product of the platform is copy trading. Both professional traders and beginners can accumulate profit while using this service.
Investors (aka followers/copiers) don't need to pay for copy trading if they're already paying for the subscription plan. However, there are certain limits to the copy trading volume. If you're on the free plan, your trading volume limit is 2500 USDT. The Lite plan ($13/month) will allow you to copy trade for a maximum of 10000 USDT. Other packages will give you access to the unlimited copy trading volume (starting with $25 per month).
A trader is able to set the subscription fee of any amount or create a free of charge strategy. Coinmatics takes 5% of their traders' profit on the platform.
Summing up
Social trading, also known as copy trading, or mirror trading, is a form of investment that allows you to observe the behavior of your peers and expert traders and copy their trading strategies.
The biggest advantage of copy trading strategies is that it's a convenient way for beginners to enter the crypto market. No need to conduct fundamental and technical analysis, just trust this to a professional trader.
However, be prepared to lose money in some cases, because no-one is perfect. And even experts make mistakes, especially in such volatile markets as crypto markets.
If you want to start instantly earning on others' profitable strategies, try TradeSanta, a cutting-edge automation tool that will help you dive deep in copy trading without spending time on technical and fundamental analysis – buy and sell easily, using crypto trading robots.
Still have questions? Shoot them on Facebook, Telegram, or Twitter!