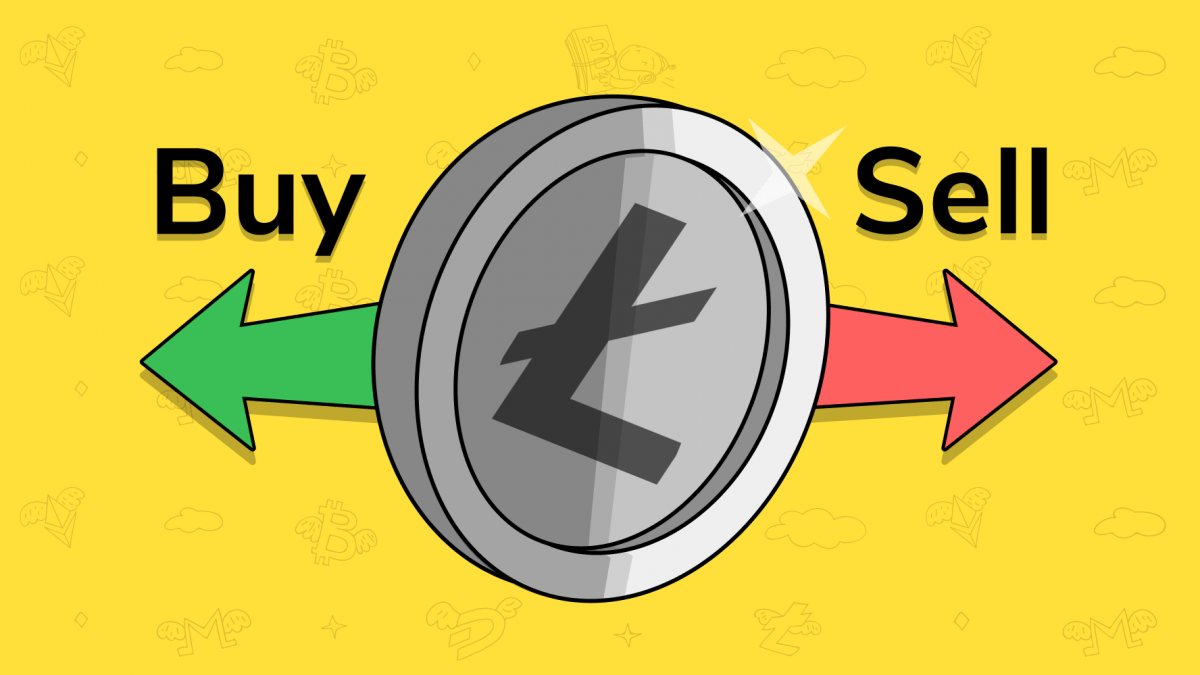 Litecoin (LTC) is one of those famous crypto coins you can find on top of almost every prominent cryptocurrency exchange. It's easy to trade and easy to store.
People often call this asset the "silver to Bitcoin's gold", and from this post, you'll learn what mobile apps are useful for Litecoin holders, which exchanges you can trade the crypto silver on… and why you should actually give Litecoin a try. Or should you?
Before answering this and other questions, here is a short overview.
Origins
Litecoin is one of the oldest cryptocoins in the niche and originates from Bitcoin (BTC), which Charlie Lee, a developer with an MIT background, hard-forked in order to create a lighter version of the distributed payment system.
These days, not only is Litecoin a self-standing cryptocurrency but also one of the most progressive projects in the niche with the Lightning Network and SegWit implemented.
Nevertheless, everything began with several improvements Charlie Lee intended to bring into the Bitcoin protocol.
In contrast to Bitcoin, block generation on the Litecoin blockchain takes 2.5 mins, which is four times faster than Bitcoin's. A total of 84 million LTC can be minted on top of Litecoin, which is four times more than Bitcoin's. The next halving event will happen around 2023 once a new portion of 840,000 blocks is mined. As for Bitcoin, the highly-anticipated halving will take place this year.
Several parts of the mining process on the two blockchains are also not the same. The hash functions involved in the proof-of-work algorithm differ because of Charlie Lee's original attempts to decrease the competition levels in mining and increase the transactions speeds on the network.
In other words, from a technical perspective, Litecoin does look like the "silver to Bitcoin's gold" simply because it addresses several of Bitcoin's flaws.
Litecoin (LTC) overview of highs and lows over the years
When launched, Litecoin's price was less than $0.10, though in July 2013, the situation started to slightly change.
The price of Litecoin skyrocketed by 395% to $48 from $9.7 in November, 2013 to mid 2014.
The sentiment behind this kind of bounce was that Bitcoin was growing more and more popular, and people felt that they missed the boat with Satoshi's project.
After that, for three years in a row, nothing special really happened to the price of Charlie Lee's coin. But it significantly surged to 8200% in the wake of the 2017's hype where all the cryptocurrencies started to boom in price and popularity.
The same situation was observed from 2014 to 2017 in terms of Bitcoin's price. Whereas in June 2014, Bitcoin cost $595, the price showed an upsurge of 2252% to $14K per coin in December 2017.
In the times of the hype, Litecoin's price peaked at $360, which looked like a tremendous shoot-up in comparison to its value of $4.40 in 2016.
From then on, the market started observing a continuing drop in LTC price to $114 in June, 2019, and $43 in January, 2020.
As for Bitcoin, for the whole following year, its price was also plummeting and decreased from $16K in January 2018 to less than $4K in January 2019.
Pros and cons of trading Litecoin (LTC)
Pros
In comparison to Ripple's board members that have

control

over the coin supply, in 2017, Charlie Lee sold all of his Litecoin in order to

exclude any conflict of interests.
Litecoin (LTC) is an easy asset to store in bulk, because almost every hardware wallet supports this popular crypto.
Charlie Lee's coin is one of the oldest out there. It's hardly possible for this asset to disappear from the cryptocurrency market. Since 2011, investors haven't had a problem finding buyers to sell it to.
Cons
Although volatility is something that allows for cryptotraders to accumulate gains, it might be dangerous for beginners.

Just like with the cons of trading all other assets,

Ethereum (ETH)

and

Bitcoin (BTC)

, for example,

volatility

might be the most prominent flaw of investing in Litecoin (LTC) if you don't expect the coin to fluctuate.
Litecoin (LTC) exchanges
Name an exchange and, most likely, you will find Litecoin (LTC) on top of it. For example, HitBTC, Bittrex, OKEx, Huobi, UPbit do allow you to trade this coin on top of them. Just open your laptop, create an account and go.
But what about mobile apps? There are exchanges that allow you trade Litecoin (LTC) on the move!
There is probably no need to explain that Binance is one of the most popular crypto exchanges with more than 430 pairs traded on top of it. Well, they also have a mobile application that lets you buy, sell and view your trade history.
With the app, you can use such features as the limit order, market order and stop-limits.
Available on Android and iOS.
Headquartered in San Francisco, this exchange is one of the most popular options among crypto investors. The venue has two main ventures: a professional trading platform and a user-facing retail broker.
And guess what?
They also have a mobile app to trade on the run. The app is available in 190 countries, so give it a try!
Available on Android and iOS.
So, name a trading platform, and it will probably offer you Litecoin trading. Given the popularity that the project has obtained over the years, it's no wonder that not only you can trade Litecoin on top of an exchange, but also on the go from your mobile phone.
To sum up
Litecoin (LTC), or "silver to Bitcoin's gold" as it is often referred to, is one of the most popular cryptocurrency assets and is always high up in CoinMarketCap's ranking.
This is probably what Bitcoin would have looked like if Satoshi could have foreseen the popularity of his project – higher block size, higher transaction speed and the initial idea to make the mining equally accessible to everyone.
One of Litecoin's major flaws, just like with any other crypto, is probably volatility. As for significant cons, one this coin is not controlled by a single entity as, for example, Ripple (XRP) is.
Also, the popular coin is really easy to trade on the move or from your laptop, since the most exchanges list Litecoin (LTC) on top of them! And guess what? A lot of those exchanges also have mobile apps.