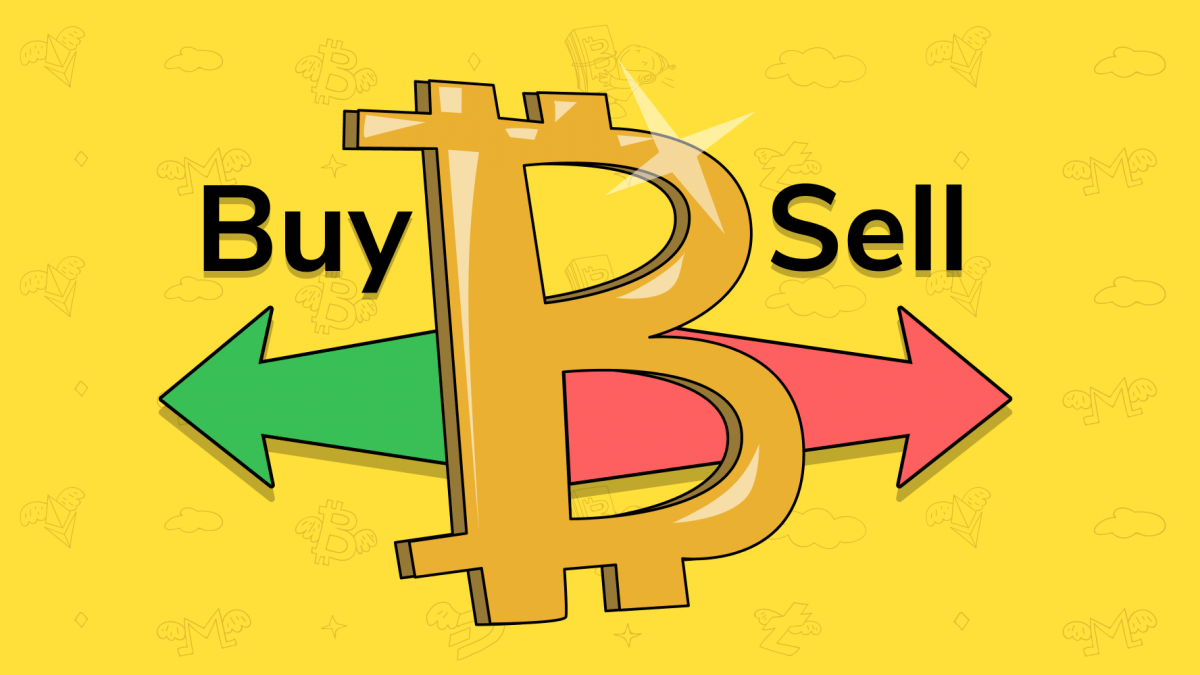 There are few possible explanations why you're reading this article.
You want to try investing and make quick profits. You're already familiar with the basics of trading, say, on Forex, and hope to extend your portfolio.
Or, you have held Bitcoin for quite some time, and now you want to trade it when the price is good.
If you want to make a lot of money quickly, you will need to reassess your approach and learn a little bit about strategies and indicators. Nowadays, when the hype is gone, it's challenging to achieve small gains, even if you're a professional trader.
To the second group of readers, Bitcoin trading is a good option for day trading with its high levels of volatility, and you can put your experience to action.
And if you've always held Bitcoin and now want to try it, keep on reading.
This short overview will cover the pitfalls you could encounter while trading Bitcoin as well as the benefits of buying and selling the digital gold. We'll also enlist a few trading platforms, apps and software for you to start the process.
But first things first.
Pros and Cons of trading Bitcoin
When talking about BTC trading, it makes sense to compare the process to several markets like Forex, traditional stock exchanges and altcoin assets, such as EOS or Ethereum.
However, the altcoin market is worth a whole separate series, so we don't discuss it in detail here.
Benefits:
In contrast to Forex trading or trading stocks, Bitcoin might be a more volatile currency than any traditional one, which creates ideal conditions for substantial daily spikes. And that, in turn, opens a road to manifold day-trading and scalping opportunities.
Take a look at these fluctuations levels in the price of Bitcoin over three months from July to November 2019. The BTC price dropped from a maximum peak of 14 000 USD to almost 8000 USD, which is slightly below 50%.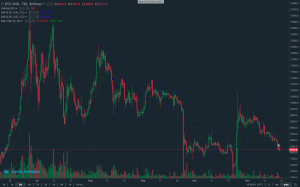 As we explain in our piece on how to trade Ethereum, while trading crypto, you have an opportunity to use a broker, such as eToro or RoboForex, if you want to.
But the good thing about cryptocurrencies is that you don't have to use the brokers as you would do with Forex or traditional stocks.
That eliminates commissions and transaction costs dramatically. If you access the market directly via a crypto exchange, such as Kraken, Bitfinex or HitBTC, you are not obliged to have a minimum amount to start trading.
All you need is the Internet, some savings and several papers to verify your identity.
However, there is an even better solution than those platforms where you will still have to pay withdrawal/deposit fees together with trading fees, which are p2p exchanges where you can purchase Bitcoin directly with a very small fee for the conformation of the transaction.
The best way to go is to buy Bitcoin from your friend, where it will cost you a minimum fee and will be absolutely safe.
Drawbacks:
Before we even go further, you should keep in mind that there are several ways to store your Bitcoin.
You can use a hardware wallet, such as Ledger Nano or Trezor. This kind of storage is known as a cold storage since it doesn't involve the Internet.
There are also physical wallets in place, for example, paper wallets.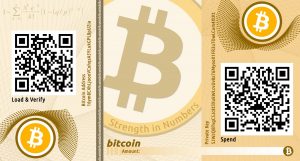 That's not all. There are hot wallets out there that cover everything online-ish. These include desktop wallets, mobile apps and cryptocurrency exchanges.
Most likely, you will store your Bitcoin with an exchange simply because it's easy and convenient for those who trade!
But be aware that they are all under the watchful eye of hackers. Although the largest trading venues take action to enhance their security all the time, some of them experienced thieves nabbing millions.
Just to give you one example. In 2019, hackers stole more than $30 million from the South Korean platform Bithumb. The hack has affected hot wallets, or simply, users' online accounts with the exchange.
Keep in mind that cold storages, such as hard drives or paper wallets where you keep your Bitcoin far away from the Internet, are more secure.
Once hacked, no-one will ever guarantee you that you will see your money again. Basically, you're unprotected and can only rely on the exchange that might want to pay damages.
Bitcoin is not easy to tax in several countries where regulation is still ambiguous about the nature of blockchains and cryptocurrencies.
For example, in China, cryptocurrency exchanges are banned, meaning you cannot tax the income from your trading activity.
In Israel, for example, crypto is taxed as an asset. So the night is young, and for every country, there are specifics you should research.
Bitcoin trading platforms
It's really hard to give you advice about the best Bitcoin trading platforms and apps on the Internet without knowing why you want to sign up with an exchange.
You might have several objectives.
Maybe you just want to try that new thing everybody is talking about, Bitcoin, and you don't have time to delve into this too much.
Or, you might be serious about investment opportunities because you have some experience with traditional trading. If so, you will need exchanges well-suited for day trading.
If you're just a beginner and want to buy Bitcoin with fiat, or, in other words, with a credit card or a bank account, you can go for CEX.IO or Coinbase. The latter is especially popular in the United States.
However, the group of readers who are serious about trading should learn all about advanced options that such exchanges as UPbit, Kraken or HitBTC provide you with. These options include stop-losses, limit orders, trading indicators, trading strategies, margin trading and many other tools.
Be aware that the list is just a rough list that can be extended with Poloniex, Binance, Bitfinex and other venues. Coinmarketcap, a famous statistics website in the niche, enlists top 100 exchanges in the world by liquidity. And this is just the top list.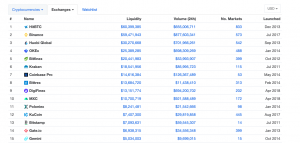 Binance gives you a chance to trade their native token for other cryptos, which reveals a certain decrease in trading fees.
One of the first venues to provide users with such a feature like margin funding was Bitfinex. Now, with the influx of DeFi solutions, this option is becoming more popular.
Poloniex, which has been recently bought by Circle, is a crypto-to-crypto exchange, meaning that you can buy and sell no fiat on top of it.
That is to say, depending on the exchange's interfaces and functionality you might want to choose either venue.
Bitcoin trading apps
If you live in the U.S. you can try a famous mobile app Robinhood to trade traditional stocks as well as Bitcoin. The distinctive feature of the app is commission-free trading. Well, almost commission-free.
They will charge you a small fee for stock sell orders on behalf of the SEC, but will not make you pay for opening your account, maintaining it, or transferring funds to it.
If you don't live in the U.S., but still want to utilize a crypto trading app on your phone, you can try eToro or ZuluTrade.
Bitcoin trading software
Once you gain some trading experience you can advance to the next level, which is automated trading.
This option is the best fit for those investors who already know what they are doing. With trading software like TradeSanta, you can execute smart orders, set your take-profit targets and earn either on selling or buying your assets.
Crypto bots can do all this for you, but it takes a little experience and the ability to calculate losses and gains in a way that your gains are higher than losses – something they call a risk/reward ratio.
No software can guarantee you profits, they just simplify your trading processes and save you time.
To sum up…
Now, you hopefully have at least a rough idea of what it takes to trade Bitcoin. It's not as hard technically as you might have thought but it takes time and effort not to fall into the trap of manifold details.
For example, you might be inspired by no brokers involved or volatility levels that give you a chance to day trade.
But don't let pitfalls fool you and mind the laws of your country as well as the hackers who are tempted to take money easily away if kept in hot wallets.
If after considering all the pros and cons, you've decided to try Bitcoin trading, you have several options at your disposal.
Crypto exchanges where you can trade crypto for fiat is a good starting point.
With the new cryptocurrencies obtained, you can enter a more advanced venue, to trade Bitcoin to other cryptocurrencies.
Finally, once gained some experience, just set up a few bots to help you automate your Bitcoin trading.