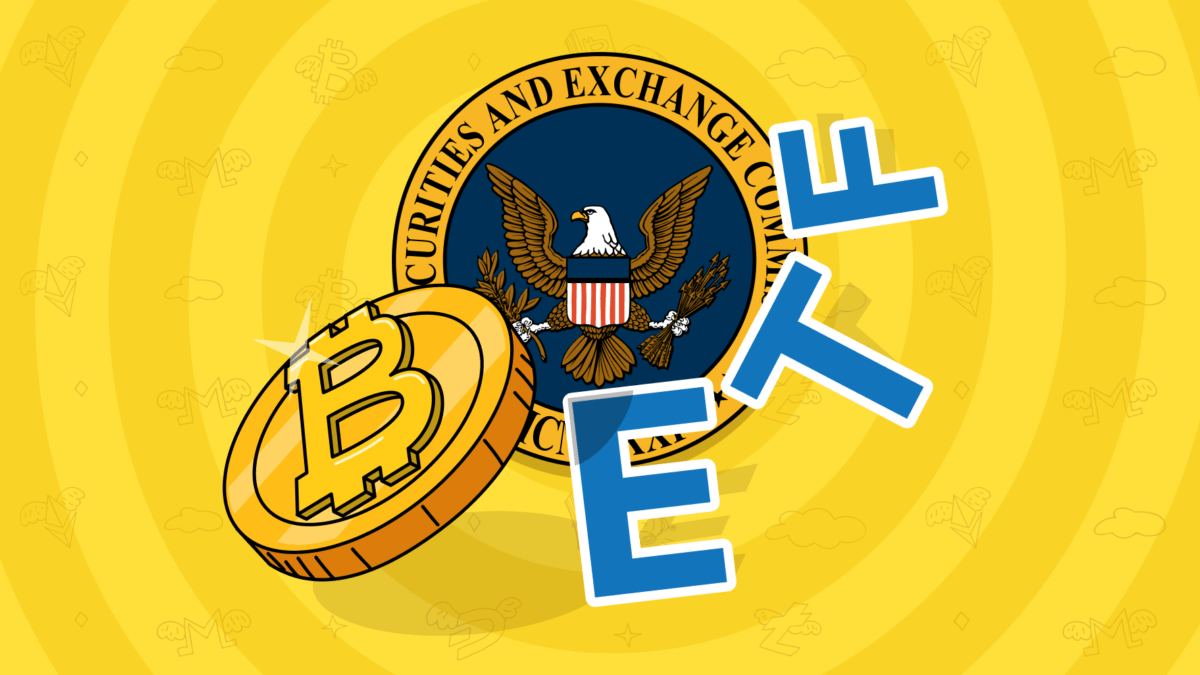 Traders were buzzing with optimism last couple weeks as recent industry updates hint at potential approvals for crypto spot ETFs. Towards the end of October, Grayscale, an asset management company, won against the SEC (U.S. Securities and Exchange Commission), and the regulator decided not to appeal the court decision. This win has sparked hope in the market that the SEC might become more open to cooperation in reviewing filings, paving the way for the anticipated launch of the first Bitcoin ETF. Adding fuel to this optimism was the Depository Trust and Clearing Corporation (DTCC), which, as a post-trade clearance provider on NASDAQ, included yet-to-be-approved Bitcoin ETFs from BlackRock in its list.
The market witnessed another surge last week following the exciting news that BlackRock applied for the listing of a spot Ethereum ETF. This information surfaced through a document on NASDAQ's official website. The result? The value of the leading cryptocurrency hit its highest point in the last 18 months, almost reaching $38,000, and Ethereum successfully broke through the $2,000 resistance level on November 9th.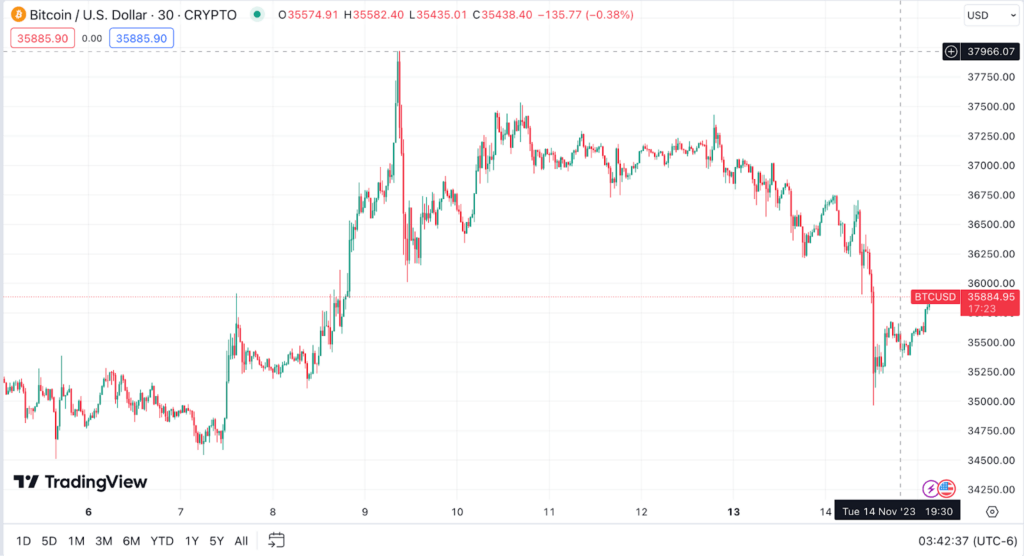 The SEC is currently reviewing multiple applications to create exchange-traded products from large investment firms, according to Reuters, that involve trading Bitcoin and one for Ethereum as far as we know.
What is an ETF?
An Exchange Traded Fund (ETF) is a financial instrument that consolidates assets tied to a specific index, sector, commodity, or other valuable asset, and operates more like a fund. When you hold ETF shares, you're essentially claiming a stake in the fund's overall assets. This provides investors with a straightforward way to diversify their portfolios and participate in the performance of various markets.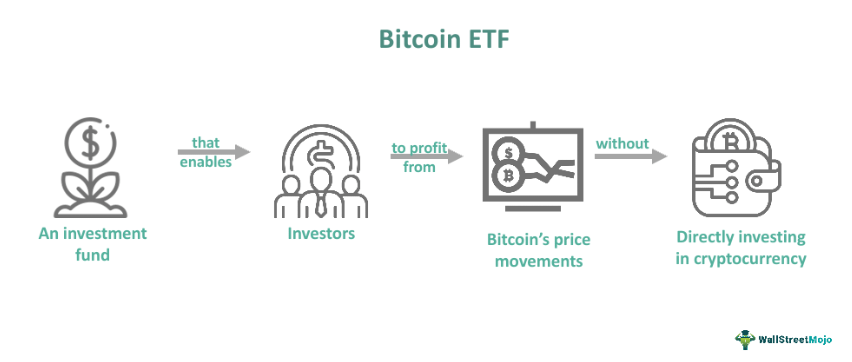 In the context of cryptocurrencies, ETFs offer investors the opportunity to participate in profits from price fluctuations even if they don't actually own them. Instead of trading on crypto exchanges and managing digital wallets on their own, investors can purchase shares of ETFs focused on BTC or ETH, for example, using regular brokerage accounts.
It's worth saying that spot ETFs directly own the coins, while futures ETFs use futures contracts to track asset prices.
What's the problem with approving spot ETFs
The first attempts to launch a Bitcoin ETF in the US dates back to nearly 10 years ago. In 2013, the Winklevoss brothers filed for a trust similar to the Bitcoin ETF. The Winklevosses' initial application, as well as a second attempt in 2018, were rejected because the SEC claims that none of the ETF schemes proposed so far provide sufficient protection for investors from "fraudulent and manipulative activities."
Until now, SEC US has rejected all applications for Bitcoin ETFs, citing concerns about market manipulation, fraudulent activity, liquidity and volatility inherent in cryptocurrencies, stating that regulatory measures need to be developed.
That said, the Commission has previously approved several Bitcoin futures ETFs (Proshares Bitcoin Strategy ETF, Valkyrie Bitcoin Strategy ETF, VanEck Bitcoin Strategy ETF). And the SEC's main concern in approving spot ETFs, related to the inability to protect investors from fraud and manipulation, seems inconsistent and illogical, since the spot and futures markets are closely related.
The rejection of applications can also be explained by the stance of some anti-crypto politicians in the U.S., some observers believe.
Regardless, in late October, commission head Gary Gensler said that "agency staff is working on several Bitcoin ETF applications at once." And according to information from Coindesk, the regulator is also in talks with Grayscale Investments about the details of the company's application to convert GBTC from a Bitcoin trust to a spot BTC ETF.
The Potential Impact of Crypto Spot ETF Approval for the market
Market Inflows: Analysts from Galaxy Digital project that in the first year following the debut of the inaugural ETF, the crypto market could witness inflows totaling at least $14.4 billion. This forecast suggests a potential increase in Bitcoin's capitalization. A recent report from Coinbase also says that approved ETFs could add billions of dollars to the overall cryptocurrency market, but "it will take time."
Building Market Credibility: An officially authorized ETF can further strengthen Bitcoin's credibility in the traditional financial world, attracting both institutional and retail investors.
Increased Market Liquidity: Attracting more participants could contribute to a more stable Bitcoin market, helping to mitigate abrupt price fluctuations.
Diversification of Investment Instruments: With regulatory compliance, ETFs can introduce new investment instruments such as lending, futures, and options, providing investors with diversified opportunities within the Bitcoin ecosystem.
New Investment Products: According to Coinbase analysts, given regulatory compliance, ETFs will be able to create new investment vehicles, opening the door to a range of possibilities, including lending, futures, and options.
Regulated and Transparent Investment Path: A regulated framework surrounding Bitcoin ETFs offers potential investors a straightforward, transparent, and secure avenue for investment. This regulatory clarity helps build trust in the market.
Accessible Investment Entry:
The ETF model simplifies the investment process, particularly beneficial for newcomers or those hesitant to directly purchase Bitcoins. This accessibility fosters a more inclusive investment environment.
When the SEC will approve the first ETF
Despite existing deadlines, investors should be prepared for more delays from the SEC, especially after the delayed decision on ARK 21Shares' application.
In the meantime, analysts at JPMorgan and Bloomberg Intelligence predict approval of an ETF based on the spot price of Bitcoin in the first quarter of 2024. And Galaxy Digital founder Michael Novogratz believes that the regulator will make its decision as early as December this year.

Source: Bloomberg
Final thoughts
A Bitcoin spot ETF could become a bridge between traditional investment avenues and the crypto market as it exists, allowing investors to add crypto assets to their portfolios and pension funds. For an asset in which there is growing interest from institutional investors, the emergence of such an investment vehicle seems well justified, although not without its challenges and potential drawbacks. Investors are eagerly awaiting developments in this area.
FAQ
What is ETF?
An Exchange Traded Fund (ETF) is a financial instrument that consolidates assets tied to a specific index, sector, commodity, or other valuable asset, and operates more like a fund.
When will the Bitcoin Spot ETF be approved?
The Securities and Exchange Commission has not yet approved spot Bitcoin ETF applications, but analysts suggest the initial approval might happen as early as December this year.