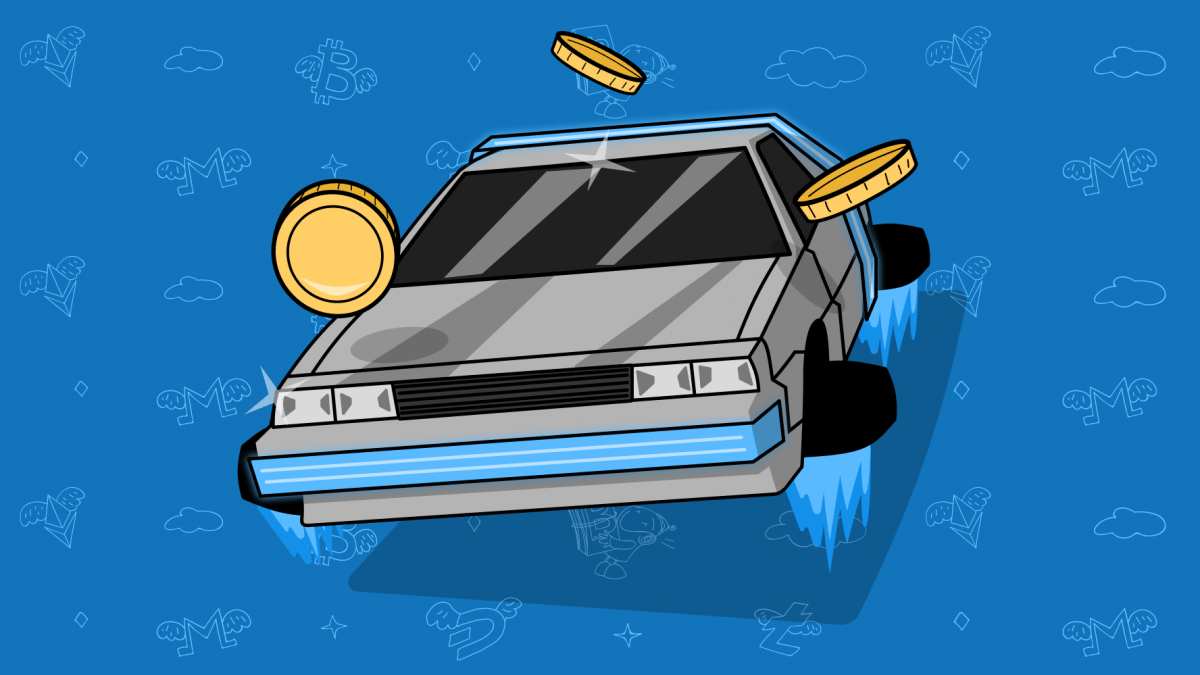 The world of crypto has come a long way since the invention of Bitcoin and the presentation of blockchain technology to the public. At the very beginning, only a handful of financial enthusiasts were interested in crypto. Nowadays, the world's largest banks and tech giants openly acknowledge crypto technology and spend hundreds of millions of dollars on Bitcoin. The blockchain's introduction leaps forward with giant strides. However, even with such astonishing results, it is still hard to predict what the future of cryptocurrency and the crypto market in general will be. In this article, we will try to identify the path cryptocurrency is moving towards.
Before we jump to the main topic, it is crucial to look at crypto in general and analyze its current condition. After all, the technology behind cryptocurrencies is not ideal, and it has its own strengths and weaknesses.
New generation of technology

The economic crisis of 2008 showed how vulnerable and unreliable our financial system is. It is not surprising that the technology that crypto brought along with it got so much attention. Decentralized finance system (or "DeFi"); anonymity; peer-to-peer transactions without the need for banks and any other kind of middleman; low fees and little, if at all, paperwork; no government regulation — all of that made blockchain technology in general and cryptocurrencies in particular a worldwide phenomenon. Started as a way of "revolution" against traditional financial institutions, it managed to attract the attention of its rivals: banks, hedge funds, and other representatives of the conservative monetary system are now trying to implement blockchain technology into their own systems.
No wonder this combination of finance and technology has made such an impact on economic institutions: the demand for new technology, security and flexibility from the users of traditional financial services has only been rising since the crisis of 2007-2008.
This demand has evolved into multiple fintech startups that have expanded the blockchain and crypto ecosystem. Now we have extra secured crypto wallets to store digital assets; crypto exchanges like Binance and decentralized exchanges like Uniswap; public chain infrastructure; crypto payment systems and so on and so forth. Moreover, the increase in investors in the crypto space, which could've been witnessed in recent years, has made trading and long-term investment in cryptocurrency an activity with a potential for high returns.
Nonetheless, the crypto world is far from being mature and blockchain technology certainly has its own limits and weaknesses. Whilst we have already mentioned the pros of crypto, it is important to take a closer look at the cons.
Wide variety of concerns
Let's face it: central banks, traditional currencies and fiat money have been with us for centuries. Cryptocurrencies as a phenomenon appeared only around 11 years ago. This fact makes so many people, especially of the older generation, still quite sceptical not only about using crypto for long term storage of their funds, but also about the future of crypto in general. On the other hand, it is worth mentioning that at least one in three millennials see cryptocurrencies to replace fiat money and credit cards in future. However, we shouldn't be quick to judge those who are sceptical about crypto since there are certain reasons for that.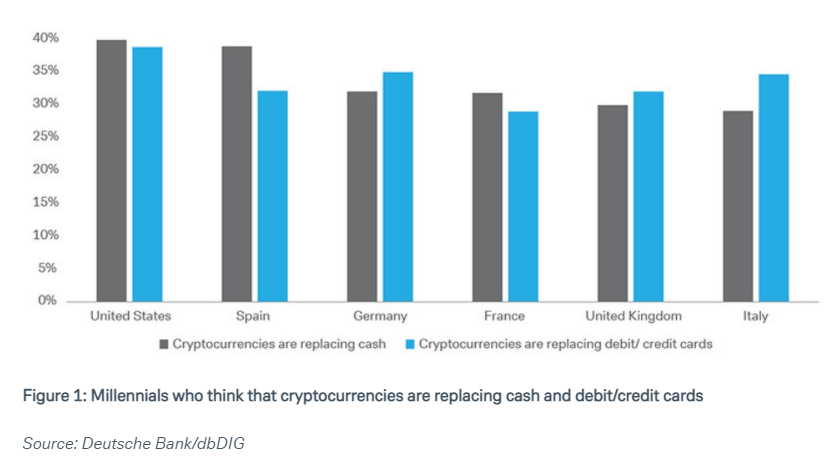 Lack of regulation

It can be seen as a problem or a feature of cryptocurrency, depending on your personal attitude and the way you look at it. Certainly, the fact that no government in the world can fully control the transactions, distribution and evolution of crypto and digital assets can be somewhat attractive, since you can stay anonymous and make possible profits without middlemen or exhausting paperwork and ID checks.
At the same time, since the crypto world is self-regulated, protection of your funds is fully up to you. So in the case if your funds have been stolen, your wallet has been hacked or if the project you have invested in came out as a scam then no one would be able to help you to retrieve your money.
Moreover, in some places like the USA or EU, your income from crypto investments is taxable, and tax dodging can get you in jail. It leaves you with the situation when your funds are not protected by any branch of your government, but you are still obliged to pay taxes. That can be repulsive to many investors who prefer to stick to more traditional types of investments like stocks and bonds. In that case, you can be sure that you can at least go to court if you end up being a victim of a fraud.
Volatility
High volatility is another reason that scares off potential investors. Certainly, that can be seen as a double-edged sword: high volatility can bring potential profit, or it can make you lose all your investments. If we, for instance, look at the most known cryptocurrency — Bitcoin — we can see that the chart for it looks like a roller coaster.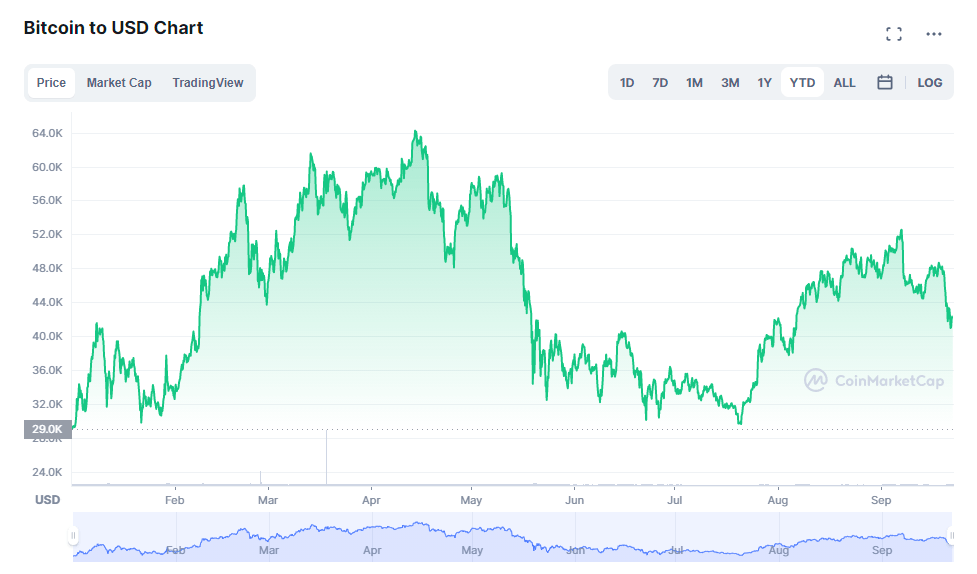 However, the volatility itself may not be the problem alone here. The fact that no one can say for certain if high volatility stays in crypto world forever or it can be somehow tamed in the future is the question that concerns most. For now, the only thing that the investors can do is to adapt and learn how to squeeze the maximum profit out of it.

Is there any future for digital currencies?

For all the limitations the cryptocurrencies have, they are doing great at the moment. If you look at the news' headlines for the last few years regarding cryptocurrencies you could notice that cryptos are being more and more adopted across the globe, both by opinion leaders and billionaires like Elon Musk, and even by the whole countries.
Cases like El Salvador's move to accept Bitcoin as legal tender give even more confidence to crypto enthusiasts in their vision of a future where fiat money becomes a relic of the past. Nevertheless, the situation might not be as bright as it would seem at first glance. We can expect more and more governments' attempts to regulate crypto, or at least to make enough pressure on it so it won't stay so easily accessible.
China's efforts to ban crypto mining this year made a strong negative impact on cryptocurrencies' market positions. Moreover, People's Bank of China claimed that they will maintain high pressure on activities that include cryptocurrency transactions.
On top of that, the US government also tries to create boundaries for the crypto world in order to make it more regulated and taxable, prevent money laundering and control the price of stablecoins.
It does not mean that crypto is going anywhere any time soon. Moreover, the fact that it is facing more and more regulations and attempts to make it similar to fiat money means that cryptocurrencies are on their way to be alongside such traditional forms of investments like bonds and stocks. That is something we can clearly witness in the near future. As for replacing fiat money — that most likely will not happen, at least not in the next upcoming years. However, more than half of fintech experts believe Bitcoin will replace fiat money by 2050. Whether or not this will happen or whether these attempts of regulation can solve the limitations of crypto still remains to be seen.

Which Cryptocurrency has the best future?
Bitcoin
Bitcoin is the king of cryptocurrencies. The last decade has proved that Bitcoin only strengthens its position. Without a doubt, the next decade will be crucial for the major cryptocurrency in becoming a mainstream. Still, with all the above-mentioned limitations and weaknesses that cryptocurrencies have, this road might be bumpy. Without the technological improvements of the crypto ecosystem, more attempts at regulation from the outside will follow.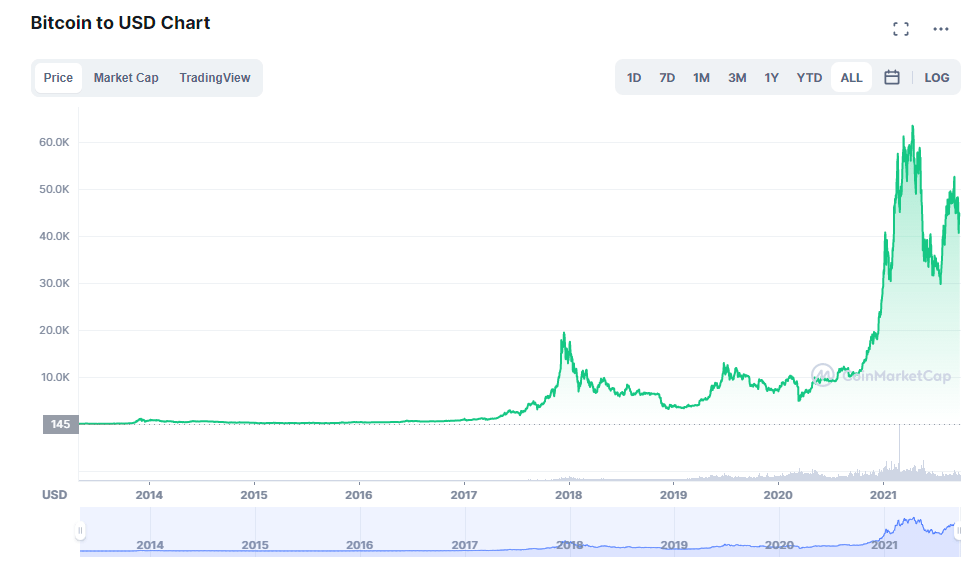 Nevertheless, the price for Bitcoin has only been growing since it became publicly available. Only during 2021, the price has reached $60 000 and now Bitcoin costs around $40 000. But the rise in market price is not the only thing the main cryptocurrency can expect in the near future.
According to Citibank, Bitcoin might become "the currency of choice for international trade" as more and more companies and banks adopt blockchain technology and seek to issue their own digital currency. Even though there have been thousands of new coins issued over the last decade, Bitcoin's position remains intact, and it is safe to say that its future is bright.
Ethereum

The situation with Ethereum is different. Unlike Bitcoin, Ethereum was created on an open-source platform for a reason, thus allowing anyone who knows how to code to create their own decentralized applications, or DApps, that nowadays can vary from DeFi like Uniswap decentralized exchange to online games like Axie Infinity. Ethereum looks even more promising than Bitcoin since it represents the image of every crypto enthusiast — programmable money.
Such technology could not become unnoticed, and that is the reason why Ethereum is the second-largest cryptocurrency by market cap.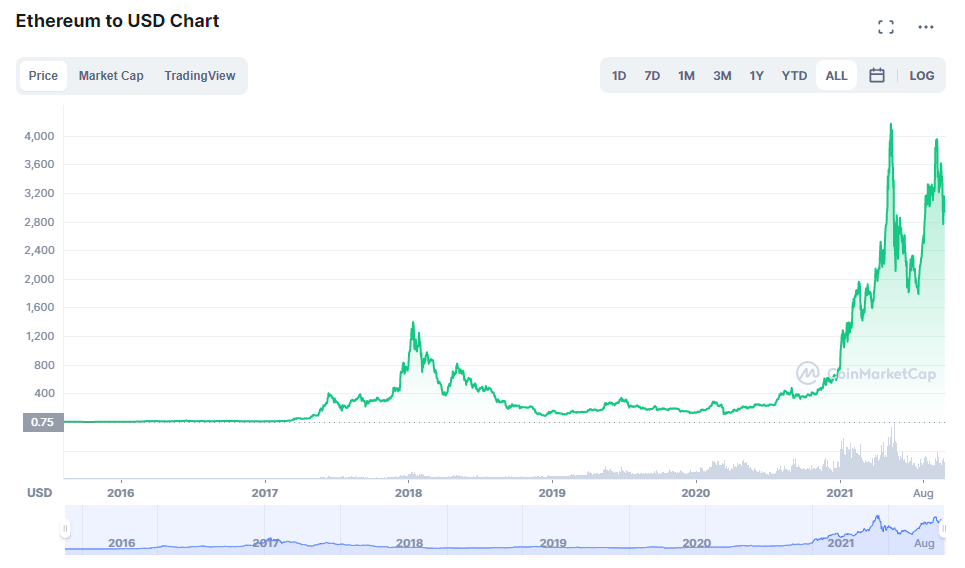 The problem that Ethereum is facing now due to its popularity is high transaction fees since its network is highly congested. Because of this so many potential investors are waiting for the major update to Ethereum 2.0. Still, if we take a closer look at the all-year chart, we can see that Ethereum is a very promising cryptocurrency that is destined for further growth.
Cardano
The third largest cryptocurrency by market cap — Cardano — has all the chances to continue flourishing in the near future. Unlike Bitcoin and the not yet updated Ethereum, Cardano is a more environmentally friendly and "green" cryptocurrency — it uses a proof of stake method that allows validating or mining block transactions according to the number of coins the investor holds, unlike Ethereum's or Bitcoin's proof of work method, which requires a global network of computers to validate and confirm transactions and issue new coins.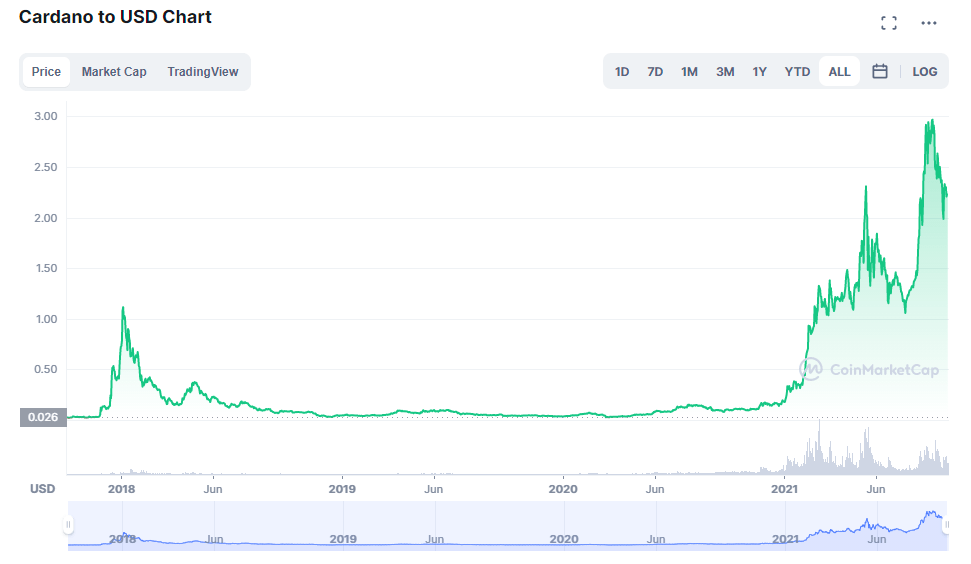 This is a much more "healthy" and environment-friendly alternative, and that is the reason why Cardano managed to get into the spotlight of investors.
However, apart from its technology, Cardano is also striving to be used in real-life use cases. For instance, in addition to the already existing alliance with Ethiopian's Ministry of Education in assisting with the goal of programming blockchain-based universal student credential systems, Cardano plans to create a blockchain tech for this country's ID system. In case it goes as planned, we can expect other countries to move in the same direction, and thus guarantee Cardano's bright future.
Polkadot
Projects like Polkadot represent a next-generation blockchain protocol that enables cross-blockchain transfers of any type of data or asset, not just tokens. Besides, interoperability protocols like Polkadot can process multiple transactions in parallel, thus solving the issue of the so-called bottleneck that happens on legacy networks that process transactions one by one.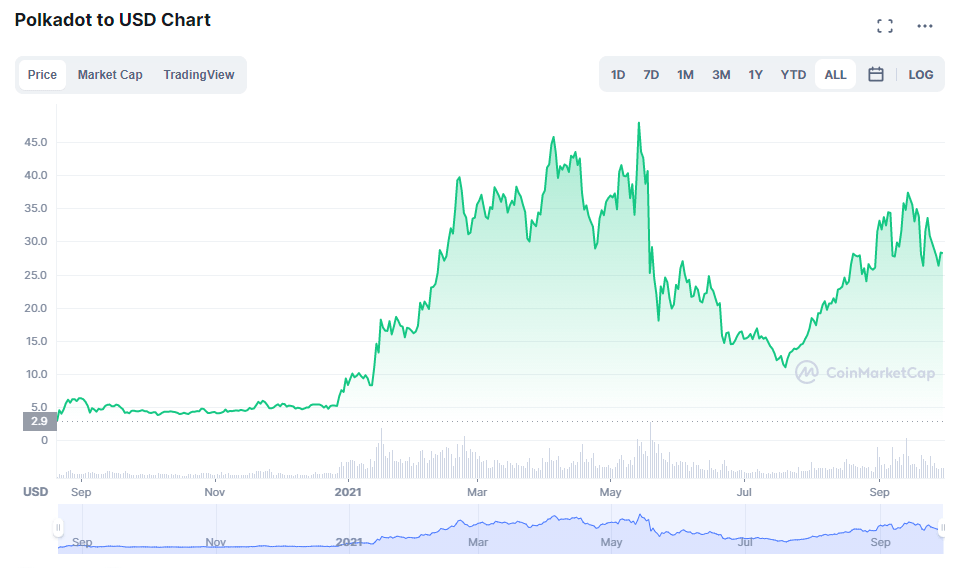 This kind of technology improves scalability and creates a lot of room space for future project growth. Just like Cardano, it uses a Proof of Stake method and thus it makes projects like Polkadot more environment-friendly cryptocurrency.
Is there a demand for other coins?
When it comes to investing in digital assets it may not be easy to pick one. Surely, you can put your money in the Top 3 currencies in the crypto market, but what about the rest of them? Currently, there are around 7 thousand cryptocurrencies on the CoinMarketCap website alone, and you might think that investing in the most recently added currencies or those with a low market cap would be potentially profitable.
However, it may not be that simple. The problem with cryptocurrency space is that a lot of crypto projects have no real utility or use cases at all — a study conducted a couple of years ago showed that even among the Top 100 of cryptocurrencies by market capitalization only 36 have real utility.
When it comes to investing, you should always do your research first to see if the project is actually worth it and if it has a real life use case. For instance, meme coins with nothing but hype might not be a good idea for investment, and, on the contrary, projects like Binance Coin, which is a currency of a well-known and popular crypto exchange, might be worth investing in.
If you can't choose one particular cryptocurrency, then you can pick several projects to invest in. Crypto experts believe that you shouldn't put all your eggs in one basket, so making your investment portfolio more diversified is actually a good thing.
What will crypto be worth in 2030?

Different experts have different opinions on the question of how much cryptocurrency will cost in the near future. If we go deep into the subject, we could see that those forecasts vary greatly: some experts say Bitcoin will go up to $250,000, others are more sceptical and believe it won't succeed that much.
For instance, billionaires and crypto entrepreneurs Winklevoss Twins are confident that Bitcoin will eventually reach $500,000 by 2030. Anthony Pompliano, co-founder and partner of Morgan Creek Digital hedge fund also believes Bitcoin will have a steady rise in price and can be traded at $300,000 in 2025 already.
Most of the experts agree that Bitcoin will remain the number one cryptocurrency and we can all expect more and more adoption of it from banks, hedge funds and other representatives of the CeFi.
Ethereum's future price forecast might be even more bullish, according to experts. Ryan Gorman, co-founder of the Trade the Chain app believes it can go up as high as $100,000 in 2030. All that will be due to the nature of the Ethereum platform that, according to Gorman, will remain the most popular platform for the deployment of DApps in the crypto space.
A cryptocurrency research firm Crypto Research Report tends to be more realistic about Ethereum. They predict ETH to reach $7,000 by 2025, and $21,000 by 2030. What most of the experts believe is that the next upgrade of Ethereum 2.0 will make a major impact on the coin price, and in case the upgrade succeeds, Ethereum will be able to surpass competitors like Polkadot and Cardano in terms of scalability and transaction solutions.
As for the overall crypto market capitalisation, the experts believe it will more than triple, and we can witness it hit almost $5 billion by 2030. The main drivers for that will be having more transparency in global payment systems and increased demand for international remittances. The most significant growth will be in the Asia Pacific region due to the increasing number of mining businesses.
FAQ
What are the biggest concerns about crypto?
Biggest crypto concerns are lack of regulation and volatility. For now, the only thing that the investors can do is to adapt and learn how to squeeze the maximum profit out of it.
Which cryptocurrency has the best future?
These cryptocurrencies might have the best future: Bitcoin, Ethereum, Cardano and Polkadot.