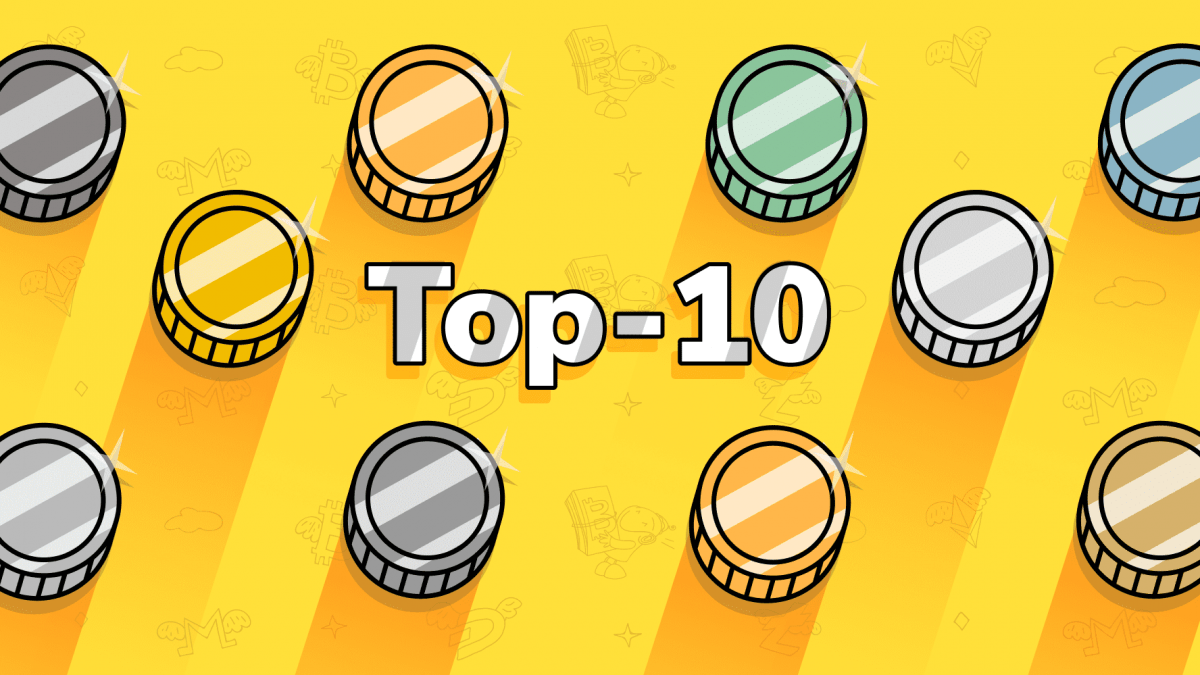 Few people realized that when Satoshi created the Bitcoin protocol in 2009 in response to the 2008 global financial crisis' economic devastation, the world had gained something more than a digital currency— a new asset class. After a decade, there are thousands of cryptocurrencies, each with its own set of features, uses, adoption, and promise.
So how can you figure out which cryptocurrencies are the best to invest in in a vast market worth at least $2.1 trillion?
In this article, we discuss the best assets by market capitalization in the 2021 crypto scene – some of them may not be as volatile as other coins and thus maybe not be as profitable in short-term speculations. Yet, these are coins with history and liquidity, so to say. We won't include cryptos like USD coin, Tether, BUSD, and other stable digital currencies or "stablecoins."
​​*Market caps and pricing current as of August 20, 2021
Content
Top Cryptocurrencies by Market Cap: September 2021
Bitcoin (BTC)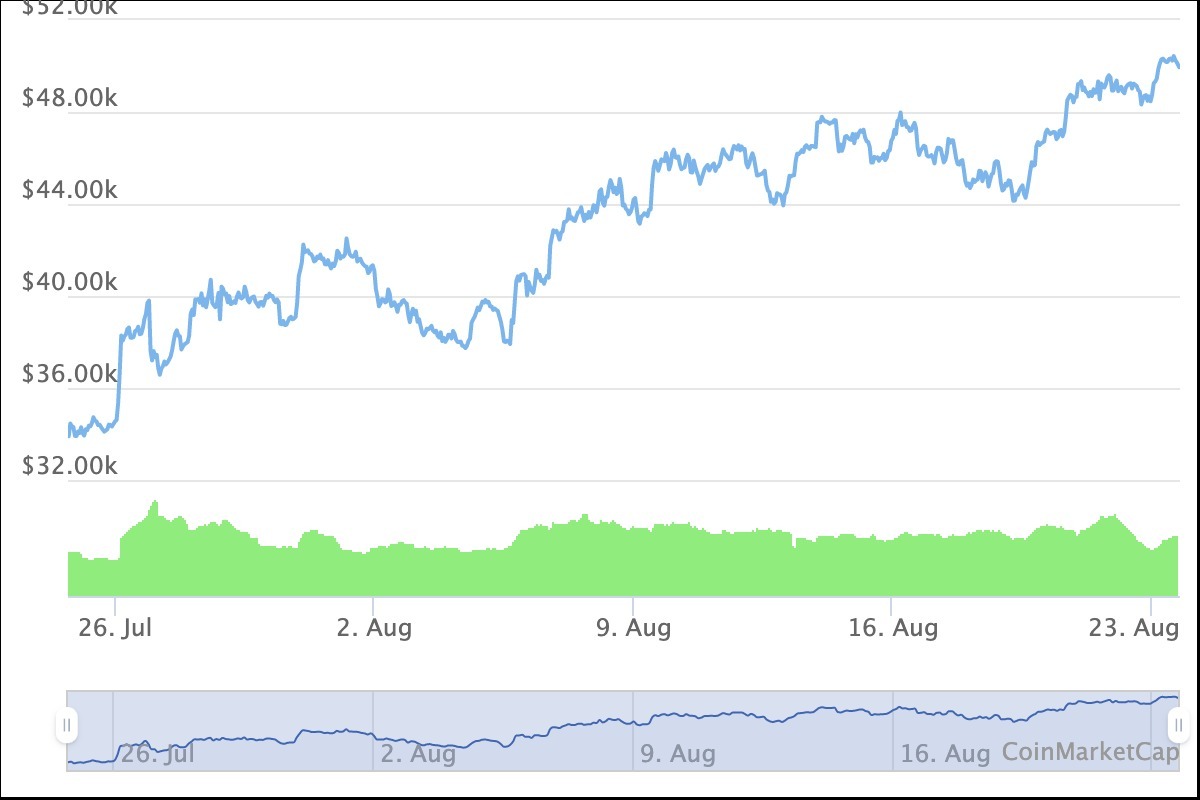 Market capitalization ≈ $919 billion
Circulating Supply: 18,777,768 BTC
Max Supply: 21,000,000 BTC
All-Time High: $64,863.10
Bitcoin was the first cryptocurrency to appear on the cryptocurrency market, giving it a clear advantage over others on this list.
It has established a global community, spawning new industries of enthusiasts who mine, invest, trade, and use Bitcoin and other cryptocurrencies every day. Bitcoin's introduction established a conceptual and technological foundation that sparked thousands of competing projects.
It remains the most valuable cryptocurrency, with a market capitalization that fluctuated between $600 and $1 trillion in 2021, thanks partly to the widespread adoption of platforms that provide BTC use-cases: wallets, exchanges, payment services, online games, and more.
Bitcoin's spot price hit an all-time high of $64,804 on April 14, 2021, and many bitcoin traditionalists believe it'll hit $100,000 by December.
Another reason why Bitcoin is worth your investment is institutional backing. Big companies like Tesla, Microstrategy, Square, and Marathon Digital Holdings. Recently the Government of El Salvador made Bitcoin a legal tender in the country. As more governments and institutions warm up to cryptocurrency investments and crypto mining, Bitcoin continues to rise and its value is bound to soar past its old ATH soon.
PS: Bitcoin should not be mistaken for Bitcoin Cash: a fork of the original Bitcoin virtual currency.
Ethereum (ETH)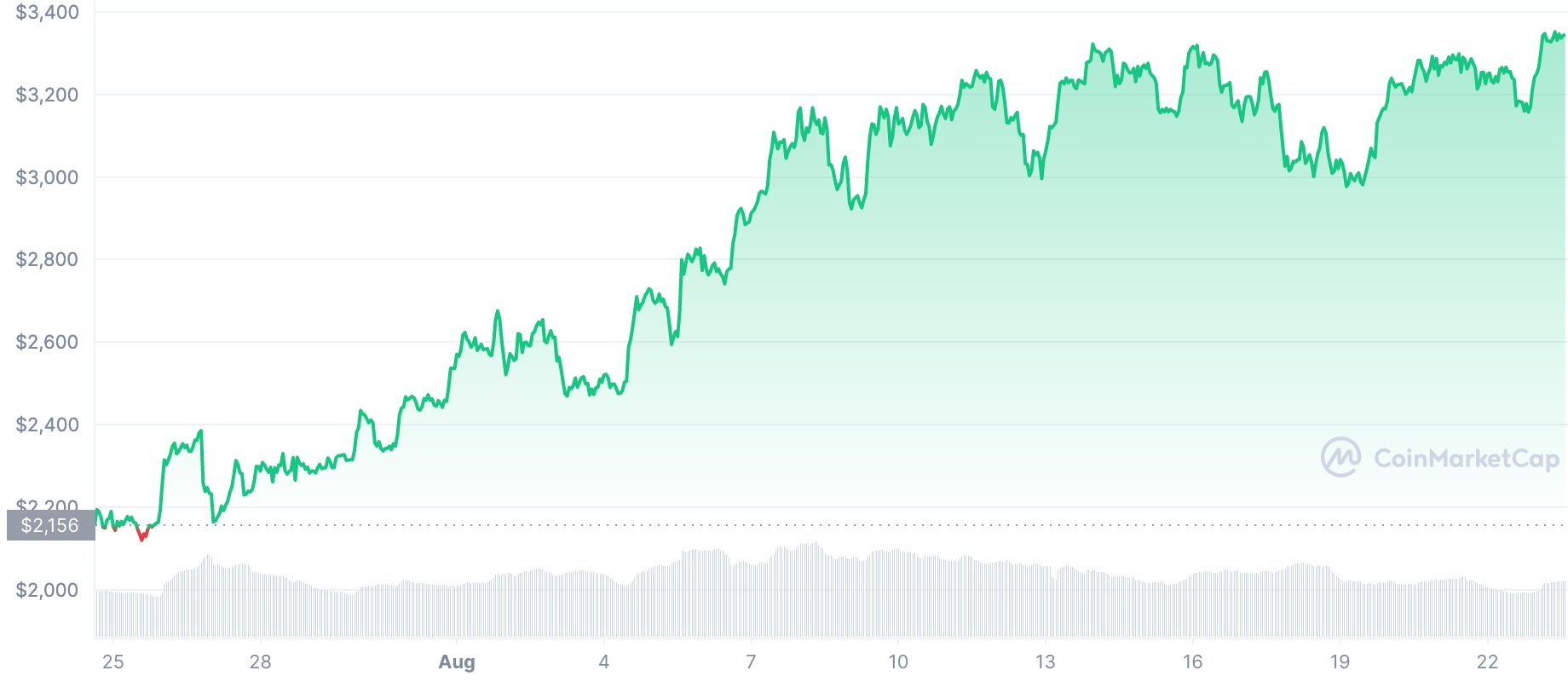 Market capitalization: Over $393 billion
Circulating Supply: 116,991,379 ETH
Max Supply: No Data
All-Time High: $4,362.35
Ethereum blockchain is a programmer's favorite because of its potential applications, such as smart contracts. Smart contracts are simply blockchain programs that execute when predetermined conditions are met. They're typically used to automate the execution of an agreement so that all parties can be certain of the outcome right away, without the need for any intermediaries. Smart contracts can also automate a workflow, starting the next step when certain conditions are met.
Ethereum is an open-source, decentralized blockchain with smart contracts, while Ether is the platform's native cryptocurrency. With a market cap of more than $200 billion, Ether has become the second most popular cryptocurrency.
Proof-of-stake (PoS) is replacing proof-of-work(PoW) as Ethereum's consensus mechanism. It's an important part of the community's plan to scale Ethereum through the Eth2.0 upgrades.
Cardano (ADA)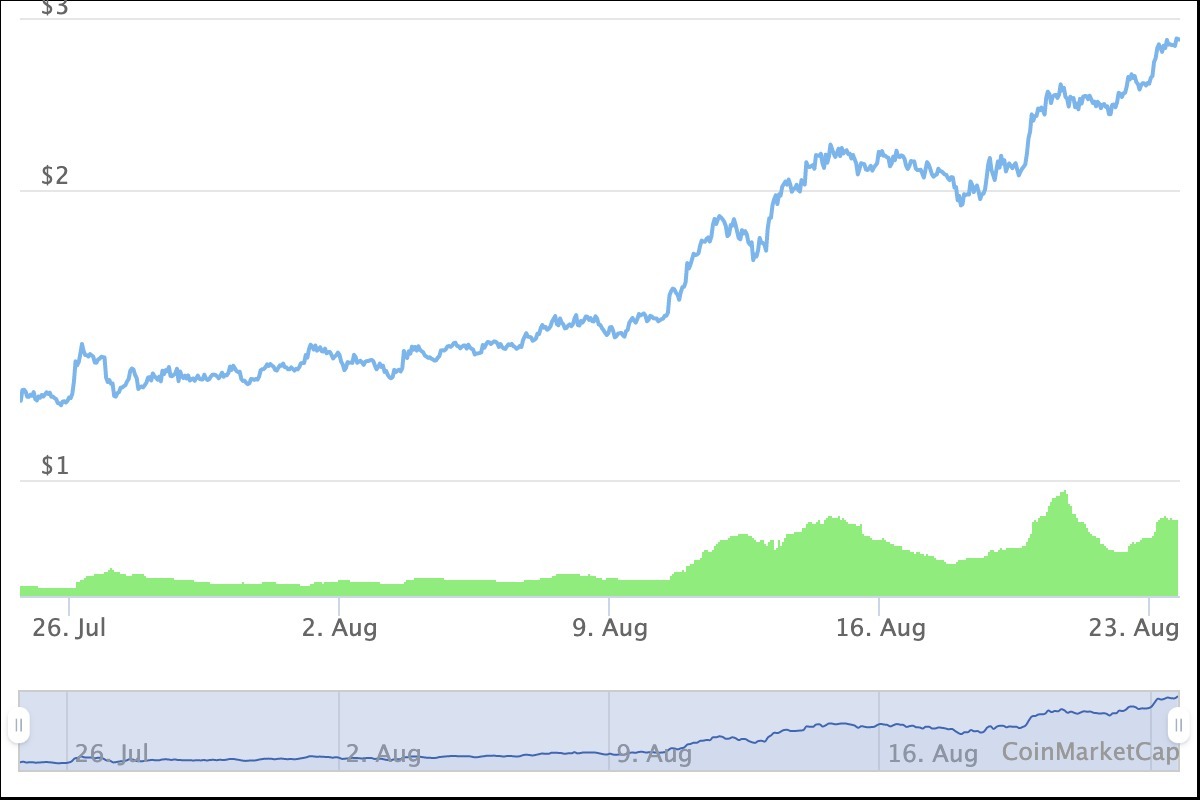 Market cap: Over $93 billion
Circulating Supply: 32,081,181,736 ADA
Total Supply: 32,959,337,588 ADA
Max Supply: 45,000,000,000 ADA
In contrast to the proof-of-work algorithm used by Bitcoin, Cardano is one of the largest blockchains to use a proof-of-stake consensus mechanism. This method reduces transaction time and energy consumption by removing Bitcoin's competitive, problem-solving aspect of transaction verification. Although Ethereum will eventually move to PoS, this will be a gradual process.
The project has pride in ensuring that all technology developed is peer-reviewed, allowing bold ideas to be challenged before being validated. According to the Cardano team, this academic rigor makes the blockchain more durable and stable, increasing the chance of avoiding potential pitfalls.
Cardano's Shelley upgrade in 2020 aimed to make its blockchain "50-100 times more decentralized" than other large blockchains. Hoskinson predicted that hundreds of assets would be able to run on its network. Cardano works similarly to Ethereum in that it uses ADA, its native coin, to enable smart contracts and decentralized applications. As a result, it has enormous potential to provide long-term returns on investment.
Binance Coin (BNB)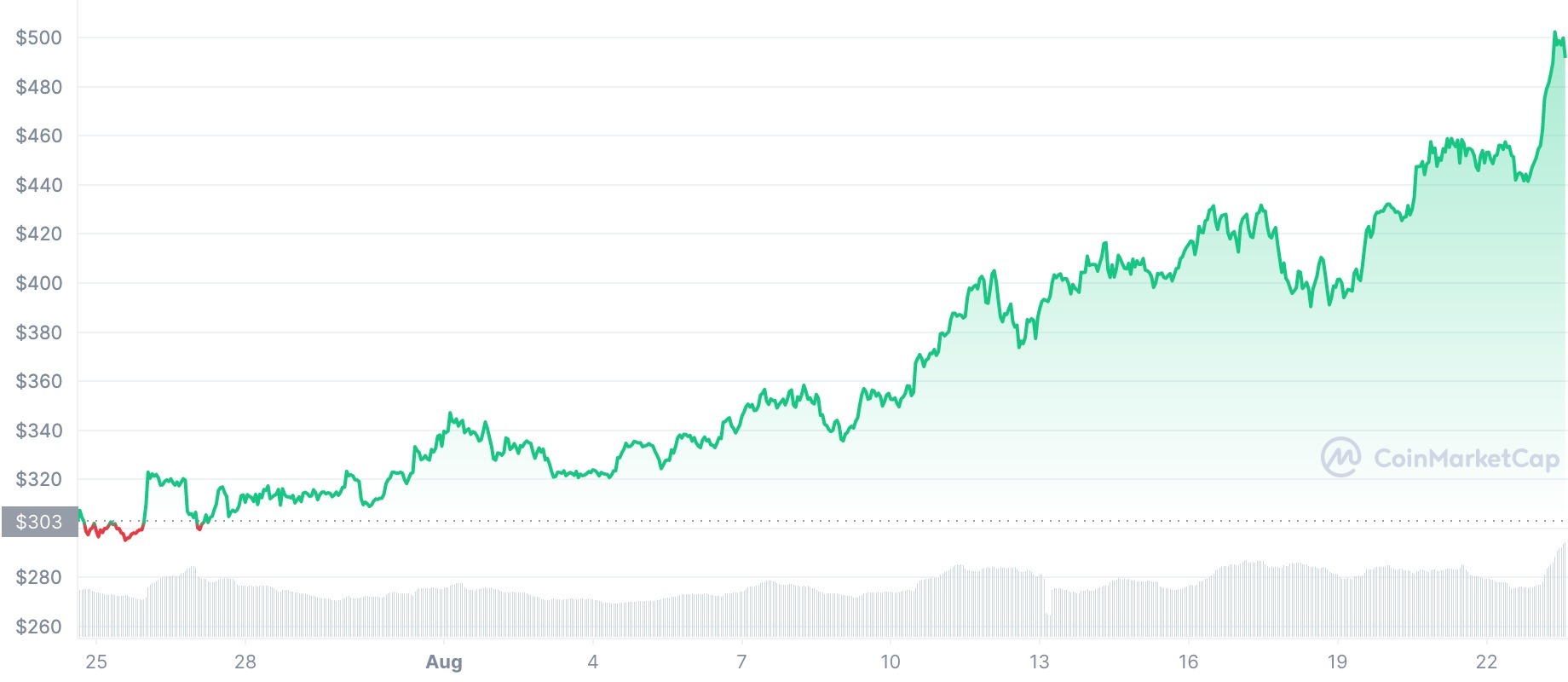 Market capitalization: Over $76 billion
Circulating Supply: 168,137,036 BNB
Max Supply: 168,137,036 BNB
All-time high: $690.93
Binance as a company has grown to be the most popular cryptocurrency exchange in several countries, and its subsidiary companies are also attracting a lot of attention.
Binance's drive for development is one of its most significant competitive advantages. While it began as a crypto exchange in 2017, it has expanded its services to include a wide range of industries. Binance chain and Binance Smart Chain is pretty much the reason for BNB's rise as it offers much lower fees than Ethereum chain and Bitcoin's chain.
Binance coin has also benefited from increased investor interest in the Binance since its launch. BNB saw a significant price increase at the start of 2021, putting it on the radar of enterprise investors.
Ripple (XRP)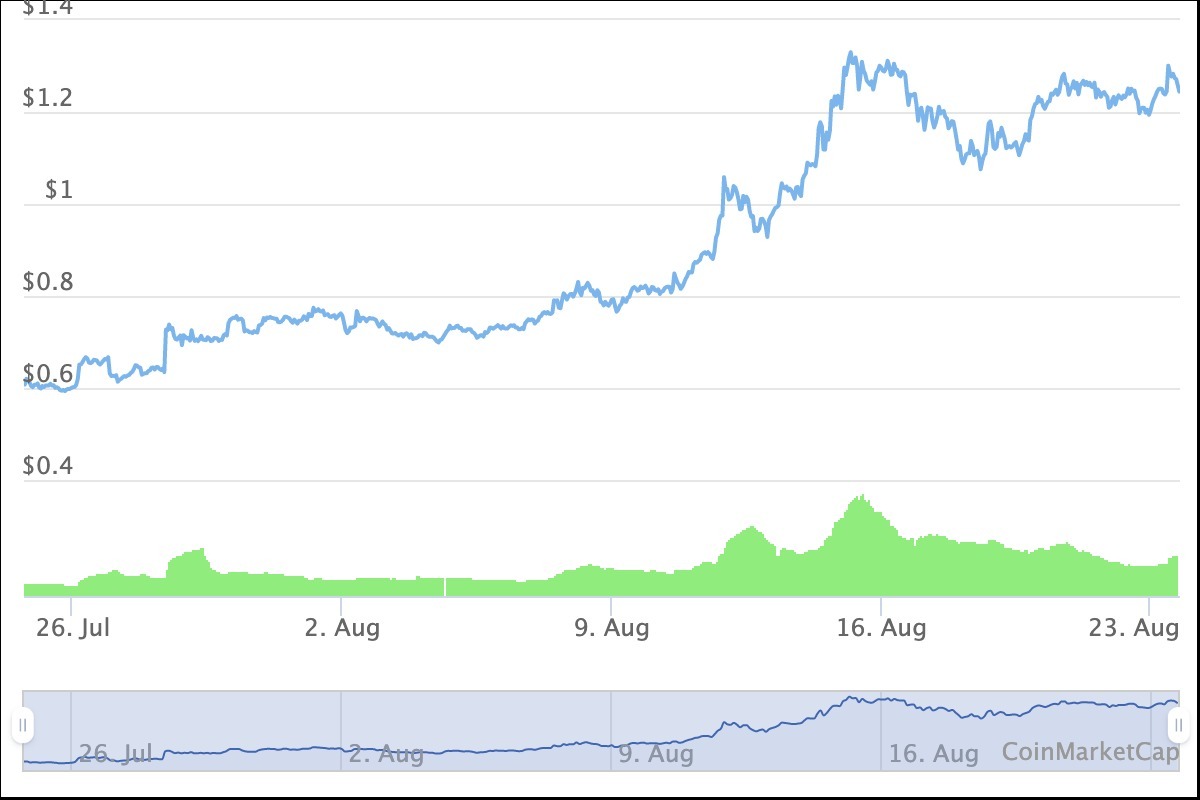 Total market Cap: $59 million
Circulating Supply: 46,363,275,151 XRP
Max Supply: 100,000,000,000 XRP
All Time High: $3.84
Many cryptocurrency analysts and speculators believe Ripple has a bright future, making it a viable option for new and experienced traders. So, let's take a look at why XRP is such a good investment.
The price of a Ripple coin is currently $1.27 – a bargain compared to its previous high point in 2018. For less than a few hundred dollars, you can get a significant amount of Ripple. Even a small wager of $50 will net you more than 200 coins.
Buying some Ripple is a relatively low-risk option with the potential for a large return on investment, given its low price and increasing mainstream appeal.
Ripple is the world's fourth-largest cryptocurrency, with a market capitalization of around $60 billion. Large market capitalization is a strong indicator of investor confidence, and it makes crypto assets more resistant to volatile cryptocurrency market cycles and dips.
Ripple is also a full-fledged company, not just a cryptocurrency or technology. Ripple Labs Inc employs over 500 people full-time, including public relations and marketing experts who promote the technology to banks, investors, new users, and the general public.
Although it has an "ongoing lawsuit" with the SEC, Ripple has the most financial institution support. It is more popular than Bitcoin in some circles. American Express, Santander, and MoneyGram are some of their most important partners today.
Dogecoin (DOGE)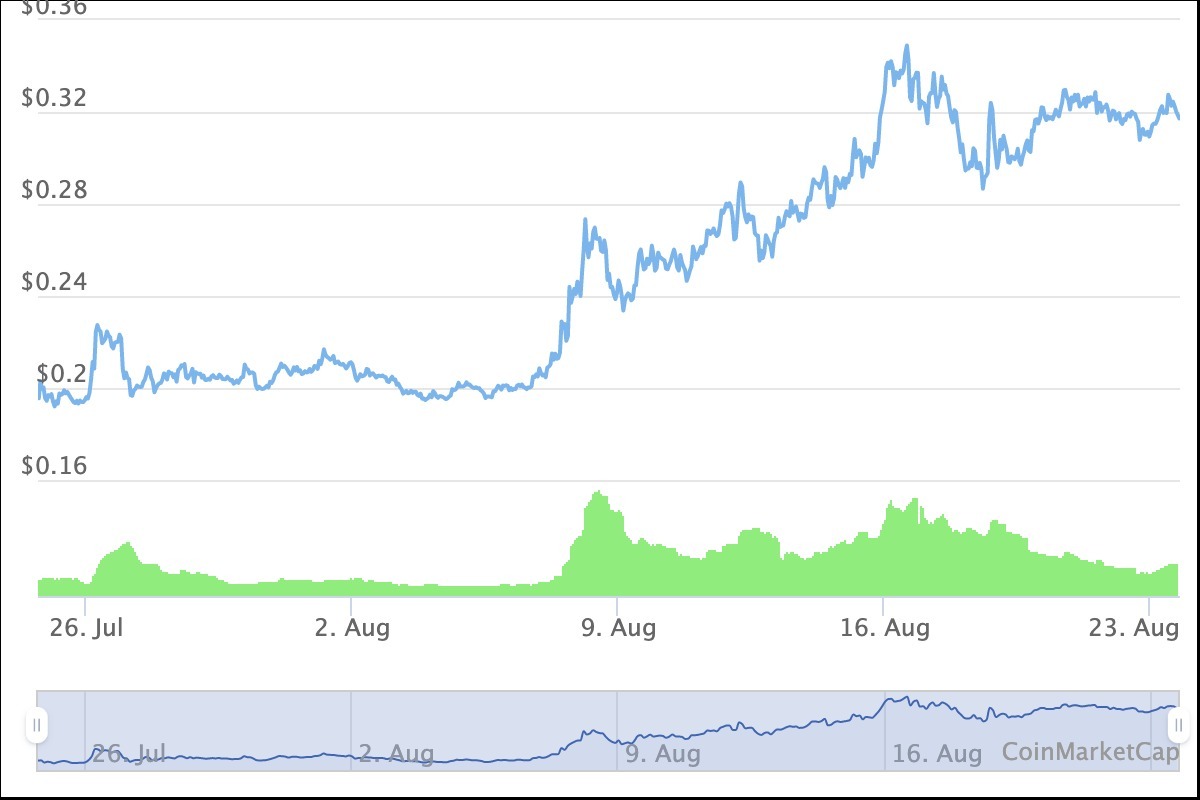 Market cap: Over $43 billion
Circulating Supply: 130,730,434,418 DOGE
Total Supply: 130,730,434,418 DOGE
Max Supply: No Data
Redditors and billionaires like Elon Musk have made Doge a hot topic. Dogecoin (DOGE) is a cryptocurrency whose logo is a Shiba Inu based on the popular Internet meme "doge." Dogecoin's creators envisioned it as fun crypto that would appeal to a wider audience than Bitcoin's. Elon Musk, the CEO of Tesla, has stated that Dogecoin is his favorite cryptocurrency on several occasions.
Dogecoin has primarily been used as a tipping system to reward high-quality content on Reddit and Twitter. Besides trading on exchanges, you can get this crypto by joining a Dogecoin community or getting Dogecoin from a Dogecoin faucet. A Dogecoin Faucet is a website that gives you a small amount of Dogecoin for free to get started with the digital currency and interact in Dogecoin communities. Dogecoin's unlimited supply makes it vulnerable to depreciation. Despite its overwhelming circulating supply, there's an internet-wide push to make one doge equivalent to $1. Its price is $0.202595 at the time of writing. So it's up to you to take advantage of this opportunity and invest in Doge. Like the meme community says, "Doge to the moon."
Polkadot (DOT)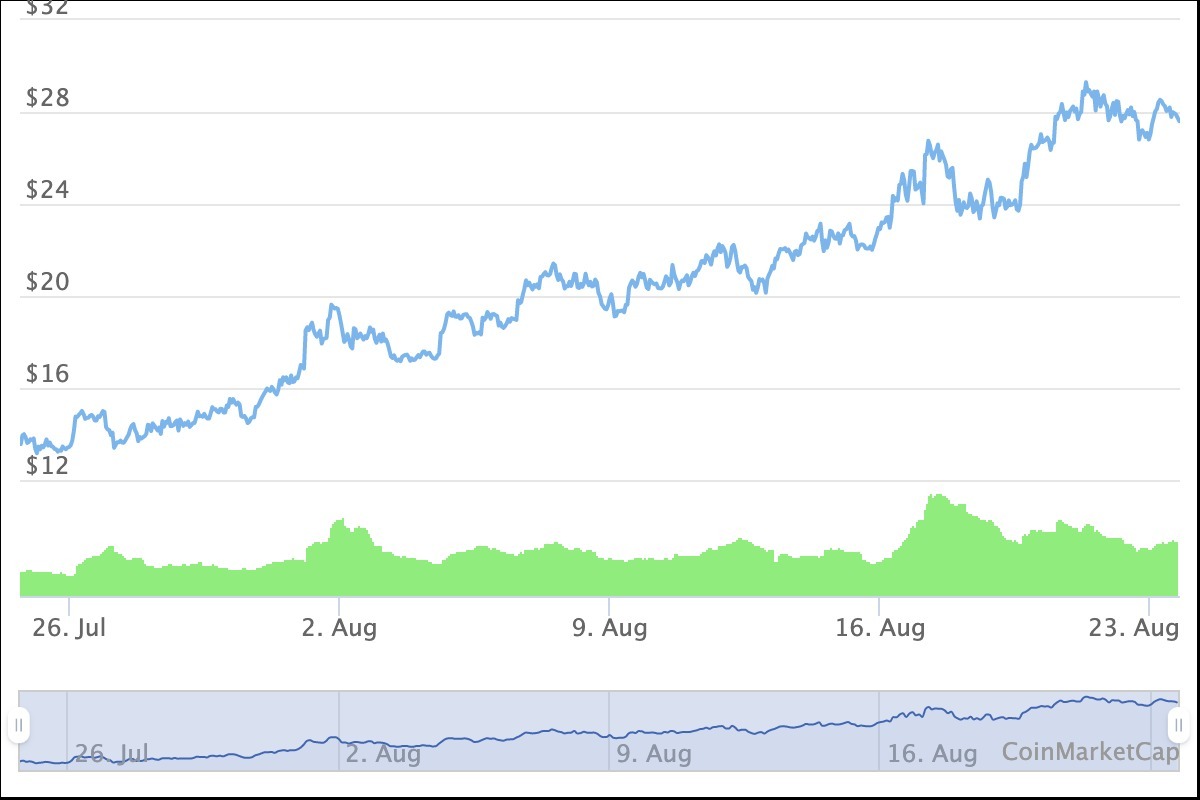 Market cap: Approx $27 billion
Circulating Supply: 981,168,329 DOT
Max Supply: No Data
All-time High: $49.69
Polkadot is popular because it allows multiple blockchains to operate independently within the same network. Polkadot could solve many of the problems that other projects have, such as network congestion and high gas (transaction) fees, by allowing multiple blockchains to operate independently. The token's potential is undeniable, and many analysts and crypto traders see it as a long-term investment opportunity.
DOT, which is currently trading at around $27.70, is expected to reach a value of $50.68 by the end of 2021. But that depends on if the bull season is still ongoing.
Solana (SOL)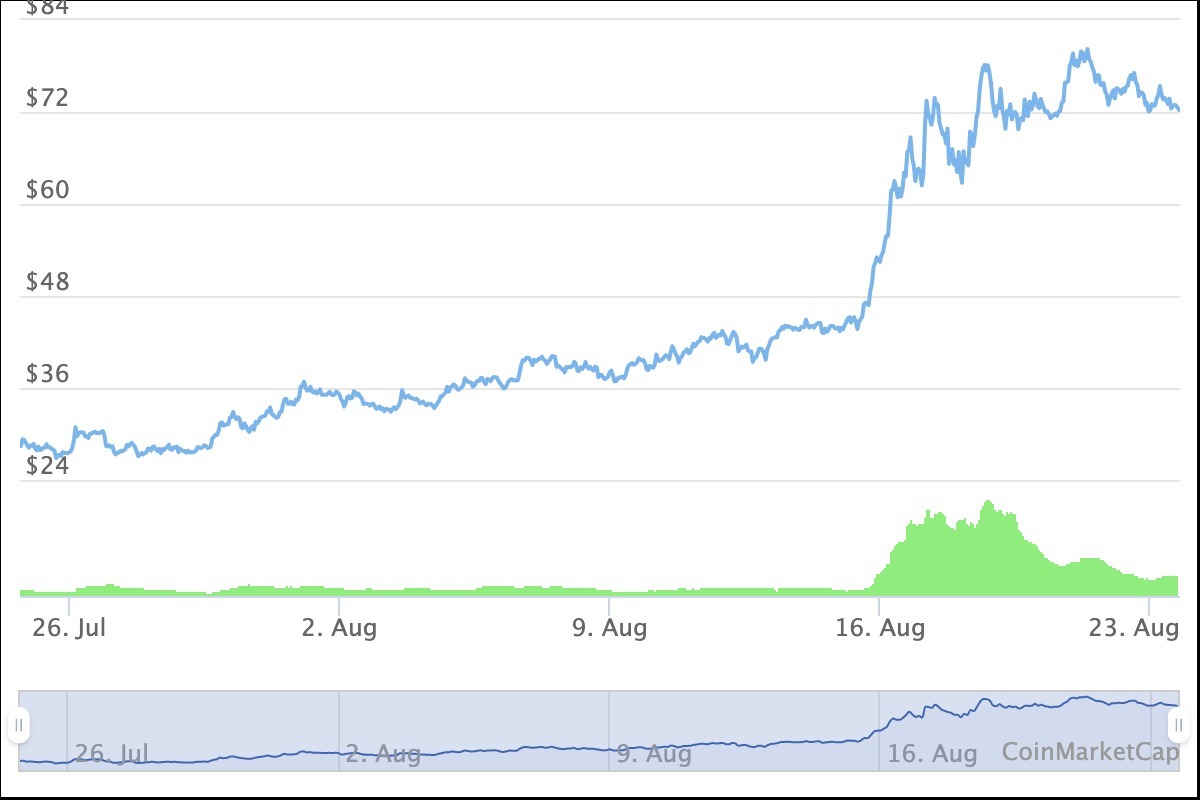 Market cap: over $21 billion
Circulating Supply: 286,583,166 SOL
Total Supply: 502,241,807 SOL
All-time High: $80.12
Solana's proof-of-history (PoH) consensus is one of the most important innovations in crypto. This concept allows for greater protocol scalability, which also improves usability.
The Solana blockchain is famous for its fast processing speeds. Its hybrid protocol allows for significantly faster transaction and smart contract execution.
Uniswap (UNI)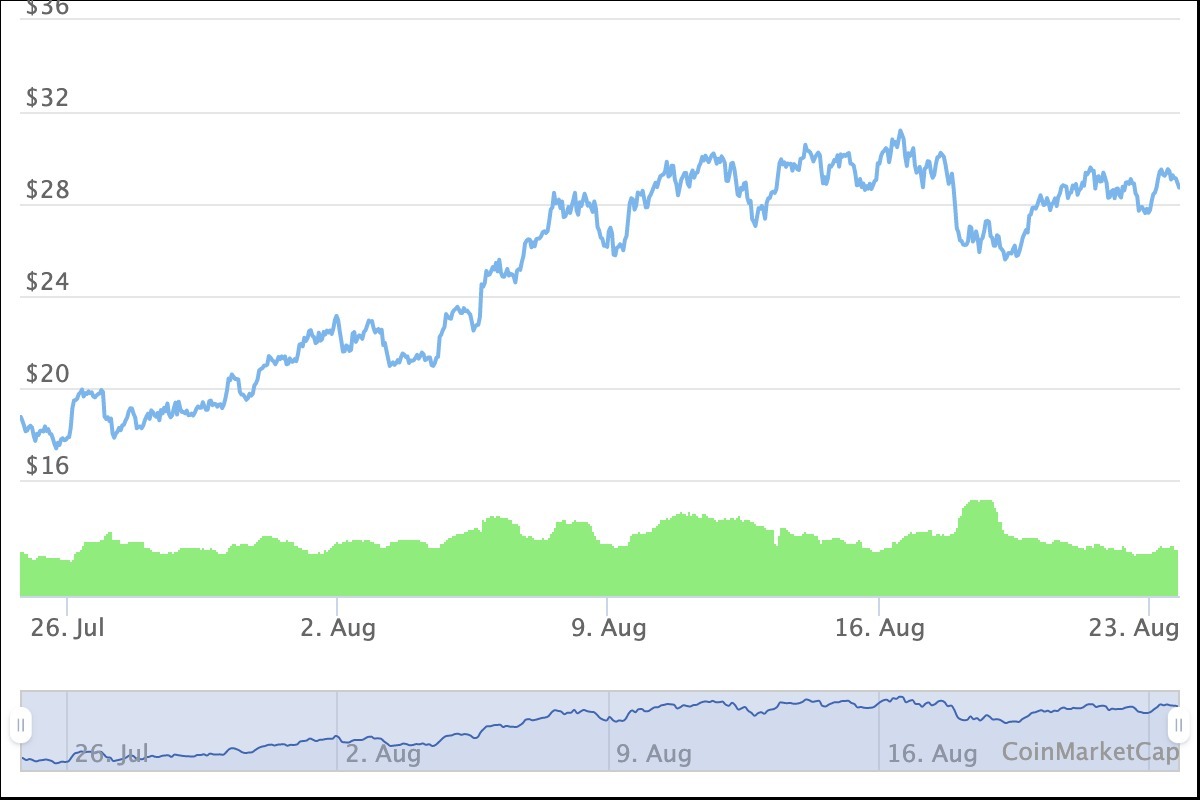 Market cap: Approx $17 billion
Circulating Supply: 587,386,874 UNI
Max Supply: 1,000,000,000 UNI
All-time High: $44.97
Uniswap is an Ethereum-based token that runs Uniswap, a decentralized cryptocurrency exchange (DEX) that trades using an automated liquidity model. Without going through a KYC process, anyone can exchange any ERC token in a few clicks.
Uniswap is a popular decentralized trading protocol that helps automates decentralized finance (DeFi) token trading. They're an automated market maker (AMM), debuted in November 2018 but have grown in popularity this year due to the DeFi phenomenon and the resulting surge in token trading.
In September 2020, Uniswap created and awarded its governance token, UNI, to past protocol users. This increased both the potential for profit and users' ability to shape the future — a popular feature of decentralized systems.
The protocol uses a formula for automated exchange — X x Y = K — and is one of the most widely used AMMs today. The protocol incentivizes activity by limiting risk and lowering costs for all parties by automating the market-making process. Users no longer need to prove their identity, and technically anyone can create a liquidity pool for any pair of tokens. Uniswap's governance token (UNI) was created to "officially enshrine Uniswap as publicly-owned and self-sustaining infrastructure while carefully protecting its indestructible and autonomous qualities.
Chainlink (LINK)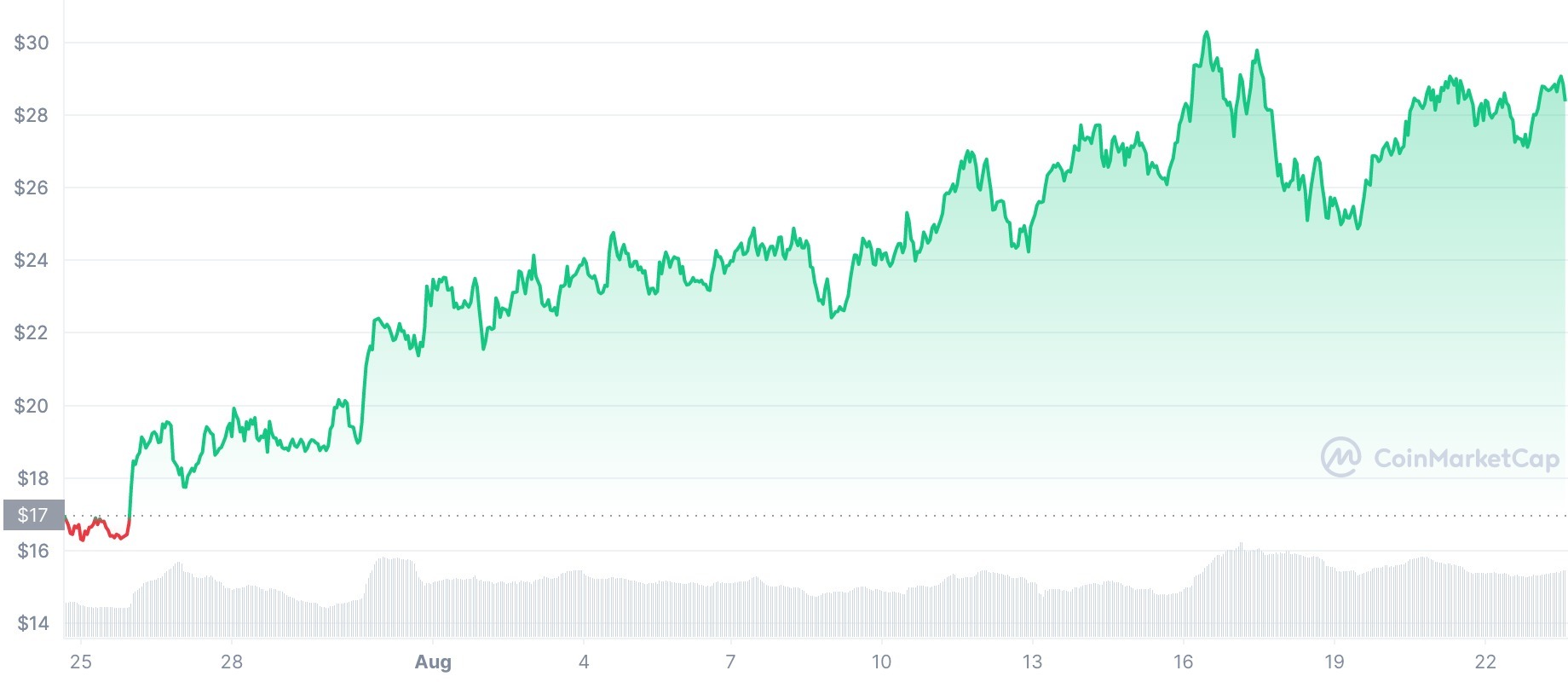 Market cap: $12 billion
Circulating Supply: 447,509,554 LINK
Total Supply: 1,000,000,000 LINK
All-time high: $52.88
Chainlink significantly expands smart contract capabilities by allowing access to real-world data and off-chain computation while maintaining blockchain technology's security and reliability guarantees. They're a major player in the data processing field, with a large number of reliable partners. Chainlink has attracted several reputable data providers, including Brave New Coin, Alpha Vantage, and Huobi, due to its integration of off-chain data. Data providers can directly sell access to data to Chainlink, allowing them to monetize their data.
As a decentralized network, Chainlink allows users to become node operators and earn money by running critical data infrastructure required for the success of blockchains. Chainlink unites many node operators to power a wide range of decentralized Price Feed oracle networks currently in use, securing billions of dollars in value for leading DeFi applications such as Synthetix, Aave, yEarn, and others.
How does the cryptocurrency market work?
Crypto markets are decentralized because they're not regulated or backed by a central authority like a government. Instead, they're distributed across a computer network. But Cryptocurrencies, like fiat currencies, can be bought and sold on exchanges and stored in 'wallets.'
Cryptocurrencies, unlike traditional currencies, only exist as a shared digital record of ownership stored on a blockchain. Blockchain technology and its decentralized systems could change the way we control our personal data, and access information.
Disclaimer
The information provided in this article is not financial advice. This article is solely for educational and informational purposes. Any information or strategies are the writer's or reviewers' thoughts and opinions about their risk tolerance, which may or may not be the same as yours. TradeSanta is not liable for any losses you may suffer due to making investments based on the information provided, whether directly or indirectly.
Before making any investments or trading cryptocurrencies, do your own research and consult with your financial advisor. Although we believe the information presented is correct and accurate, we make no guarantee or warranty regarding its accuracy, timeliness, or completeness. Bitcoin and other cryptocurrencies are high-risk investments, so you should exercise caution.