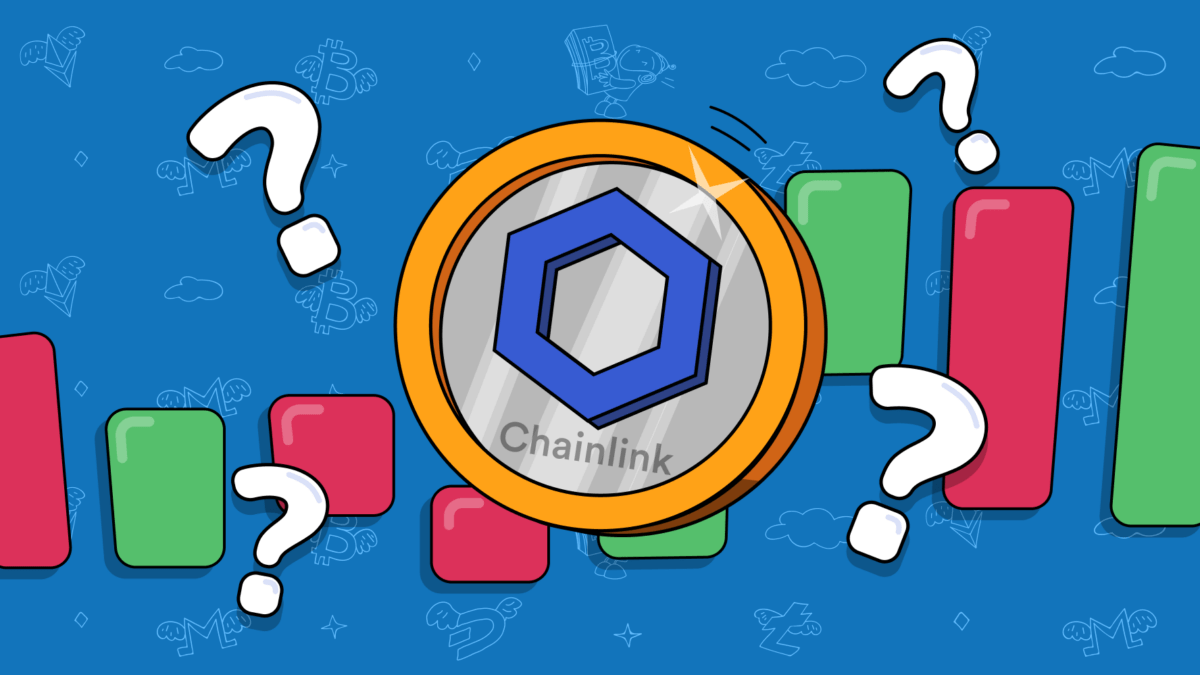 In this article, we'll examine Chainlink's technology, study what makes it special, find out what price forecasters expect for its native coin, LINK, and evaluate whether you should put your money into it. But first, let's discuss what Chainlink is.
What is Chainlink?
Chainlink is a decentralized blockchain oracle network built on Ethereum that has a native currency LINK, an ERC-677 token that in its turn is an extension of ERC-20 standard.
Chainlink was developed in 2017 by Sergey Nazarov and Steve Ellis, who co-authored Chainlink's whitepaper describing its network and protocol together with Cornell University professor Ari Juels.
Chainlink's decentralized oracle network represents an open-source technology infrastructure that allows any blockchain out there to securely connect to off-chain data in a fully reliable, secure, and efficient way. That is why it is called "Chainlink": it allows chains to be linked. Chainlink's LINK token is used to reward Chainlink network operators for tasks such as retrieving data from off-chain feeds, formatting data into accessible formats, and performing various off-chain computations.
To become node operators, users are required to stake a specific number of their LINK tokens. Node operators also set their own fees based on demand for the off-chain resource they provide.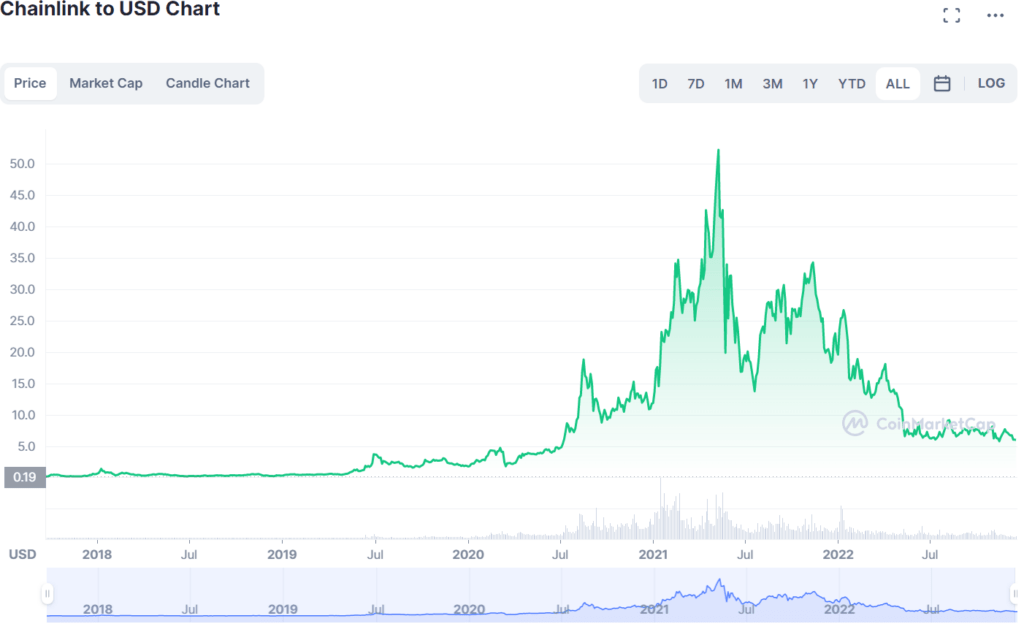 Chainlink utilizes blockchain technology to securely enable computations on and off chain, supporting what it calls hybrid smart contracts. According to Chainlink, hybrid smart contracts "enable advanced forms of economic and social coordination that have the tamper-proof and immutable properties of blockchains yet leverage secure off-chain oracle services to attain new capabilities, such as scalability, confidentiality, order fairness, and connectivity to any real-world data source or system".
To put it simply, a hybrid smart contract is an application that consists of a smart contract — code that runs exclusively on the blockchain, and a decentralized oracle network — secure off-chain services that support the smart contract. These two components interact with each other seamlessly to form a single hybrid smart contract application. This symbiosis results in a heavily augmented on-chain code that has more unique use cases than a regular smart contract.
Let's take a look at some of the distinctive features of Chainlink down below:
Cross-blockchain interoperability. Chainlink's technology allows you to connect different blockchains together in order to support the exchange of messages, tokens, etc.
decentralized data feeds Data from various sources can be securely collected and processed for the functioning of hybrid smart contracts.
Automation. Chainlink's hybrid smart contracts allow enterprises to automate critical functions and event-driven tasks.
Randomness. Applications, especially from the GameFi field, that require secured randomness can use Chainlink's technology Verifiable Randomness Function (VRF) for that matter.
Reputation assessment. Chainlink allows to record and publish ratings of oracle providers and nodes, offering a means for users to evaluate oracle performance holistically. This feature refers to Service Level Agreement (SLA). Those oracles who violate the network's rules and/or supply incorrect data are punished and get a demotion.
Chainlink adoption and ecosystem
Chainlink has its own BUILD program (previously referred to as the Partner Growth Program) that empowers projects, usually on their early stage to join Chainlink ecosystem in order to accelerate their adoption of key oracle services and engage with the Chainlink community. In return, Chainlink asks these projects to provide commitments of network fees and other incentives to Chainlink service providers, such as stakers. Currently, there are more than 1,600 projects that have joined the Chainlink ecosystem and boosted their adoption as a result.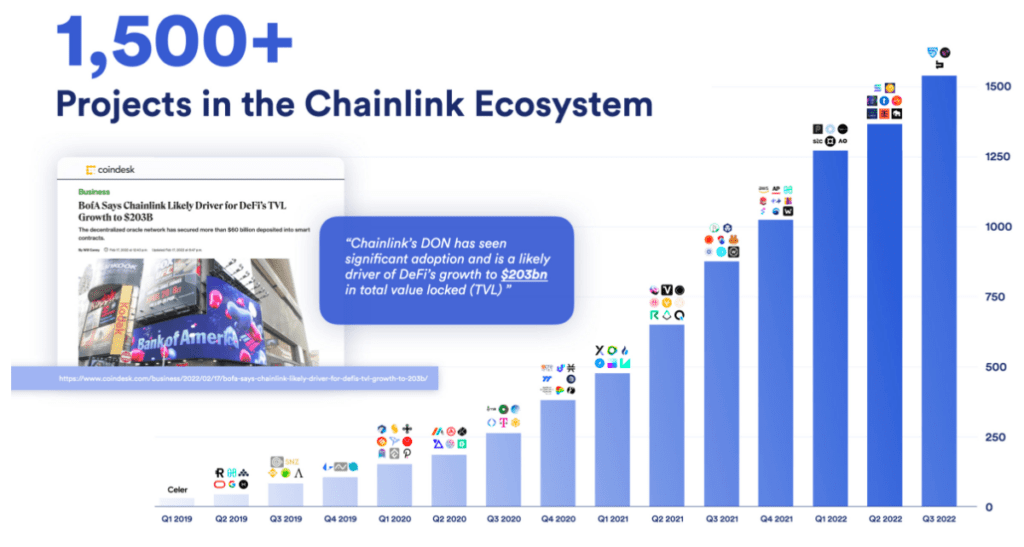 Moreover, Chainlink already has an impressive list of partnerships with companies from different business fields.
For instance, Chainlink works together with Google Cloud to make it easier for developers to create technologies by letting them access cloud data on public blockchains via Chainlinks oracles.
Binance, one of the largest and well-known crypto exchanges in the world, also has partnership with Chainlink, so Binance could share its crypto data to DeFi applications using Chainlink oracles.
Thanks to that partnership, Dapps using Binance can introduce a variety of new options for traders. That could include trades triggered by large transaction alerts, hashrate fluctuations, automated portfolio adjustments based on market data, etc.
Perhaps one of the biggest announcements of this year was Chainlink's partnership with SWIFT, an interbank messaging system that allows for cross-border payments. Chainlink and SWIFT will be working together on a cross-chain interoperability protocol (CCIP) that will allow SWIFT messages to instruct on-chain token transfers and will enable the interbank network to communicate across all blockchain environments. The example of such a partnership clearly shows that traditional financial institutions are looking forward to bridging the gap between traditional fiat currencies and digital assets.
Chainlink LINK Price Forecast 2023-2025
At the time of writing (21.12.22), LINK price is equal to $5.98 per token.
According to Coin Price Forecast, the price of LINK is expected to grow in the next few weeks, and is expected to be $6.77 by the end of 2022. By the middle of 2023, LINK might reach $8.03 per coin, and by the second half of the year, we might witness it reaching a $8.49 level.
By the end of 2024 and 2025, the growth is expected to continue, and LINK may cost $10.06 by the end of 2024, and $11.54 by the end of 2025.
Digital Coin Price, just like Coin Price Forecast, is also optimistic regarding LINK's future price. In 2023, LINK's price might hit a $14.73 level. The year after, LINK's average price is expected to grow and reach the level of $20.88. In 2025 we might see LINK's price reach $26.37 per token.
By far, this is one of the most bullish forecasts for LINK among experts.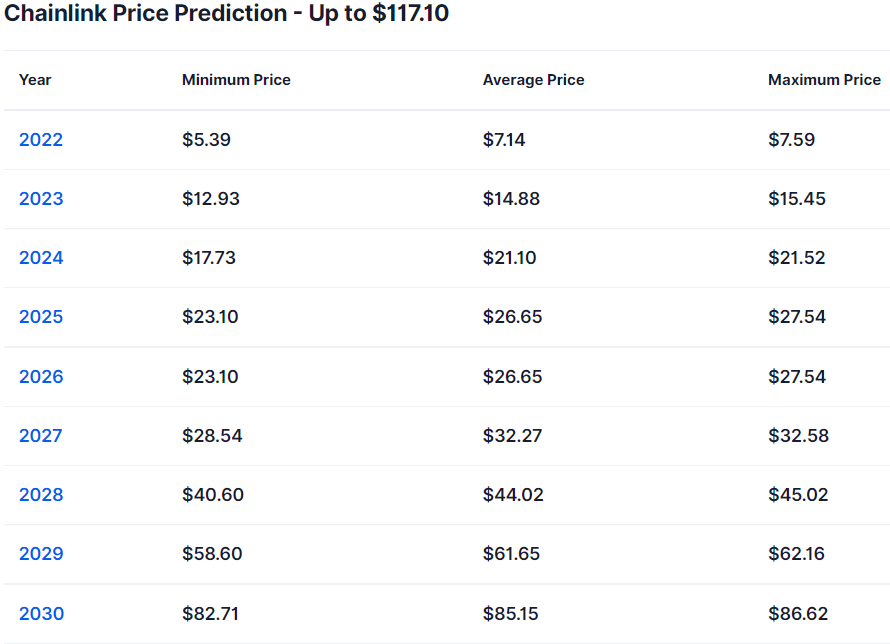 Wallet Investor, on the contrary, are very pessimistic on LINK's future price. The average price of LINK by the beginning of 2023 is expected to be $6.56. However, starting from the end of January 2023, Wallet Investor predicts that the price will start to go down, and by mid-2023 it might potentially crash to a $0.67 level, and then fluctuate until the end of 2023, and by the end of the year it is expected to return to the price of $0.56 per token.
Wallet Investor's experts believe that in 2024, LINK will continue to lose its strength and by mid 2024 it is expected that its average price will be $0.34 per token, and continue to fluctuate throughout the year. By the end of 2024, LINK might drop even a bit more and cost around $0.27.
The first half of 2025 will not be different from the whole year of 2024, since the LINK price is expected to stay in the $0.3 level. However, by the end of 2025 it will lose its position down to $0.15 per token. By far, this is the most bearish forecast for LINK future price.
Chainlink LINK Price Forecast 2030
As always, it is hard to make such a long-term prediction, especially when we are talking about crypto. Nevertheless, some of the experts go that far and still try to predict the LINK price for such a long term.
For instance, Coin Price Forecasts predicts LINKS price to be $20.82 by mid 2030 and $18.93 by the end of the year.
According to the forecast from Cryptocurrency Price Prediction, LINK is destined to thrive, and by the beginning of 2030 it will cost $181.60 per token. It will continue to strengthen its positions, and by the end of 2030, we might witness it reaching a level of $238.17. By far, this is the most bullish long-term forecast for Chainlink LINK.
The forecast provided by Tech News Leader is also quite bullish about LINK future price. In 2030, LINK is expected to cost from $144.72 to $173.15 per token. In 2031, the price of LINK may increase and could cost between $198.53 and $254.57 per token.
Should you invest in Chainlink and its token LINK?
Many experts and forecasters believe that Chainlink hasn't reached its full potential yet and still has room to grow. That means the price has the potential to increase in the future. It is safe to say that it is not too late to invest in and buy LINK. However, some of the forecasts tend to be very pessimistic, but it is possibly due to the current market situation as of December 22, since pretty much the whole market is in a deep bearish trend.
Still, Chainlink has been known to the public since 2017, and numerous partnerships with big brands and names look very encouraging. So, if you are looking to diversify your portfolio, LINK might be worth looking at.
FAQ
What is Chainlink?
Chainlink is a decentralized blockchain oracle network built on Ethereum that has a native currency LINK, an ERC-677 token that in its turn is an extension of ERC-20 standard.
Should you invest in Chainlink and its token LINK?
Many experts and forecasters believe that Chainlink hasn't reached its full potential yet and still has room to grow. That means the price has the potential to increase in the future.