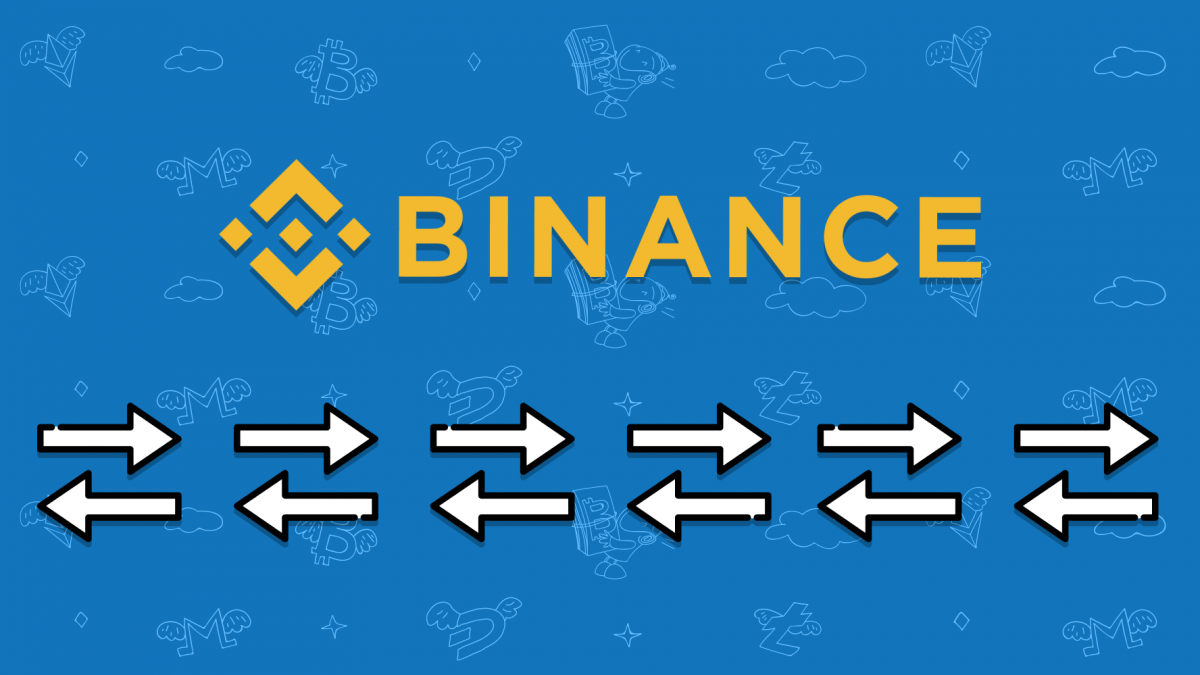 Trading On Binance Exchang
e
Binance is a cryptocurrency exchange based in Hong Kong and it is a leader among cryptocurrency exchanges, occupying first place in rankings. In this article, you'll learn more about Binance and Binance.US.
Binance was initially created in Malta by Changpeng Zao, who is well known as CZ. In fact, CZ built some of the trading systems that are used in the Tokyo stock exchange.
Binance had a very successful start in July 2017. Now it is placed on top of the exchanges list by 24-hour trading volume. Binance is averaging more than $1 billion in daily trades. In January 2018 Binance exchange even had to cease new account registrations because it couldn't manage a workload when too many people were trying to open a new account.
All that illustrates that Binance is one of the most trusted and beloved exchanges in the world.
Why has it become so popular among crypto traders?
Trading fees percentage
The fees are very important to consider at any exchange. One of the advantages of Binance is that its fees are one of the lowest in the industry – it offers a trading fee of 0.10%.
Withdrawal fees
Deposits are always free, but as for withdrawal fees, they are usually fixed and vary from crypto to crypto. For example, if you withdraw BTC, you pay a small fee of BTC for the withdrawal. The average BTC-withdrawal fee on Binance is 0.0005 BTC.
Perfect launch
The founder and CEO of Binance, Changpeng Zhao, has a huge experience and profound knowledge in the crypto world. Binance acquired a lot of benefits from the timing of its launch – mid-2017 was perfect for acquiring new crypto users just as the market started to take hold.
Huge list of alt-coins
Another reason for the popularity of Binance is that they offer a lot of different cryptocurrencies. There are more than 300 different cryptocurrencies on Binance, such as well-known Ethereum (ETH) and Litecoin (LTC), or smaller ones like CyberMiles (CMT) and ZCoin (XZC).
Security
Binance is very serious when it comes to security. It has gained trust from crypto community and managed to prevent major breaches. Apart from that, users are asked to set up two-factor authentication (2FA) when creating an account. 2FA provides an extra level of security, sending a special code to your mobile phone every time you log in, trade, or withdraw.
High Liquidity
Having a high chance of selling your cryptocurrency immediately is a very important factor while choosing between exchanges.
For example, if you want to buy a cryptocurrency, but it has a low trading volume, it means that it'll be harder to buy because of a small number of sellers. However, if a lot of people are trying to sell, it'll be easier to buy.
Lots of trades are happening all the time on Binance. In fact, the technology which supports Binance can process up to 1.4 million transactions per second!
Avoiding national currency
Some people tend to criticize Binance for not offering to trade fiat currency. However, there are reasons for such a decision.
By not offering to trade USD, GBP, EUR and other fiat currencies, Binance was able to bypass the strict requirements that usually arise when dealing with national currencies. By such a decision, the company was able to grow the base of users more quickly than its competitors – by the end of 2017 the company already had three million users.
Binance Coin
Many experts claim that Binance Coin (BNB) has been the most important aspect of Binance's success. Actually, in December 2020, the total market cap of BNB was $4 billion. However, in February 2021, Binance Coin jumped 100% in 7 days, and its market cap reached $38 billion. After this jump, BNB is now the third most valuable cryptocurrency in the world.
However, BNB's has also become central to the whole exchange. Holders of BNB are offered discounted trading fees, community votes and the ability to use the coin outside of the exchange.
Initial Exchange Offerings (IEO)
Initial Exchange Offerings (IEO) are similar to ICO, which we have already mentioned above – they allow a crypto startup to raise funds from investors.
However, IEOs are carried out by the exchange rather than the team of a startup. Users can make investments by their exchange wallets, knowing that the exchange is responsible for the reliability of the startup. So it reduces the risk of frauds significantly. Binance is not the only exchange that offers IEOs. However, it is the most successful one.
Binance is one of the best cryptocurrency exchanges for trading. It has a great reputation among users, which shows that it can be trusted.
Binance Coin (BNB)
As it was already mentioned, Binance Coin has a crucial role in the entire Binance exchange ecosystem. Now let's learn more about it, its history, present and predicted future.
What is Binance Coin?
Binance Coin is a token that was launched on 25 July 2017 by the Binance exchange. In fact, BNB was launched on the Ethereum blockchain as an ERC-20 token. In BNB's first ICO $15 million was raised within 3 weeks. From that point, Binance Coin has moved from the Ethereum blockchain to the Binance blockchain.
The Top Utility Token of 2021
Many experts claim that BNB is one of the top utility tokens of 2021. This is because it is mainly used for paying fees on the Binance exchange. Paying fees with Binance Coin allow traders to receive discounts on the exchange. The discounts are valid for 4 years and halve in value every year – 50% in the first year, 25% in the second, 12.5% in the third, and 6.25% in the fourth.
Moreover, another useful spending of BNB is to invest in ICOs, which are a part of Binance's Launchpad program – a startup launcher for new tokens that can be traded on Binance.
And, certainly, Binance Coin is used for trading. It acts as a consistent in-house asset that can be easily traded and held.
BNB predictions for 2021
There are different factors that can affect the price of BNB: the relationship between supply and demand, the total supply of Binance Coin available, and the success of ICOs.
What are crypto experts predicting for Binance Coin in 2021? As it was mentioned, in February 2021, the price of Binance Coin has increased and it reached a record high of $336 per coin.
Thus, it seems that BNB may continue this uptrend. According to Digital Coin Price, they believe that the price of Binance Coin will gradually climb year-on-year. However, different sources make various predictions – some claim that BNB will be over $2000 by 2025, and others argue it will be $1500. Anyway, according to all forecasts, the outlook for 2021 is mainly optimistic.
Binance US Cryptocurrency Exchange
Binance had been accepting American users for trading at the exchange for a long time. However, the USA began to implement new regulations, and on 13 June 2019, Binance announced a launch of an American version of the exchange, which can comply with local regulations. Later that year, Binance.US was launched.
Binance.US is in the top 10 among cryptocurrency exchanges. Though it is similar to Binance, let's look at its pros and cons.
Pros:
Fast
Binance.US uses the same technology as Binance – the processing of 1.4 million transactions per second.
Low fees
Like in Binance, Binance.US has low fees – 0.10%, and even less in case you pay in BNB. That's a very competitive rate for a cryptocurrency exchange.
USD available
Unlike Binance exchange, you can trade USD pairs on Binance.US.
High reputation
As Binance is the most reputable and fast-growing exchanges among crypto traders, Binance.US has the same quality of service, high user security and liquidity.
Variety of alt-coins
As well as Binance, Binance.US offers more than 100 cryptocurrencies.
Cons:
Not available in all states
Currently, Binance.US isn't available in 13 states. However, they claim to be working on that.
Limited features.
Binance.US offers BTC and USDT markets, but it doesn't offer any advanced tools or features.
Binance and Binance.US are both extremely popular among crypto traders. Currently, Binance is showing some hints of its "next big thing" with investments in its decentralized exchange. And it definitely has the potential to disrupt the world of crypto exchanges again.
Automated Cryptocurrency Trading On Binance
Binance offers a wide range of trading pairs combined with one of the best trading fees out there. This makes Binance an obvious choice for those who want to try out automated trading.
Binance has been one of the first exchanges integrated with TradeSanta and is one of the most popular exchanges among our users.
How To Automate Binance Trading On TradeSanta
TradeSanta offers an easy way to connect to the Binance exchange. All you have to do is to generate API keys in your Binance account and create a new access point on TradeSanta. Make sure you leave the withdrawal option unchecked and give trading permission to the API keys.
Once that is done, you can proceed to creating your first robot from templates or from scratch.