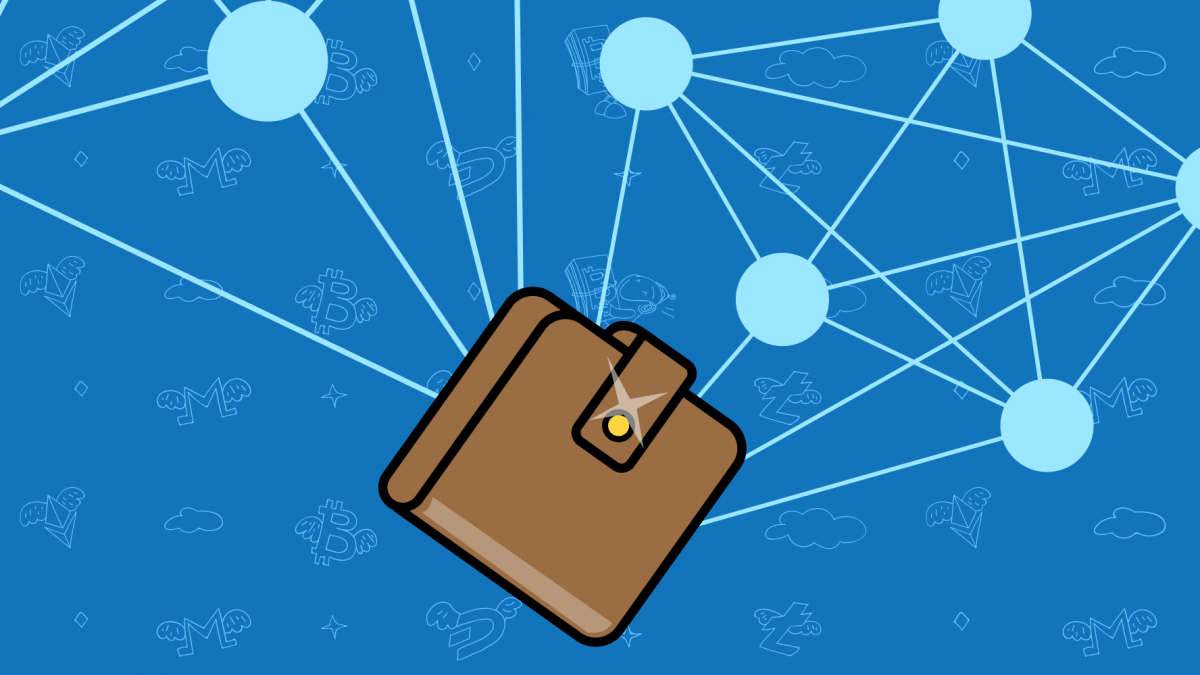 Just like any money needs a place to be stored, such as a bank account or maybe a real-life leather billfold, crypto wallet is the digital home for your Bitcoin, Ripple, Ethereum, etc. Unless it's not always physical.
It's a special piece of programming code created in harmony with the nature of cryptocoins. These wallets are very different, but, put simply, their nature is the same: to send, receive and store your cryptocurrencies.
There are basically two cryptocurrency wallet types:
The most popular category is

hot wallets

, or the wallets that interact with the internet, such as mobile apps, crypto exchange accounts, simple online wallets, and desktop wallets.
The second group is

cold wallets

that include paper wallets and hardware wallets that are not connected to the internet.
Why is this categorization important for you to know?
In a nutshell, the safety of your crypto assets is determined by where you store your money, either in a hot or cold one.
Cryptocurrency online wallets (a.k.a. hot wallets)
Hot wallets' distinguishing feature is that they are connected to the Internet. This is their advantage and disadvantage at the same time. But let's start with the advantages.
Online cryptocurrency wallets are well-suited for people that facilitate basic transactions and store small amounts of money on their accounts.
Once you sign up with a mobile app, such as GreenAddress, Jaxx, Mycelium or any other app, it will be quite easy for you to receive crypto.
As for sending your own funds, you will probably need to obtain them first. For fiat, you can buy Bitcoins on LocalBitcoins or sign up with a crypto trading platform, if you want some alternative coins (a.k.a. altcoins).
In fact, there are hundreds of online platforms / cryptocurrency exchanges out there that give you a chance to trade fiat for cryptocurrencies and crypto for crypto: Kraken, OKX, Bitfinex are some, to name a few.
So it's up to you which one you choose.
However, that brings us to the disadvantages of hot cryptocurrency wallets. Because some of the services store their users' keys in one place, which is somehow connected to the Internet, this makes it easier for hackers to nab those keys.
To understand the importance of users' private keys for hackers, take a look at a short explanation of how crypto transactions work.
To send your crypto to someone, you need to "sign" the transaction with your private key, or the funds will not be transferred.
In short, it means that whoever is in control of your private key can sign and send your money to whatever address they want.
That's why experienced traders transfer their money from crypto exchanges to cold wallets, once the revenues are accumulated. Indeed, for hackers, it's easier to withdraw money from an exchange's single access point than withdrawing slowly from manifold users' addresses.
To make a long story short, if you don't own your private keys, someone else does, and very often this is the case with online/hot wallets.
For people who want to be in control of their private keys, there is another "hot" option: desktop wallets.
Two types of desktop wallets currently exist: full-node wallets and lightweight wallets. With most clients, you don't have to download the whole blockchain into your hard drive, and these are categorized as lightweight wallets.
Take a look at these two desktop wallets:
This lightweight client is one of the most reputable in the niche due to the age of the product. It's easy to set up on Mac, Windows or Linux. Electrum also has a 12-word seed phrase and can integrate with Ledger and Trezor.
Being a lightweight wallet as well, this client supports a wider range of coins than Electrum and also has a 12-word seed phrase. It is compatible with the three most common operating systems and can add new, as yet unsupported, ERC-20 tokens.
To sum up, for both Electrum and Exodus, you store your private keys locally on your device.
This full-node client was not only the first desktop wallet but the first crypto wallet in the history of crypto money. It was developed by Satoshi Nakamoto himself and to this day functions not only as a wallet but as a node that validates transactions.
This solution is not recommended for individual users who will not be able to compete with other nodes for Bitcoin. The latter is hard to mine these days due to a high level of competition. Also, you will likely need to buy additional equipment.
But if you still want to give it a try, these are the minimum requirements:
1) Desktop or laptop hardware running recent versions of Windows, Mac OS X, or Linux
2) 200 gigabytes of free disk space, accessible at a minimum read/write speed of 100 MB/s.
3) 2 gigabytes of memory (RAM)
4) A broadband Internet connection with upload speeds of at least 400 kilobits (50 kilobytes) per second
5) An unmetered connection, a connection with high upload limits,
6) 6 hours a day that your full node can be left running.
That is to say, desktop clients touch the Internet one way or another, so they are more vulnerable than the hardware ones but safer than a few online wallets where your funds are stored online 24/7.
Cold wallets: hardware wallets and paper wallets
Although it is possible, cold wallets are harder to compromise in contrast to online/hot wallets.
They are not the perfect choice, yet, they are the better option to store huge amounts of crypto.
Basically, cold wallets' main advantage is that they rarely interact with the Internet.
Often, to use hardware wallets, such as Trezor or Ledger Nano, you should install software on your desktop, such as SimpleHold wallet, which could be synced with top-rated hardware. In the case with paper wallets, you will probably need to generate the address on a website like this and print your wallet out.
These are the two most popular hardware wallets as of 2019:
This wallet uses a 24-word mnemonic seed to derive a theoretically infinite number of private keys. That means that if you lose your private key, you can restore it with the use of this single seed phrase, or, you can sweep your keys into another wallet.
Ledger Nano X supports 1100 coins and is compatible with 64-bit desktop computer (Windows 8+, MacOS 10.8+, Linux) and smartphones (iOS 9+, Android 5+)
The set includes a USB cable, an instruction booklet and a private key recovery sheet.
This wallet uses a 12-word mnemonic seed, although there is one more client, Trezor One, that uses a 12-word seed phrase.
Trezor supports more than 1000 coins. Refer to trezor.io/coins for the complete list of supported cryptocurrencies.
If you want to use a paper wallet, you will need to generate one on a website like WalletGenerator, and then transfer your money to it and keep your paper wallet safe.
Be careful, though. In order to transfer your money from a paper wallet, you will need a mobile app, such as Copay, with a sweep function. Plus, check if the website where you generate your paper wallet has a good reputation on the web.
In conclusion
Hopefully, now you understand how wallets can be important for keeping your crypto safe. A hot wallet is good for small amounts of money, a cold one is for significant amounts. If you're somewhere in between, go for a desktop wallet that stays safe when your PC is turned off.
FAQ
What is hot wallet?
Hot wallets' distinguishing feature is that they are connected to the Internet. This is their advantage and disadvantage at the same time. But let's start with the advantages.
What is a cold wallet?
Cold wallet include paper wallets and hardware wallets that are not connected to the internet.