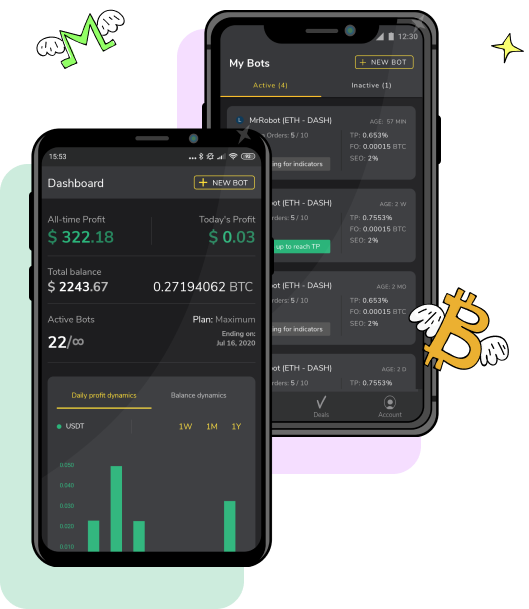 Crypto Trading App
While the TradeSanta web platform is an ideal way to manage your trading bots, we understand that you won't always have your laptop or desktop at hand. What if you're out and you need to check on your crypto bots?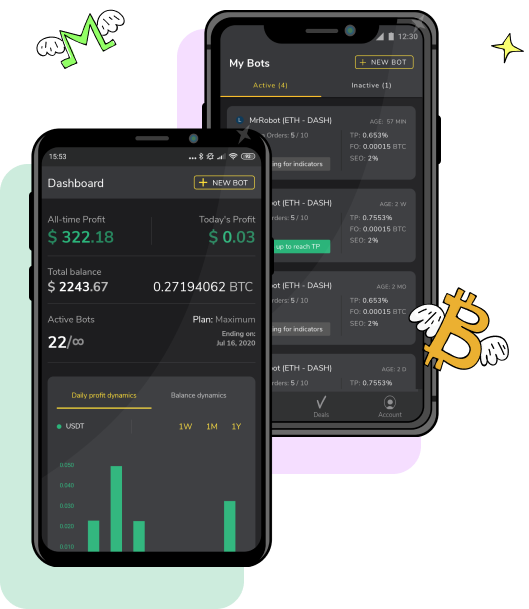 Did you know that TradeSanta has released cryptocurrency trading apps for both iOS and Android?
Since coin prices fluctuate 24/7, a mobile trading app that tracks your bots will come in handy. With TradeSanta, you can easily monitor your portfolio on your smartphone, whether you're waiting in line at the supermarket or stuck in traffic.
Our crypto trading apps have all the functionality needed for you to manage bots 24/7, wherever you are. If you have already signed up to the web version of TradeSanta, once you enter the app, you instantly gain access to your dashboard with indicators of all-time profit, today's profit, total balance, the number of active bots, and your plan's type.
Keep an eye on bot's performance with informative bot cards. The bot page provides you with charts and indicators needed to estimate the bot's performance and make decisions. The mobile TradeSanta companion allows you to enjoy the full power of automated trading in your pocket.
Automated crypto
trading in your device
Check bots with one
flick of the finger
Manage bots 24/7
without a laptop
Monitor your portfolio
on smartphone