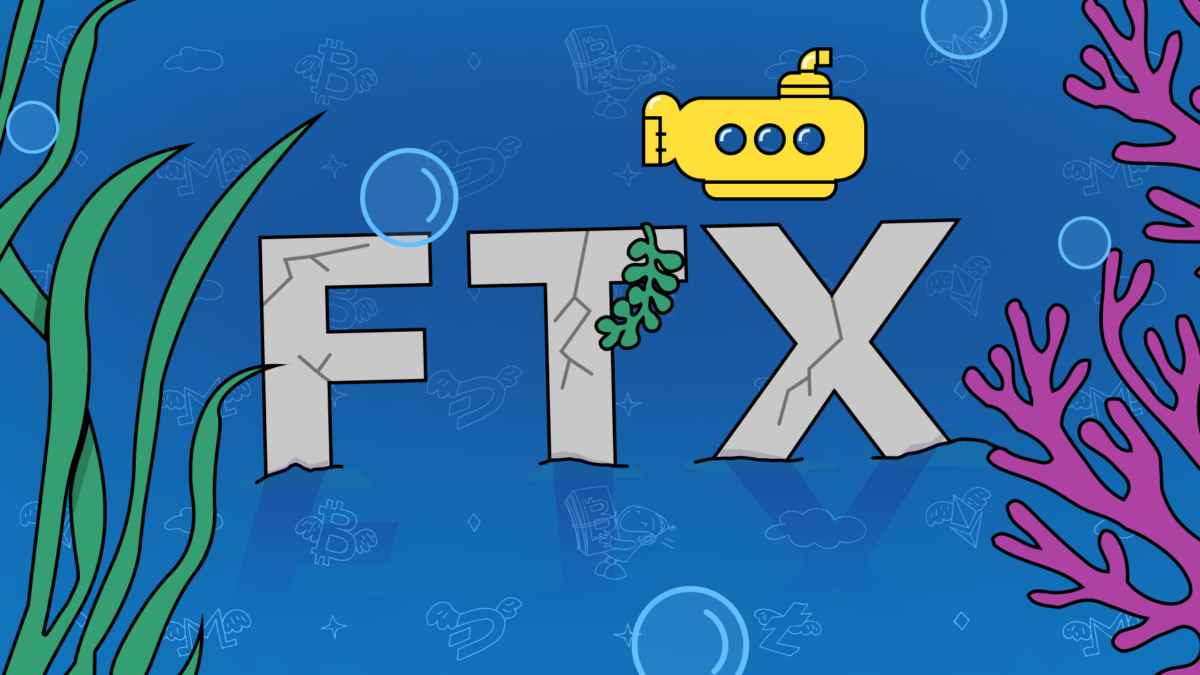 The year 2022 could be one of the most stressful for crypto investors, with Terra's Luna plummeting and UST depegging, Celsius collapsing, inflation remaining at four-decade highs, forcing the Federal Reserve to raise its key interest rate by another 0.75%, ongoing political and diplomatic turmoil, and now FTX bankruptcy. Even though this is not the first time a major exchange has gone bankrupt (e.g., the Mt. Gox case back in 2014), this kind of event sets off a chain reaction that affects the whole crypto market in a negative way.
In this article, we will highlight and try to understand exactly what happened to FTX and its former CEO, Sam Bankman-Fried.
What is/was FTX and who is SBF?
First things first, who is Sam Bankman-Fried, and what's his story here?
The MIT-graduate, Silicon Valley-born Sam Bankman-Fried, commonly known as SBF, founded his quantitative cryptocurrency trading company, Alameda Research, in 2017. Only two years later, in 2019, Bankman-Fried and his team introduced FTX, a cryptocurrency exchange platform based in the Bahamas with benefits like low trading fees and extensive trading options.
According to Bloomberg, Bankman-Fried made a fortune from FTX and Alameda, which generated profits of $350 million and $1 billion, respectively, in 2020. SBF was considered one of the richest people in the whole industry, and before FTX's bankruptcy, his net worth was equal to $16 billion.
In 2021, just two years after its foundation, FTX had over one million users and was the third largest crypto exchange by volume; it also opened a US branch known as FTX. SBF promoted his exchange with great fanfare, paying tens of millions of dollars to celebrities like Larry David, Tom Brady, and Gisele Bündchen to promote FTX.
So it looked like things were going great, and it looked like an amazing success story. However, the first signals started to appear several months before the crisis kicked in.
The beginning of the end
Currently, there is a general misconception circulating among crypto investors and traders that FTX started to face problems at the beginning of November. However, the first signs of trouble were spotted back in September, when Bloomberg reported that there was a shady relationship between Alameda Research and FTX. Even though Alameda did its best to stay in the shadows and not draw too much attention, it was soon revealed that it was the biggest depositor of stablecoins on FTX.
Even though there was no hard evidence of preferential treatment or interconnection back then, some of the market players were really concerned if Alameda had an unfair advantage due to its tight connection with FTX. In his turn, SBF decided to step up and convince everyone who had doubts that Alameda and FTX are separate entities that operate without affection for one another.
On November 2, CoinDesk reported that Alameda stored a significant amount of their assets in FTT, FTX's native token. To be precise, Alameda's balance sheet looked like this: $3.66 billion of "unlocked FTT," $2.16 billion of "FTT collateral," and $292 million of "locked FTT."
Several days after this report, Binance CEO Changpeng Zhao (CZ) posted a tweet where he stated that Binance is going to sell all its holdings of FTT due to "recent revelations that came to light," thus implying that anyone who holds FTT should do the same thing.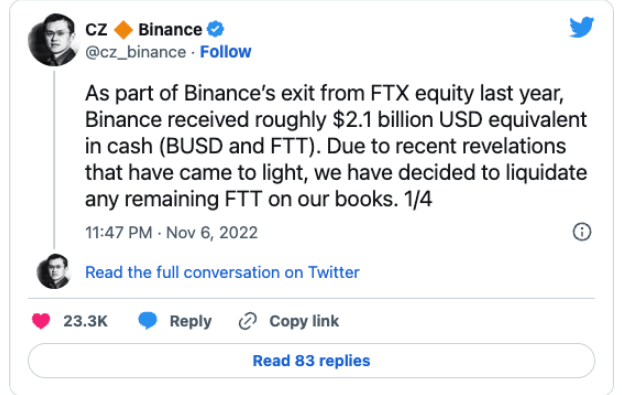 Zhao's tweets have led to a headbutt with SBF, who, in turn, tried to convince the general public that everything is safe and secure, assets are fine, and CZ is just trying "to go after us with false rumors."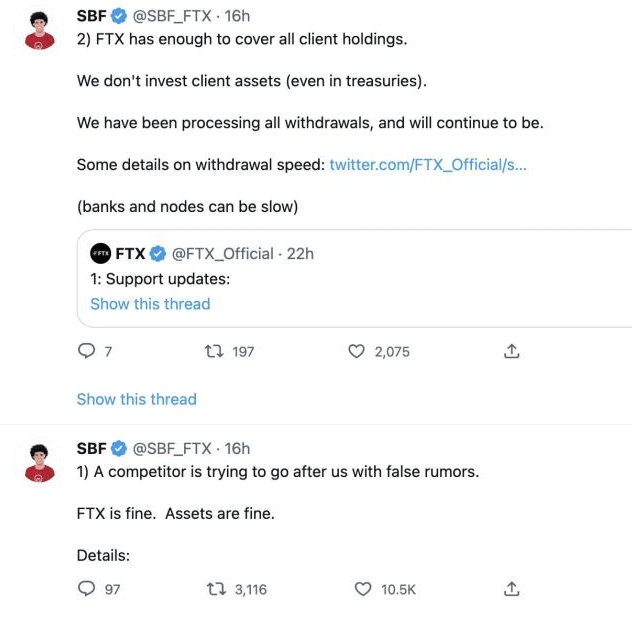 SBF's response to the CZ move didn't help, and FTX's native token, FTT, saw a major decline in the next few days, resulting not only in a significant price drop but also in a bank run of an estimated $6 billion that sent FTX into crisis.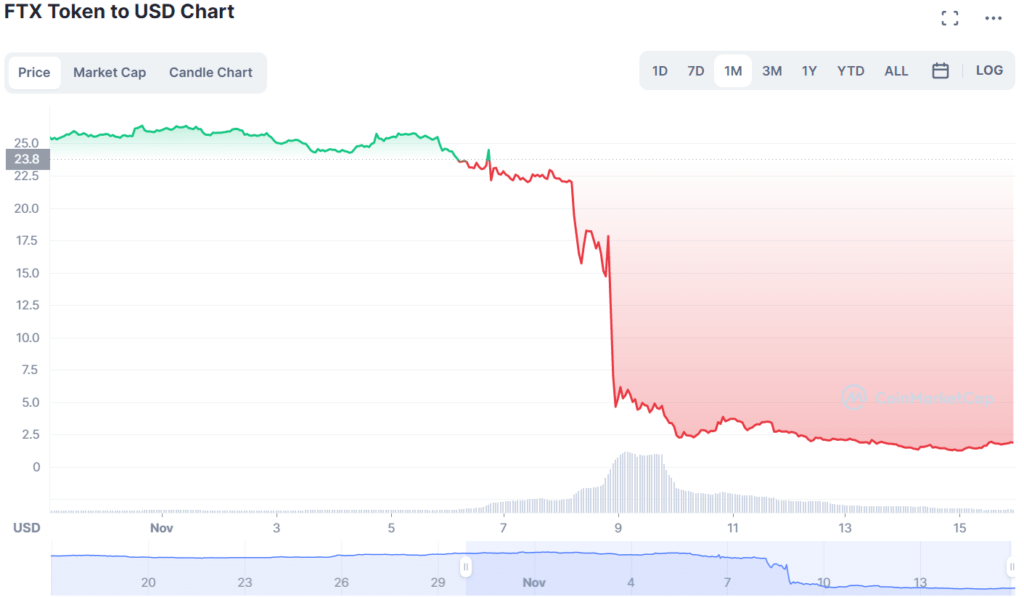 But then on November 8, Zhao's announced that Binance had started negotiations with FTX regarding its acquisition due to its "liquidity crisis." CZ stated that first he and his team would need to complete due diligence. For a short period of time, FTX and SBF saw a light at the end of the tunnel. But this did not last for long. The next day, Bloomberg reported that Binance abandoned their acquisition plan due to the FTX's financial situation (at the time, FTX had lost roughly 80% of its value) and because both the US Securities and Exchange Commission and the Commodity Futures Trading Commission began an investigation into the FTX's connections with SBF's other businesses and companies.
FTX collapse: bankruptcy, shady transactions uncovered and criminal investigation
On November 10, FTX asked two other major crypto exchanges – Kraken and Coinbase – for a rescue deal, which also didn't end well. By that time, Alameda Research had stopped its operations, and FTX's legal and compliance teams were dismissed.
The chain reaction was set off and was gaining momentum: the Securities Commission of the Bahamas froze the assets of one of FTX's subsidiaries, FTX Digital Markets, and "related parties"; FTX. US employees began attempting to sell firm-related assets; Japan's Financial Services Agency ordered FTX Japan to suspend its operations; FTX's Australian subsidiary was put under administration (as of 16.11, its license has been suspended), and the list goes on.
The next day, on November 11, FTX, FTX.US, and Alameda Research filed for bankruptcy, and Sam Bankman-Fried resigned from his position as FTX CEO.
Later that day, FTX announced that it is investigating "unauthorized transactions." Singapore-based analytics firm Nansen presented a one-day net outflow from FTX of about $266 million, with $73 million withdrawn from the FTX.US branch alone.
Besides, FTX.US general counsel Ryne Miller stated that he was "investigating abnormalities with wallet movements." Some time later, it was revealed that FTX actually lost a lot more—around $662 million in tokens.
That same day, one of the FTX staff warned users in the official Telegram chat that the exchange was facing a "hack," not an "unauthorized transaction," and encouraged everyone to delete their FTX mobile app since it contains malware. While some of the FTX employees were occupied with filing for bankruptcy and investigating the hackings, some of the senior employees left the Bahamas and fled to Hong Kong and elsewhere.
During the next two days, November 12 and 13, SBF was reaching out to different crypto exchanges and other major crypto actors in his attempt to raise money for FTX, even though he had already filed for bankruptcy.
According to reports, as of November 12, between $1 billion and $2 billion in customer funds could not be accounted for. Moreover, as The Financial Times reported, FTX's balance sheet right before bankruptcy showed $9 billion in liabilities.

On November 13, it was revealed that the collapse of FTX is the subject of scrutiny from government investigators in the Bahamas, who are looking at whether any "criminal misconduct occurred."
The next day, on November 14, the Supreme Court of the Bahamas approved two provisional liquidators from PricewaterhouseCoopers to oversee the assets of FTX "to further protect the interests of clients, creditors, and other stakeholders globally of FTX Digital Markets Ltd."
According to a Nov. 14 report from Reuters, the state of California's Department of Financial Protection and Innovation announced it would be investigating the "apparent failure" of FTX.

It seems that for SBF and his colleagues, this FTX saga will continue for some time, and, for FTX investors, this bankruptcy saga does not look so sunny either.
The impact and losses
FTX had a long list of investors: SoftBank Group, BlackRock, Temasek, Ontario Teachers' Pension Plan, Tiger Global Management, Iconiq Capital, Sequoia Capital, and so on and so forth.
Currently, it is not possible to estimate a hard number of investor losses, but it presumably will be in the billions of dollars. Only Sequoia Capital invested around $214 million, and SoftBank lost around $100 million.
Some of the venture capitalists are considering suing SBF. It is hard to tell for now if this would change anything or if they could compensate for their losses with that, so we will have to wait and see.
The FTX collapse has already started a domino effect, and the whole crypto market will have to take some time to recover.
Because Alameda and FTX have invested heavily in numerous projects and companies across the entire crypto industry, we may see some of these names on the list of bankrupt businesses in the near future.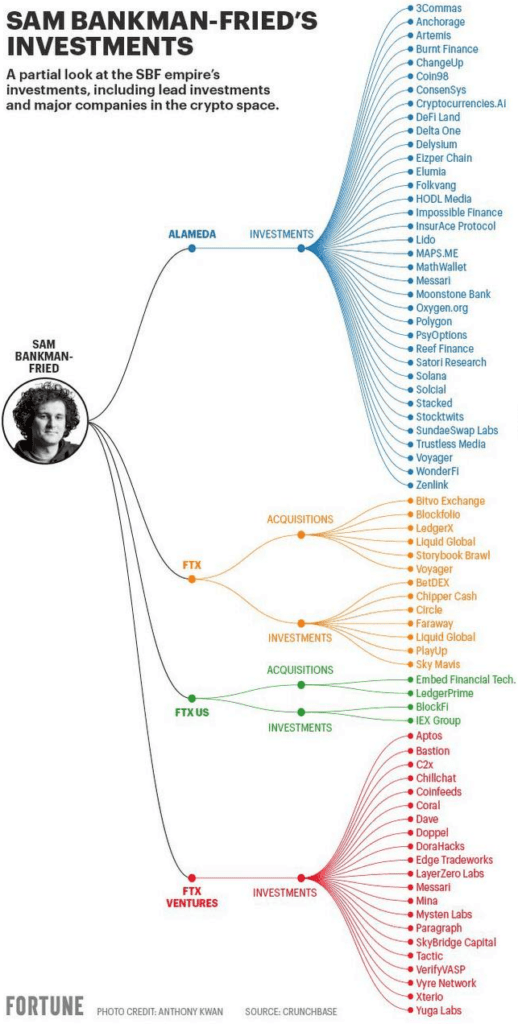 For instance, Chicago's quantitative trading giant Jump Trading and stock trading and investment app Robinhood were tied heavily to FTX and, according to investors, are currently at risk.
The link between Robinhood, Jump, and FTX is direct: Sam Bankman-Fried notably owned 7.6% of Robinhood's stock and once claimed he was preparing a full acquisition offer for Robinhood. Jump Trading and FTX, as well as Alameda Research, were consistent supporters of Solana (SOL). As a result of the FTX crash, SOL is now trading 94% below its all-time high (as of 18.11.22).

Another example is crypto venture firm Multicoin, which lost 55% of its funds due to the FTX collapse. Multicoin managing partners Kyle Samani and Tushar Jain said that "we had too many assets on FTX," and even though they believe that might be able to compensate for some of the losses, the situation doesn't look good at all. Moreover, Multicoin believes that in the next few weeks, many trading firms in the crypto space will be completely wiped out because of the FTX collapse.
Galois Capital, a crypto hedge fund, has about half of its funds (about $40 million) invested in FTX.In a letter to Galois investors, co-founder Kevin Zhou wrote that it could take "a few years" for the firm to recover "some percentage" of its funds. According to Zhou, because of FTX's bankruptcy, Galois is considering whether it should continue operating as normal, pursue an acquisition, or become a proprietary trading shop.
According to Bloomberg, cryptocurrency lender BlockFi Inc. is preparing to file for bankruptcy within days. FTX US and BlockFi are closely tied. In July, FTX US provided the lender with a $400 million revolving credit line, which came with an option to purchase the company. Furthermore, BlockFi has made loans to the now-bankrupt company Alameda Research. So it seems that BlockFi's bankruptcy is truly a matter of time.
In fact, the number of businesses that are currently struggling with damage received from FTX's collapse is significant, and only a small portion of them are revealing their losses. Journalist Colin Wu made a chart of such institutions, but we probably will hear more names in the near future.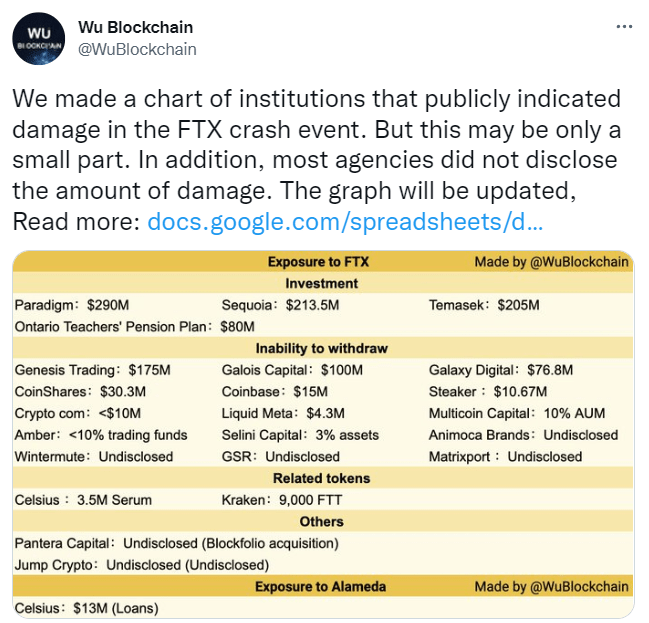 The whole crypto market took a serious hit from the FTX and Alameda crashes. And it is now a hit to both market participants' and observers' trust, as well as market capitalization and sentiment. Due to a decline in cryptocurrency prices brought on by SBF's loss of his crypto empire, digital assets lost $183 billion in value this month. According to TradingView data, the total market capitalization of digital assets fell below $800 billion this month, a level not seen since early 2021. Bitcoin fell 22% during the seven days through Nov. 13, and currently we are witnessing its worst weekly performance in five months.

So what can we expect because of all this?
For now, institutional investors might be spooked by the FTX collapse and might lose their faith in the crypto market, so there is a high chance that for some time institutional investors' money will be invested in the mainstream market.
CZ went even further, stating that due to the collapse of FTX, "we've been set back a few years" and that "regulators will scrutinize this industry much, much harder."
So what? Does that mean that crypto is dead? Definitely not.

We've already been in such a situation in 2014, when the same thing happened to the Mt. Gox exchange. And then again, we're talking about the collapse of an exchange and not the whole crypto world. Bitcoin will just shrug it off and continue its climb. In fact, this whole situation might be a trigger for the next bull run for Bitcoin.
According to the Bitcoin obituaries on 99Bitcoins.com, which tracks mainstream media stories that claim Bitcoin is worthless, since 2010, Bitcoin has died 466 times. A little too much dying for a currency that stubbornly does not die, don't you think?
Still, we might see more regulations and authorities taking a more proactive role in the developing crypto market: institutional investors, especially big banks, will cut down their investments into cryptocurrencies and crypto projects; crypto exchanges will have to become fully transparent in terms of their operations and liquidity in order not to lose their customers; and the general public may become more hesitant about investing in crypto.