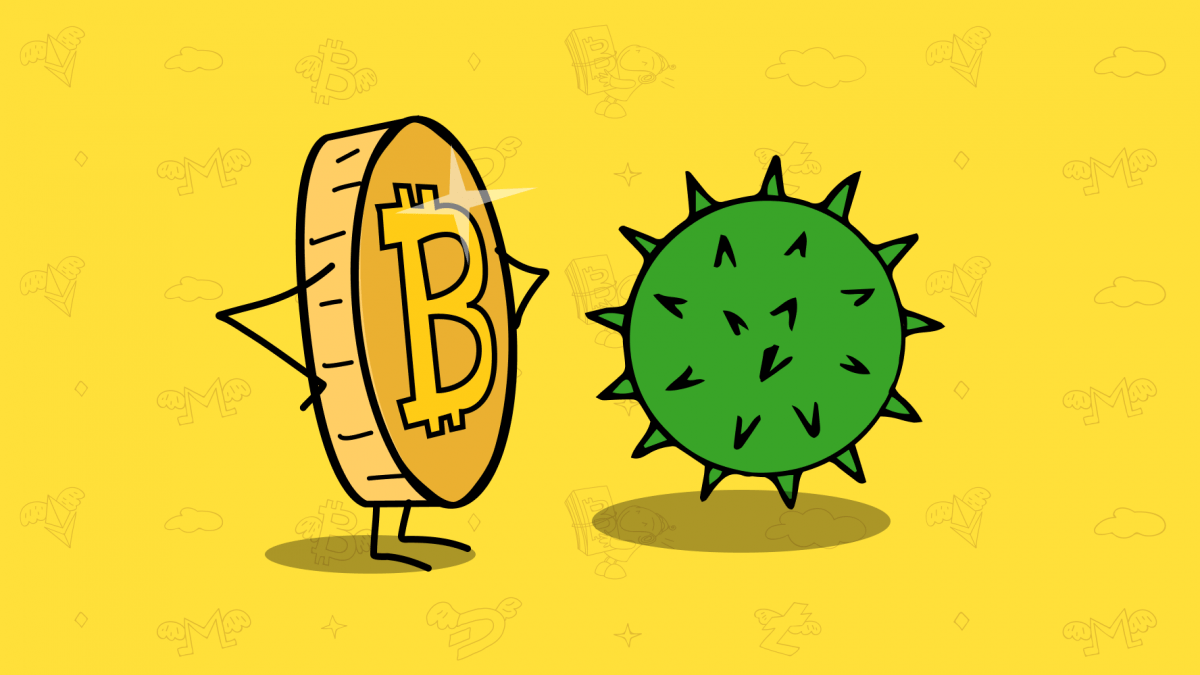 For years, gold's been considered a security zone. Apr.14 2020, the asset hit its highest since late 2012, soaring by nearly 2%. Yet, a month before, in the midst of the lockdown, even gold smashed to a 6-month low.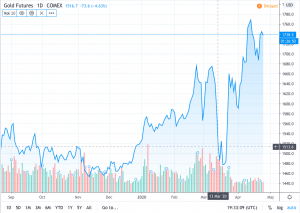 Data source: TradingView. Comex Gold Futures crash, March 13, 2020
On March 13, the price of Comex Gold Futures (GC) plummeted 4.63%, down to $1516.7, sending shivers down the spines of position traders. The asset slowly got back on track a week later and started a bullish rally, which was the result of investors rushing to the safety of the asset.
However, the question everyone was asking resounded loudly in the air: Did the global epidemic, the first of its kind, bring about the times when even safe-haven assets cannot guarantee anything? And if it's not gold or silver that has also dipped stratospherically during the Corona crisis, what's the next security-zone asset we will have?
In the same week, the Dow Jones Industrial Average saw "the biggest ever fall in intraday trading", having lost more than 2000 points, S&P 500 dropped 7.6% and the Nasdaq Composite plummeted 7.3%.
Where is the king?
If you're turning your train of thought to Bitcoin right now, that does make sense. However, look at that inverted triangle on the chart down below, and you will see that the crypto top dog hasn't escaped the bloodbath either.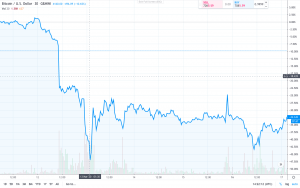 Data source: TradingView. Bitcoin crash, March 13, 2020
Unfortunately, born out of a crisis, and for a crisis like this, this time Bitcoin has followed the overall Corona trend instead of going against the market in its usual manner. Parachuting down to the record bottom levels, on March 13, it fell almost beyond $4k and demonstrated a one-year low.
Osho Jha, a former Wall Street analyst, now Chief Data Scientist at blockchain-focused startup Arbol, explained to TradeSanta that the coronavirus economic crisis is difficult to gauge for Bitcoin. "The immediate reaction is that Corona is causing global financial markets to sell off, and Bitcoin became a part of that sell-off."
"However, at a deeper level, there are many positive catalysts for Bitcoin from this event," the expert added, for example, broad-based asset purchase programs from central banks, reserve rates lowered for banks and a general cultural push towards a digital world with digital payments being a part of that mosaic."
That said, there are several factors that might influence the continuing maturing of Bitcoin and turning it into a safe haven in the future, like the upcoming halving. At the moment, the fact that the coin dipped with the rest of the market doesn't shine.
So, if it's not Bitcoin or long-established traditional markets, what asset has performed well despite the crisis?
One stable rooky
In the wake of the market crash, another asset type unexpectedly gave a taste of quality, and you know this asset very well because it is stablecoin.
Let's take a look at the performance of Tether (USDT), the most famous stablecoin to date. In comparison to the assets mentioned above, during this latest crisis, Tether's market capitalization increased from $4.6 billion on March 30 up to $6.4 billion on April 20.
Now take a look at the chart below and make a mental note of the triangle located somewhere between March 13 and March 15.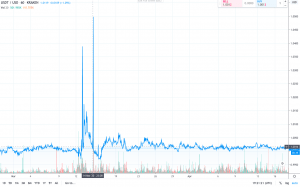 Data source: TradingView. USDT spike, March 15, 2020
Having compared three charts, we can now say that right after Bitcoin descended, market players went to get some Tether (USDT). When the period of correction was over, the coin quickly got back on the horse.
There are other numbers confirming the trend. For example, according to a pseudonymous crypto researcher Hasu, the total market capitalization of stablecoins has increased up to $8 billion over the last several months, right when the things have gone nuclear. Additionally, the massive issuance of stablecoins crossed the 7-billion dollar mark and rising. Last but not least, as stated by glassnode, a blockchain data and intelligence provider that generates innovative on-chain metrics, on April 16, Tether balance on exchanges has reached an all-time high mark of around 1.7 billion USDT.
Other stablecoins have also shown a massive growth, with USD Coin (USDC) reaching $729 million market cap and Binance USD (BUSD) $206 million, as of now.
So, Tether was not the only stablecoin looking quite strong in this crisis.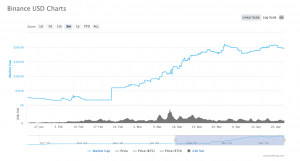 Data source: CoinMarketCap. BUSD spike during the Corona crisis
What asset will become the next safe haven?
That being said, in theory, Covid-19 might turn stablecoins into a safe haven for investors surviving the times of severe market fluctuations.
However, there are some complications that might prevent this from happening. The Financial Stability Board (FSB) has recently published a 64-page list of recommendations "addressing the regulatory, supervisory and oversight challenges raised by "global stablecoin" arrangements."
It's only natural that under these new self-isolation circumstances, the idea of internet money well-suited for online payments flourishes. But this in itself pushes regulators to move towards faster legalisation of crypto, too.
If they try to legalise crypto businesses, this will rebuild the market landscape significantly because not all the players are able to survive such a change. The liquidity metrics might dry out, de-fi built upon stablecoins might suffer, and Libra also might not make it being constantly under the spotlight of manifold governments.
This pandemic changed the world once and for all, meaning the old methods can't be an effective response to new challenges anymore. The world needs a stable internet currency to pay from home while the safe-haven U.S. dollar and other assets dangerously fluctuate through a crisis like this. While we're waiting for Bitcoin to slowly pave its way to a new high, young and feisty stablecoins look strong enough to accept this challenge.
FAQ
What are safe-haven assets?
For years, gold's been considered a security zone. Apr.14 2020, the asset hit its highest since late 2012, soaring by nearly 2%. Yet, a month before, in the midst of the lockdown, even gold smashed to a 6-month low.
Safe-haven asset examples:
In the wake of the lockdown, an interesting asset type unexpectedly gave a taste of quality – stablecoin.
What asset will become the next safe haven?
In theory, Covid-19 might turn stablecoins into a safe haven for investors surviving the times of severe market fluctuations. However, there are some complications that might prevent this from happening. The Financial Stability Board (FSB) has recently published a 64-page list of recommendations "addressing the regulatory, supervisory and oversight challenges raised by "global stablecoin" arrangements."