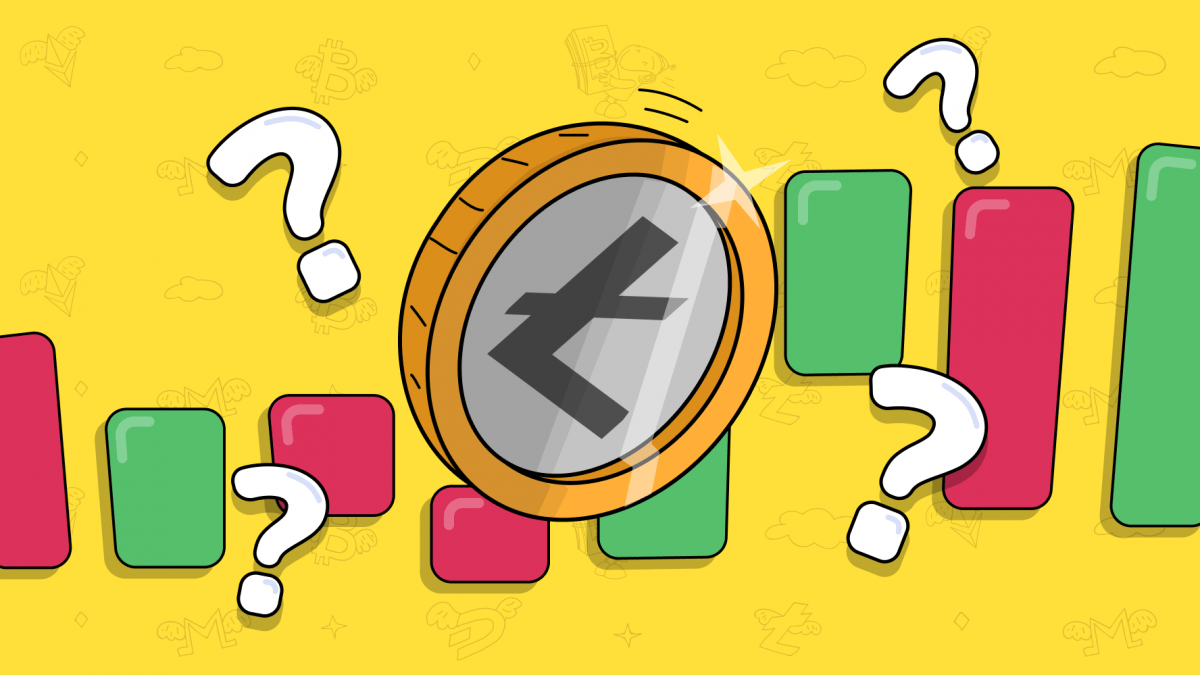 Ever since its creation in 2011, Litecoin (LTC) has been seen as an alternative to Bitcoin (BTC). Moreover, its developer, former Google engineer Charlie Lee, has called Litecoin a "lite version of Bitcoin".
Litecoin is based on BTC's original source code and is technically very similar to Bitcoin, with one important difference: it takes only 2.5 minutes for block generation, while it takes 10 minutes for Bitcoin. That is how Litecoin got its name—for its speed and lightweight.
At first, Litecoin was a competitor to Bitcoin, as its improved transaction speed could become a threat to the number one cryptocurrency in the long run. However, as the crypto market has been filled with numerous cryptocurrencies with even more advanced technology, Litecoin's popularity has declined from its former position.
Still, as of today (18.10.21), Litecoin is still in the Top 20 of all cryptocurrencies with the market capitalization of more than 12 billion dollars.
What is Litecoin and how does it work?
As already mentioned above, Litecoin's technology was specially made to be lightweight and faster than Bitcoin's. Litecoin, just like its competitor, works in a proof-of-work ecosystem, which means that these cryptocurrencies are both mineable and require a vast amount of computer engineering for solving math "puzzles".
However, Litecoin can handle more transactions because of its shorter block generation time: it was the main goal of Charlie Lee to create a cryptocurrency that would be quick and flexible, so it could be used as digital money in everyday's life.
If we compare it with Bitcoin, Litecoin has achieved more than "digital gold" did in terms of speed and throughput: Bitcoin is becoming more and more bulky, and less practical in small purchases. Nonetheless, it is still number one with more than one trillion dollars of market capitalization, while Litecoin is only in the Top 20. So can we say that Litecoin hasn't reached its full potential and it is vastly underrated? Let's take a closer look at Litecoin's technology.
Fees
Litecoin's network can process 56 transactions per second, when Bitcoin's maximum capacity is only around 7; the speed for transactions is 2.5 minutes for Litecoin and around 10 minutes for BTC.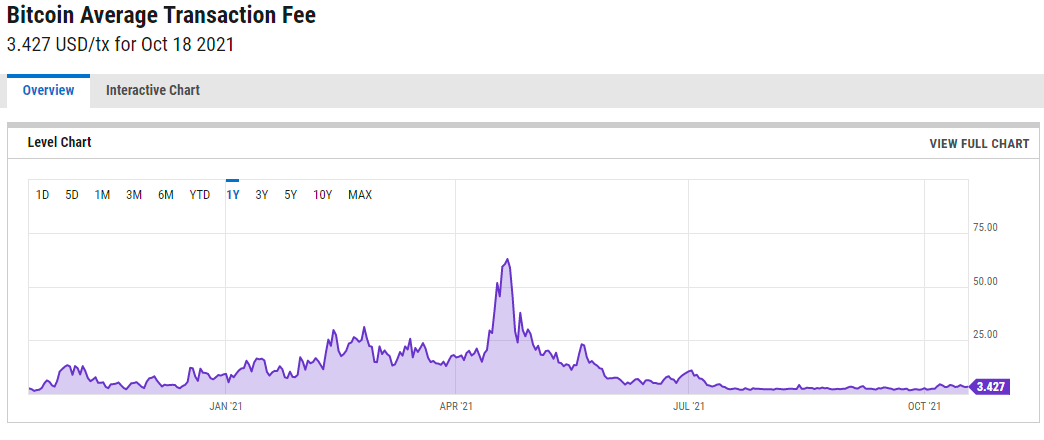 The fees is another aspect that LTC has managed to improve compared to BTC. The latter one's transaction can cost you from around $3.5 up to $70 during the peak network demand.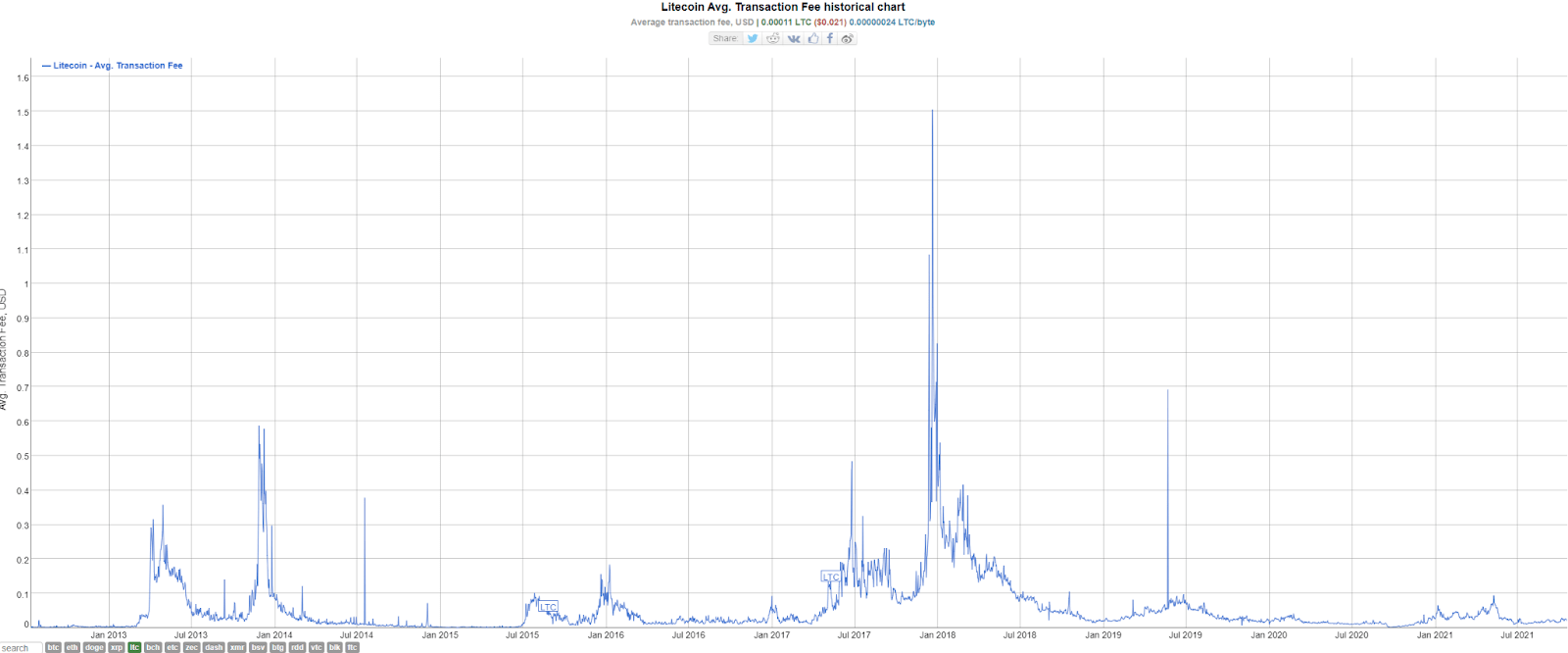 However, if we take a look at the LTC transaction fee chart for the whole time, we can see that its average fee was $0.3 – 0.5, and around $1.5 during its peak. The reason why fees are so low is that the network puts aside Litecoins that do not derive from transaction fees to incentivize miners and because the LTC network is more flexible and not congested as much as the Bitcoin network. Not to mention the fact that an LTC transaction consumes only around 3% of the energy that it takes to process one BTC transaction.
Mining
Litecoin's supply is 84 million LTC, while Bitcoin's supply is 21 million, both of these cryptocurrencies are mineable and operate via the PoW method. However, unlike BTC, Litecoin does not need too much computing power for mining due to simplified algorithms, thus making it possible to mine LTC even via your regular PC without the need for expensive hardware.
It is estimated that both last BTC and LTC will be mined until the year 2140. Since the formation of the block is 4 times faster than Bitcoin's, Litecoin's mining proceeds with higher speed. However, its network is more vulnerable to Botnet attacks, because the overall number of miners is lower than in BTC mining.
OmniLite Protocol
Still, even though Litecoin's technology is superior to Bitcoin's, it still lags behind the number one cryptocurrency since its only functionality was to make a much faster and more flexible peer-to-peer electronic payment. With the introduction of other cryptocurrencies that have entered the market in recent years, Litecoin has had to come up with something else. And it looks like it did.
On September 7th, The Litecoin Foundation introduced the OmniLite protocol that is built on top of Litecoin blockchain. This protocol will allow the deployment of smart contracts, NFTs, and decentralized tokens with transactions notarized on Litecoin's ledger. Moreover, in future Litecoin's smart contracts could be compatible with Ethereum Virtual Machine.
So it is safe to say that the golden days of Litecoin are potentially still to come as it's transforming into something more practical.

Does Litecoin have a future? What do experts say about Litecoin?
Litecoin is one of the oldest altcoins in the cryptomarket and is still on the list of the most popular cryptocurrencies. It can be called a long-liver, and it's somewhat stable compared to other altcoins, some of which have already died out.
Ben Weiss, CEO and co-founder of CoinFlip, believes that an increase in usage and wider adoption can raise Litecoin's value in the future. Moreover, Litecoin might be a great cryptocurrency to buy for those who are interested in fast and cheap transactions or for those who are just looking for a more or less stable and affordable altcoin.
Tyrone Ross Jr., CEO at Onramp Invest, is less optimistic regarding Litecoin. He sees it as a very good coin for speculative trading, but he does not believe in LTC as a long term investment. Since there are no wide-scale cases of investors using Litecoin in a meaningful way and the fact that Charlie Lee sold almost all of his coins several years ago, Ross believes Litecoin is not suitable for serious investing.
It is hard to tell whether Litecoin's future will be bright for now. What can be said for sure is that its OmniLite protocol upgrade can attract more attention from the investors in the future, since the introduction of such an extension means the developers are still working on LTC's future and want it to grow. At least the fact that Litecoin is still with us and does not plan to leave the Top 20 of the cryptocurrencies any time soon is encouraging.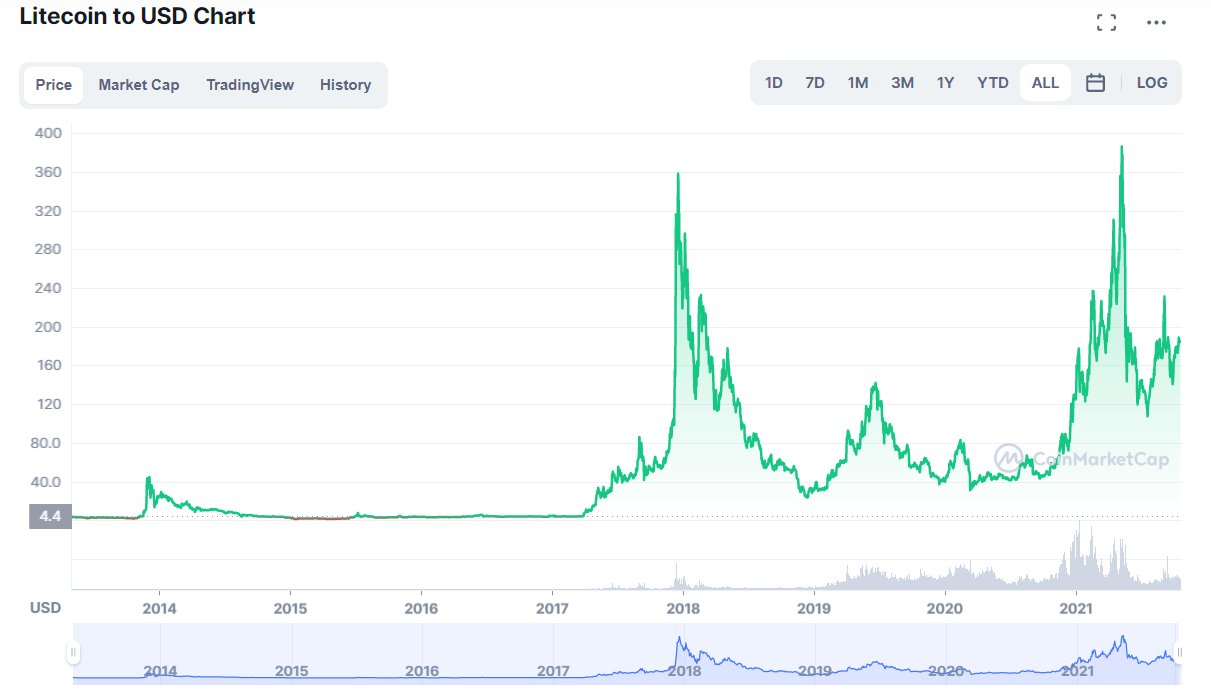 Community and partnerships
In recent years, the Litecoin Foundation has assumed social responsibility. They call their mission "to advance Litecoin for the good of society, by developing and promoting state-of-the-art blockchain technologies". This is a really interesting moment, since at the beginning Litecoin was created as merely a fork of Bitcoin, and never had any corporate social responsibility whatsoever. The fact that Charlie Lee and the board of directors decided to use Litecoin for the benefit of the society should serve as a positive signal for potential investors.
The list of Litecoin's partnerships is quite astonishing. Here are just some of them: US NFL team Miami Dolphins; NordVPN, one of the best VPN providers in the world; MimbleWimble, one of the most famous protocols linked to blockchain privacy.
Sometimes, Litecoin manages to create a temporary partnership, like the one it did with UFC. In December 2018, Litecoin Foundation announced that Litecoin will be one of the official sponsors of UFC 232. Moreover, Bruce Buffer, a world renown UFC announcer roared "Take Control of Your Money and Pay With Litecoin!" during the event, and all that happened in front of more than 15,000 MMA fans at the Los Angeles Forum, and millions of viewers around the world. On that day, Litecoin became the first ever cryptocurrency to partner with the UFC.
There are many other partnerships that the Litecoin Foundation has sealed, and all that tells us one important thing: Litecoin wants to be recognized and to gain a chunk of media attention.
Litecoin price prediction 2021-2023
The end of the year looks very promising for Litecoin according to Finder's poll that includes the opinions of 42 financial experts. The average forecast from the fintech specialists says that we can expect Litecoin's price to be more than $200 by the end of the year.
Most of the experts have very optimistic predictions regarding LTC future price, calling the maximum to be around $266.
One of the few experts that feel more pessimistic about Litecoin is John Hawkins, the senior lecturer at the University of Canberra. In his short term forecast he believes the price will be around $80 per coin. The reason for such a low price is that Litecoin has very little media presence and cannot offer any kind of advantage over Bitcoin.
The CEO of Allnodes, Konstantin Boyko-Romanovsky has a prediction that stands between previous two forecasts. In his opinion, Litecoin's price won't go higher than $180 by the end of 2021, however in a few years it can be worth more than $300. He admits that because Litecoin's price does not always correlate with BItcoin's price it makes it harder to make predictions regarding LTC future.
WalletInvestor is more conservative regarding Litecoin's future. Throughout the 2022 we won't see anything but fluctuation around $240-$270 per coin until the end of 2022, when the price can reach a $320 level.
In 2023, LTC price will fluctuate around $320-$350, but at the end of the year it has all the chances to break a $400 level.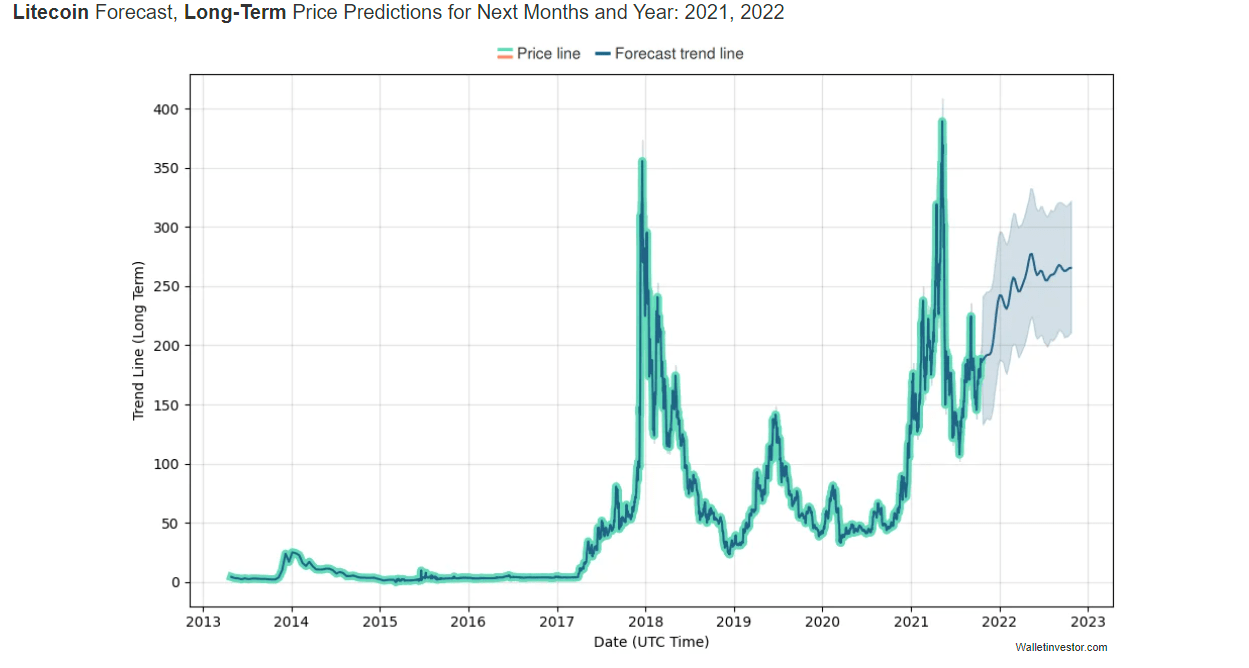 If we look at the forecast provided by The Economy Forecast Agency (EFA), we can see that they are on the bullish side as well. EFA predicts that by the end of 2021, Litecoin's price can be between 190 and 227 dollars. However, before that it can go through a minor dip and reach the level of around $150, and after that rebound and cross the $200 level.
According to EFA, in the early 2022 Litecoin will continue its steady growth. We can expect it to rise in price up to $300, and then go through a correction and return to the level of around $200 in May and April. By the end of 2022, LTC can break a new All Time High and break through the $500 level.
The year of 2023 is going to be bullish for Litecoin according to EFA — at least the first half of it. The average price for LTC will fluctuate from $400 to $500 with a possibility to achieve the price of $565 per coin by May. The second half of 2023 might bring correction for Litecoin and the price can drop almost twofold by the end of 2023, reaching a $270 level.
Coin Price Forecast also believes Litecoin's price has all the chances to go up and break the $200 level by the end of the year, adding around 31% to its current price and reaching $246.
In the next year, Litecoin can reach $350 by mid year, and then rise up to $400.
The year of 2023 is promising to be even more successful according to the Coin Price Forecast. Litecoin will meet the mid year with a price of $490, and by the end of the year LTC has a chance to break an ATH by reaching a $578 price.
Litecoin price prediction 2025 and 2030
Such long term forecasts should always be taken with a solid grain of salt, since it's a real challenge to predict the price even for the next year. However, there are some long-term forecasts that might be worth a look.
The EFA forecasts Litecoin's price to return to its current level in 2025. At the beginning of 2025, we might see LTC cost around $200-$220 per coin, but after that the price is going to decrease. Throughout the 2025 we might not see LTC price grow over 140 or 150 dollars, however there is a chance that this trend will change by the end of the year and the price will be back at around $200 per coin.
WalletInvestor, on the other hand, is more optimistic regarding LTC price in 2025. In their opinion, LTC price will not go down lower than 450 for the first half of 2025. Moreover, in the second half of the year it might grow up to $500 level and we might see a new ATH by the end of 2025, when LTC might cost more than $560 per coin.
Coin Price Forecast is even more optimistic regarding long-term prediction for LTC price. In 2025, Litecoin might cost around $670 per coin. Moreover, in their opinion the period from 2025 to 2030 would bring a large increase in overall capitalization of Litecoin, and we could possibly see it go up to record-breaking $860.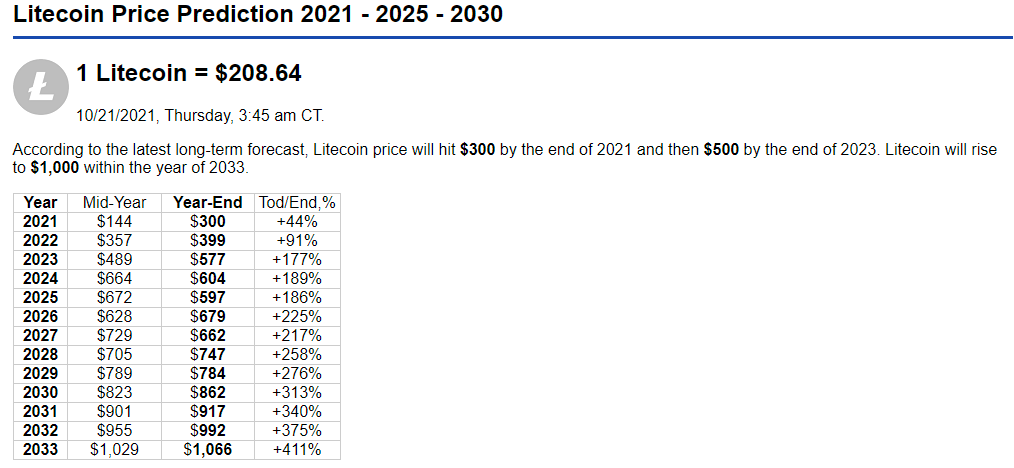 Is Litecoin a good investment?
Many experts and forecasts tell us that LTC hasn't reached its full potential yet, and the price is likely to increase in the future. So it is safe to say that it is not too late to invest in Litecoin.
It is one of the oldest altcoins in the crypto market, and if you are looking to diversify your portfolio, Litecoin might be the one cryptocurrency worth looking at.
FAQ
What is Litecoin?
As already mentioned above, Litecoin's technology was specially made to be lightweight and faster than Bitcoin's. Litecoin, just like its competitor, works in a proof-of-work ecosystem, which means that these cryptocurrencies are both mineable and require a vast amount of computer engineering for solving math "puzzles".
Does Litecoin have a future?
Litecoin is one of the oldest altcoins in the cryptomarket and is still on the list of the most popular cryptocurrencies. It can be called a long-liver, and it's somewhat stable compared to other altcoins, some of which have already died out.