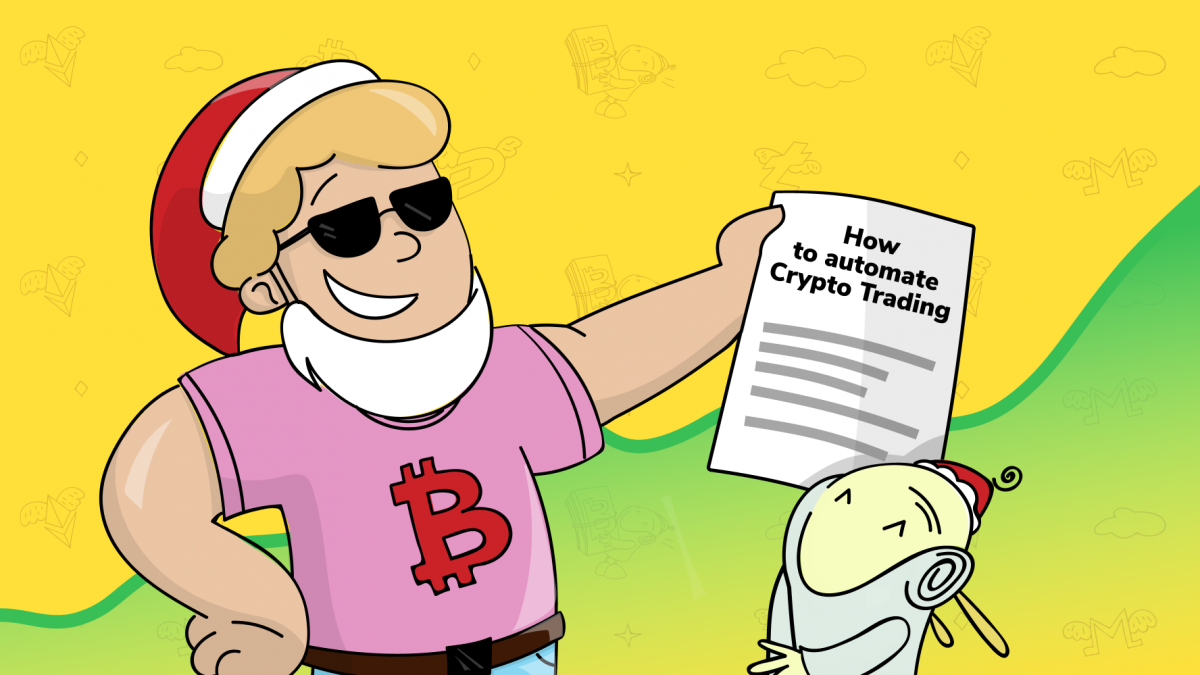 What is Automated Trading Software?
Automated trading system is nothing more than giving computer instructions on how to trade. It can be sometimes referred to as algorithmic trading. A piece of software executes trades monitoring the market at the same time. The trades are placed once certain criteria are met. In today's article we will have an in-depth look of the automated cryptocurrency trading.
The biggest advantage of automated trading platforms is considered its emotionless nature. Various sources of information report that around 80% trading of the US shares are done via automated trading software.
Crypto trading is much younger compared to traditional trading, but the automated crypto trading software is catching up.
How to automate trading strategy?
Trading bots are meant to automate your trading strategy. If you don't have one what will it automate?
You can follow these 5 steps to create your automated trading strategy.
Decide on a Trading Plan
Having a trading plan is the very first step towards a success in trading regardless of if you're using an automated trading system or not. Start by defining the pairs you will be trading and how often do you expect the bot to take the profit. Have in mind the scenario of a market reversal and extend your trading strategy to the worst case scenario.
Some platforms provide automated trading strategies of their users so that newcomers can take advantage of it and compare the approaches.
Define Your Trading Rules
Even if you have set up a successfully trading bot, there's still a set of questions you should know the answer for. How often do I check on bots? When do I turn off the bot? What should I do in case of loss?
Choose Your Risk Settings
Automated trading can amplify your profit, but it can also increase your loss to a similar extent. Decide on the maximum volume the bot can trade on your behalf. If you are an experienced trader, consider using advanced tools such as Stop Loss or Martingale.
Backtest Your System
Most automated services offer backtesting service.That means that you can set up a bot and test it against real-life conditions without the risk of losing money. Back testing is a good way to check how your bot would perform in a certain market. It can also be helpful comparing bot settings and exploring new features.
Monitor and Analysis
Now you have launched the bot. It will monitor the market for you. Still, any bot needs a manager once in a while. Keep an eye on market conditions to see if your bots might be running against the current trend. It is a good practice to check your bots at least once a day.
You can also find inspiration in automated trading strategies ideas that other traders share online. TradeSanta publishes daily top performing bots that could be a good starting point for those who just start experimenting with automated trading platforms.
Top-5 Questions About Robot Trading
1. Is trading bot legal?
Trading bot is just a piece of software used to automate trading on exchanges. If crypto trading is legal in the country in question and the exchange supported by an automated trading platform operates in your country, then there's no legal obstacle in using bots to automate your crypto trading moves.
2.Are trading bots profitable?
Trading bot is just a piece of software that executes the trade the way you set it up. Some traders make substantial profits with automated trading. The key to a profitable bot is having a proven strategy and realistic settings and keeping an eye on the market.
3. What is the Best Automated strategy?
There's no such thing as the best strategy. Traders should set up the bots according to the market conditions taking into account current trend and potential reverses. A trader should always have an exit plan in case the trade goes south.
4. Is automated trading system scam?
No automated trading system is not a scam. However, when setting up an account on an automated service you have to provide the API keys to your exchange. Be careful! Do not enable withdrawal permission. The good practice is to set up a separate exchange account for automated trading.
5. Can Robots Lose?
Trading bots follow the strategy a trader specifies. If the market suddenly goes in different direction or the bot is set up on a low liquidity pair it may result in losses. Also, some advanced options like Martingale and Stop Loss are recommended to be avoided by those who just started crypto trading.
Automated Trading With TradeSanta
What is TradeSanta?
TradeSanta is a cloud-based service. Its goal is to automate cryptocurrency trading strategies, bringing algorithmic trading into the crypto community. TradeSanta is designed to be friendly for the beginners, offering advanced options for professional traders.
How does TradeSanta work?
TradeSanta users can set up several bots that will follow the instructions specified by the user.
Long vs Short
The main principle is very simple: the user selects a trading pair and if he wants to long (bet on the uptrend) or short (bet on the downtrend) the coin. In case of the long strategy TradeSanta bot starts a trade by placing an order to buy selected cryptocurrency and afterwards places another order to sell selected cryptocurrency with profit. In case of the short strategy, TradeSanta bot will sell the coins and buy back the same amount later at the decreased price, thus generating the profit. The last order that closes the deal and brings profit is called Take Profit order. The Take Profit percentage defines how much profit you wanna make. The final profit will equal the sum of all the orders placed * Take Profit percent.
Extra Orders
The bots place Extra Orders if the market goes in the contrary to the bot's direction. This way, a trader may increase the position at a lower price and lower the previously set price needed to reach desired profit. With a martingale option on, the next order will be larger than the previous one by a specified multiplier.
Grid vs DCA
TradeSanta offers 2 different strategies: Grid and DCA. With Grid strategy, the bot places the first order and extra orders if the price goes contrary to the bot's direction. For each order placed, TradeSanta trading bot places a Take Profit order. Grid strategy allows us to take advantage of the scenario where the cryptocoin's price drops and fluctuates for some time before bouncing back.
DCA strategy works in a similar manner. Crypto trading bot places extra order if the price goes opposite to the bot's direction. The difference is that only one Take Profit order is placed for the whole sum of orders placed. With each new order, the target price decreases due to the lower average price of all the sum purchased.

Technical Analysis
TradeSanta also offers Technical SIgnals. This means that the bot will enter the position only when it receives a signal from an indicator that the user has chosen. TradeSanta bots integrated the most popular among crypto traders technical indicators: MACD, RSI and Bollinger bands. Traders can choose to set up a bot with no indicators, one of them or all 3 indicators at the same time.
RSI Explained
Trading Tools
Experienced traders may enjoy some of TradeSanta's advanced features such as Stop Loss and Trailing Stop. These tools are designed to manage risks and limit losses in case of unexpected market reversals. TradeSanta platform went even further and implemented Trailing Take Profit, so that the traders don't miss profit opportunities in the prolonged uptrend periods.
Stop Loss Explained
Trailing Take Profit Explained
Once the trading bot is set up, it is ready to buy and sell cryptocurrencies. The bot will open a deal immediately if you don't have any technical signals set. If you choose one or more indicators, it will wait for the signal to start the deal.
TradeSanta supports several major cryptocurrency exchanges such as Binance, OKX, Huobi, Upbit, Bittrex, Bitfinex and HitBTC.
How To Start Automated Crypto Trading on TradeSanta
It's really easy to automate a crypto trading strategy with TradeSanta.
First things first, you need to create an account on TradeSanta. You just need to fill in your username and email address.
TradeSanta wizard will take on from now on to guide you through the creation of your first trading bot.
The next step is to connect an access point. If you have an account on one of the supported exchanges (Binance, Bittrex, Bitfinex, Upbit, OKX, Huobi or HitBTC). To do that, you need to go to the settings of your exchange account and find the API section. Make sure you check the trading and reading balance permissions, leaving withdrawal unchecked. Once you receive the API key and secret key, create an access point on TradeSanta.
If you don't have an exchange account on one of the supported exchanges yet, don't worry we got you covered! You can create an account on HitBTC exchange in just one click and the access point will already be connected for you. Make sure to put down in a safe place all the details required to log into your HitBTC account. They will be displayed on your scream only once when a HitBTC account is created. You will be offered to top your HitBTC balance, so that the bots can start trading. You can do it at once or later. HitBTC has several wallets. After you top up the balance, make sure to transfer the funds to the trading account.
After that, choose a trading pair. TradeSanta provides you with some data and price graphs, so that you can decide on the setting and direction. Once the pair is chosen, specify whether you want to trade long or short the coin.
For shorting you need to have base currency on your account (first currency of the pair). You will receive the profit in quote currency (second currency of the pair). If you go for long, you will buy base currency with quote currence. Hence, you have to make sure you have enough quote currency on your balance. For example, if you're trading BTC-USDT pair, BTC is base currency, USDT is a quoted currency. The short bot will sell BTC you have for USDT and buy the same amount back once the price is lower. The difference in USDT that is left after buying back is your profit. If you trade long, the bot will buy BTC with USDT and sell it later for a higher price, increasing the amount of USDT you had.
After you select a pair and direction, choose the bot strategy between Grid (separate Take Profit orders) and DCA (one Take Profit order). All is left to do is specify the volume of the orders, how much profit you want to make in percentage and the distance between two orders in percentage as well.
You're ready to launch your first bot! In case you have any questions left, make sure to check out TradeSanta youtube channel, where you can find videos about automated trading and TradeSanta crypto bots and tools. You can also check out Bitcoin Start to get started with trading cryptocurrencies.
We know that starting to trade cryptocurrency sometimes may be a bit confusing. We are ready to answer your questions or solve your problems 24/7. Contact us by email [email protected] or via Telegram anytime.