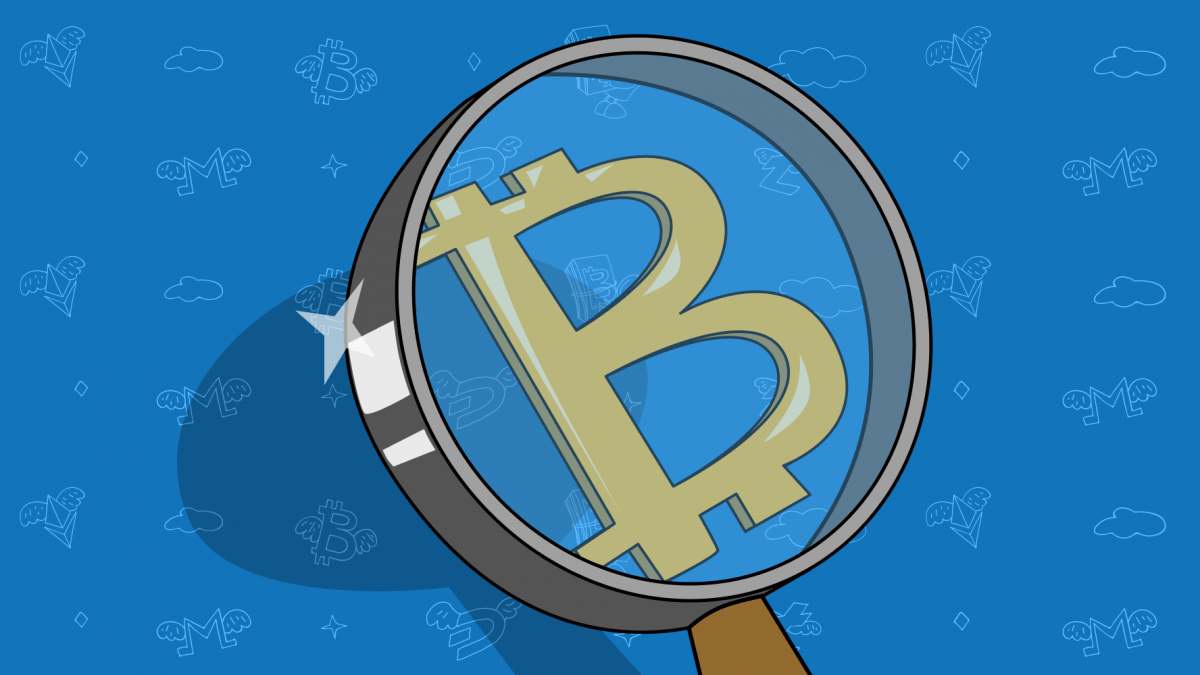 When stress is eating away at you because you're not really sure if this trade is a right move or wrong, go to a crypto screener page. In a single line, the tool accumulates all the information about the crypto asset.
For example, general performance over different time periods, data from oscillators as well as an overview with the latest prices, highs and lows, volume, and rating.
But the most benefit you can probably derive from a crypto screener is the filter feature, which allows users to track assets based on the metrics they specify.
For example, if you're looking for a top gainer, you can select the "top gainer filter" and apply it to a 1-month, 3-month, 6-month, or any other period. Still not sure if you should make a move? Click on your favorite oscillators and get the big picture with the signals to buy or sell.
Now when you're all warmed up, let's elaborate.
What crypto screeners are out there?
When you start googling crypto screeners, you normally come across several services, such as TradingView Crypto Screener, BitScreener or Weiss Crypto Ratings.
TradingView is very popular among traders in itself; BitScreener covers more than 2000 coins;, and Weiss Crypto Ratings is a well-established agency that has become famous for ratings in general over the past 30 years.
How to use Tradingview Crypto Screener?
The TradingView crypto screener is just one of the screeners presented on the TradingView website, in addition to Forex Screener and Stock Screener.
The panel above the listed currency pairs is the control desk that helps you find what you're looking for: an overview, performance, oscillators, a time interval, alerts, general screens and filters you can apply.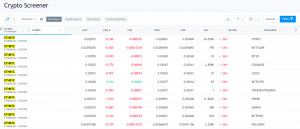 Say, you've got Bitcoin (BTC) and are interested in buying Ether (ETH), which means that your pair looks like this: ETHBTC.
If you click "Overview", you will find information related to the price dynamics of Ether, including the latest price on a particular exchange; the asset's change in price in percentage and in the quote currency over the past week, day, or month; the assets' highs and lows; the volume of trade; and the rating. This is basically a result of the technical analysis conducted.
So, what happens when you click on "Performance"? Let's see.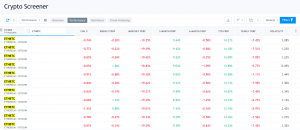 The TradingView Crypto Screener's performance tab helps you keep an eye on the big picture. After toggling a time interval and choosing the one you're interested in, you can learn about the change in price over that period. For your convenience, right next to this number, the screener also places additional data covering other time-frames.
You can play with the filters here, too, by adding overbought, oversold, all-time low, and many more filters.
If you click "Oscillators" and scroll right, you will come across something like this: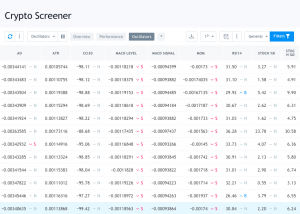 Basically, this is the table with oscillators that indicates different market conditions and suggests whether you should buy (B) or sell (S). The letter "N" stands for neutral.
Interestingly, these recommendations might vary depending on the time interval. You can play with TradingView filters and time frames depending on your trading style.
BitScreener
This crypto screener has a very different interface than the previous one, with less information presented in a single line, and yet it offers something the TradingView client doesn't.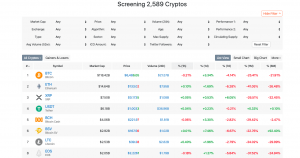 BitScreener is a little bit less trading-oriented, but it does help you find the projects with the very specific characteristics you find most useful. For example, you might want to sort out a sector, an algorithm or an ICO amount — which is not something you can do with the TradingView client.
Talking more about trading features, you can add a digestible 7-day price chart to the row and adjust manifold filters, such as performance over one hour, a day, a week, and a month.
When you click on the "Big chart" tab, you access more charts to compare with one another where you can also adjust time frames.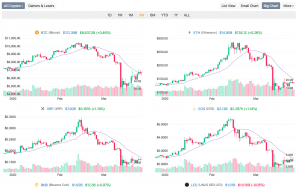 Even though BitScreener doesn't offer as many oscillators as the TradingView client, it gives you a chance to get a bird's eye view of the crypto market.
Weiss Crypto Ratings
Basically, the main feature of Weiss Crypto Ratings is the grades they give to the coins based on their research.
See for yourself.

Basically, there are two grades presented free of charge: the so-called tech-adoption grade and the risk-reward grade. The grades range from A through C to U and are useful if you want to buy a crypto and hold it long-term.
The minimalistic interface you can access without paying a fee consists of the latest price, cryptocurrency market cap, and 7-day price history in chart form. But if you want to add other filters, such as exclusive rating alerts, in-depth coin reviews, and more, you will need to sign up.
In addition to these basics, however, there is also a free functionality of Weiss Crypto Ratings that helps you sort out coins by investment risk and reward, adoption, market cap, rating, and technology.
Summary
As you can see now, crypto screeners differ from one platform to another, but there is something in common for all of them: they accumulate data in tabloid form.
TradingView provides the most comprehensive and trading-oriented data for free; BitScreener is full of manifold filters that can help you find an interesting project, and Weiss Crypto Ratings sell their expert opinion that has been tried-and-tested over the past three decades.