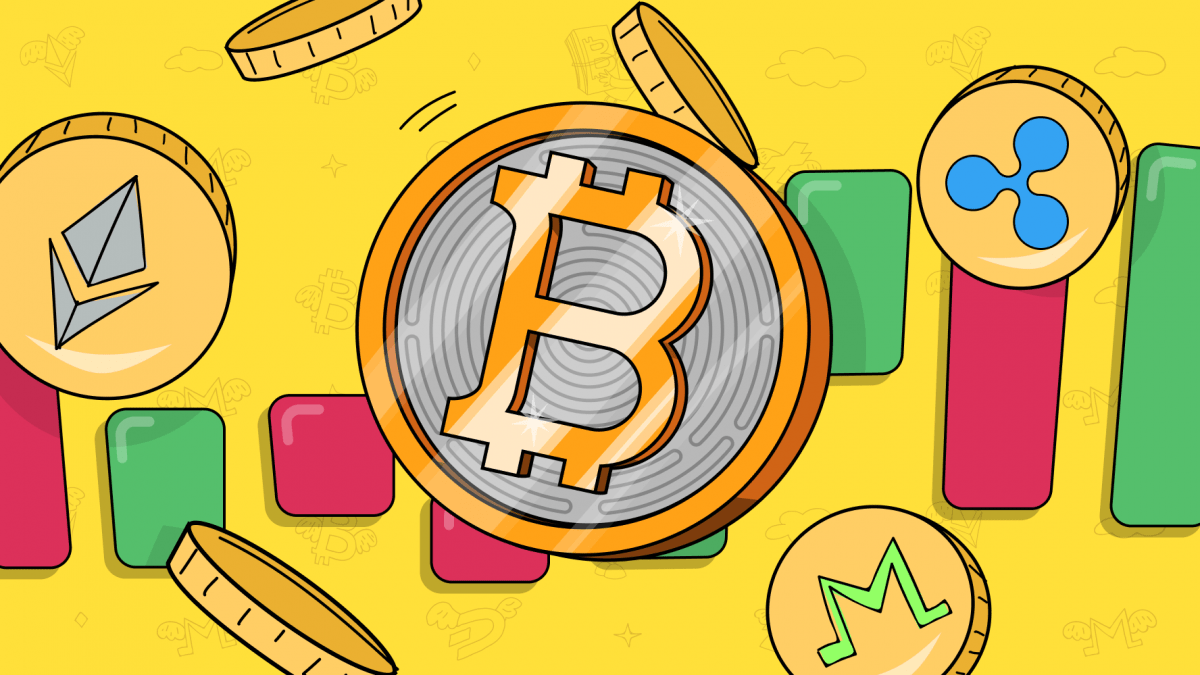 If you've been checking the crypto market since the beginning of the year, you might have noticed that the prices for most of the digital assets have dropped tremendously. Some of them have lost 10–15%, others have lost even more than 30% of their price. So why is this happening? Should you be worried? And should we expect the year 2022 to be a bear one? Let's try to find out!
Current crypto market situation. Why the market bleeds, and how long will it continue
Before jumping to the bad news, let's take a look at what the state of the crypto market was in 2021. Overall, it was a successful and bullish year for crypto. For the first four months of 2021, we saw price rallies: by April, Bitcoin had reached a $63K level and Ethereum had reached a $4.1K level by May. However, then we witnessed the first correction that started at the end of May, and it continued up to mid-July, and another one in November.
It is worth noting that by November, the crypto market capitalization reached a $3 trillion level. Two major cryptocurrencies have reached their maximum historical price level: $68,521 for BTC and $4,865 for ETH.
As for main market trends and drivers, throughout the whole year we saw the rise of NFT popularity, DeFi's growing potential, increasing interest in GameFi and play-to-earn games and the spark of interest in metaverses.

However, the correction that started by the end of 2021 was followed by a market crash, and there are several reasons for that.

Firstly, political unrest erupted in Kazakhstan, the world's second-largest Bitcoin mining country, as a result of a sudden increase in fuel prices. The country's governing cabinet resigned, and Kazakhtelecom, the country's state-owned telecommunications company, shut down the country's internet. The decision has severely harmed bitcoin mining in the country.
Secondly, the December FOMC meeting of the US Federal Reserve revealed that the central bank is dedicated to reducing its balance sheet and raising interest rates in 2022. All of these resulted in a BTC price decline.
Thirdly, the number of countries that are either planning to or have already banned crypto is growing. At least 11 countries, including China, Saudi Arabia and reportedly Pakistan have made a decision to completely forbid using crypto. Every new country in this list does not add certainty to the crypto market.
All that does not bring optimism, and so the market continues to bleed. However, even though some of the experts are also pessimistic regarding the crypto market's future, some of them believe that 2022 is destined to be a great year for crypto. Let's take a closer look at some of the forecasts that might bring your confidence back.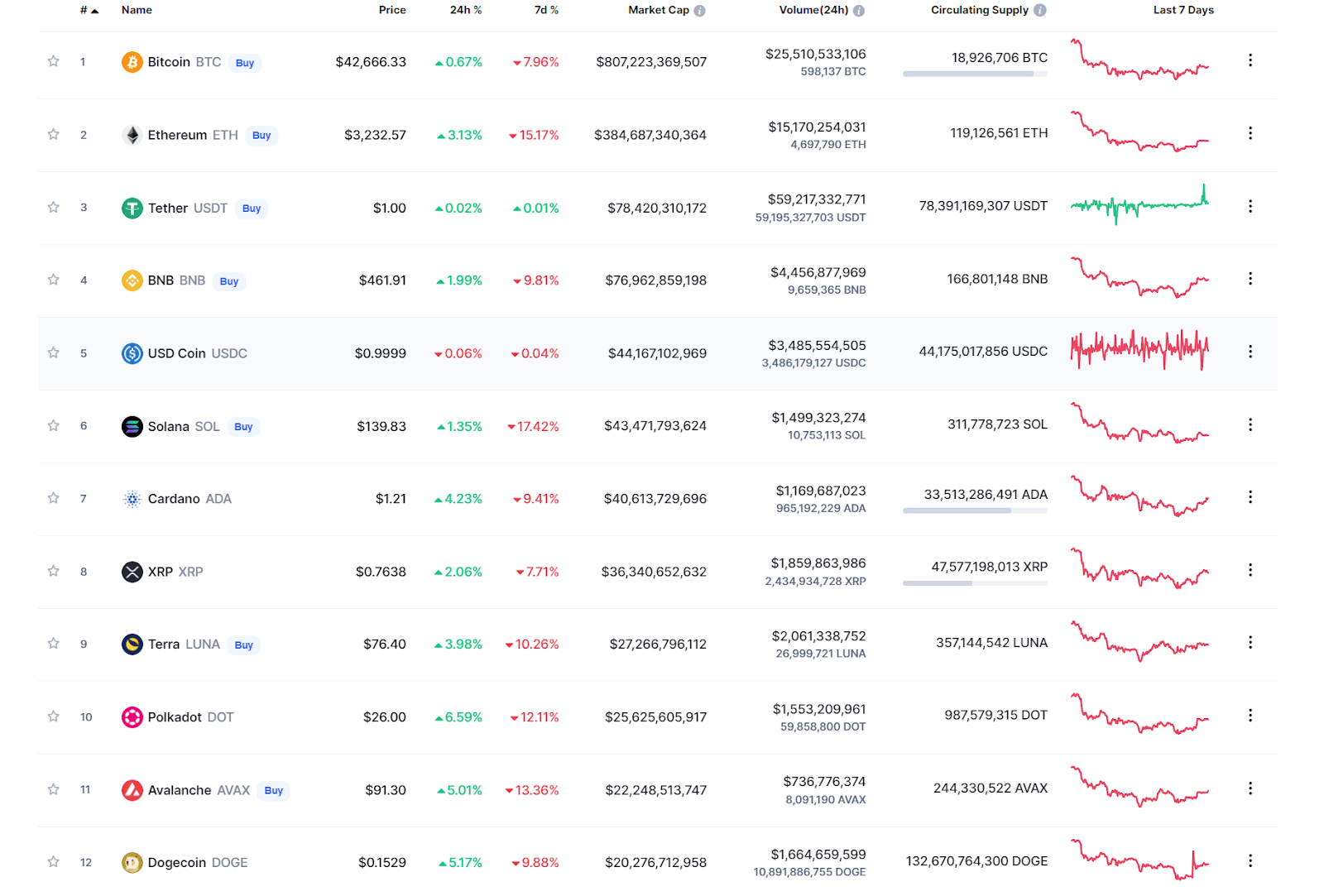 What is the forecast for 2022 now? Is Crypto winter coming? (Experts opinion)

Carol Alexander, professor of finance at Sussex University believes that Bitcoin might crash to $10,000 since "it has no fundamental value", thus wiping out all its gains from previous years of growth. In her opinion, we might see the history repeating itself: back in 2018 Bitcoin grew up to almost $20,000 and then experienced a massive crashdown that dragged its price to $3,000.
Todd Lowenstein, chief equity strategist of Union Bank's private banking arm, tends to be less pessimistic about Bitcoin's future. In his opinion, BTC price charts always experience bubbles and bursts, and what we can see now can hardly be called extraordinary. Every time the new burst happens we can hear "it's different", but in reality it's not. However, in Lowenstein's opinion we might see Bitcoin's price drop even more drastically than usual, in case the US Federal Reserve continues its "hawkish" policy.
However, not all of the experts are skeptical about what will happen with the BTC and crypto market in general during this year.
Ian Balina, founder of crypto research company Token Metrics, believes that Bitcoin can reach the level of $150,000 in the near future, although the exact timeline is unclear. Although Bitcoin is in the bearish cycle right now, the continuing hype about metaverses and play-to-earn games will drive the demand for crypto, and thus will eventually make Bitcoin return to its position.
Technical and blockchain data analyst Matthew Hyland also thinks we might see Bitcoin to reach 100,000 this year. He calls the overall demand for altcoins to be a major reason here, and he also mentions an ongoing trend for the investors to withdraw their Bitcoins from major exchanges to store their coins in offline crypto wallets.
Jurrien Timmer, director of global macro at Fidelity Investments believes that many experts decided to re-evaluate their forecasts to be more bearish, and try to be more cautious when predicting dates and numbers regarding the new bullish cycle. Still, a $100,000 threshold in the near future is something that most of the experts tend to agree on, and a "pretty sustainable" rise in Bitcoin's value should continue.
All in all, there is no consensus on whether 2022 will be bullish or bearish for the crypto market. Still, what can be said for certain is that if the market continues to bleed, more and more experts and investors would feel bearish about the near future.
Will ETH take over BTC in 2022? Ethereum price prediction 2022
This is the question to which even Bitcoin's firm believers would take some time before giving an answer. Yes, even now with the bearish cycle, the BTC price is not achievable for ETH. However, we've already seen cases that can be described only with one word: miracle.
Take Shiba Inu's case, for instance. From a typical crypto-John-Doe meme coin with a common canine mascot and obscure outlooks to the massive gainer with its own constantly growing ecosystem that managed to break into Top 15 cryptocurrencies with a market cap of around 18 billion dollars. Isn't that a miracle? And who would have thought?
The same can, in theory, be applied to Ethereum. It is already the number two cryptocurrency by market cap, and its platform is the most popular one for all kinds of DeFi projects, ranging from crypto gaming projects to wallets and DEXes. Let's not forget about the upcoming ETH 2.0 upgrade, which will transition Ethereum to the Proof-of-Stake consensus mechanism, instead of the current Proof-of-Work mechanism. This will help to lower the transaction fees drastically, and make the whole platform more flexible and fast.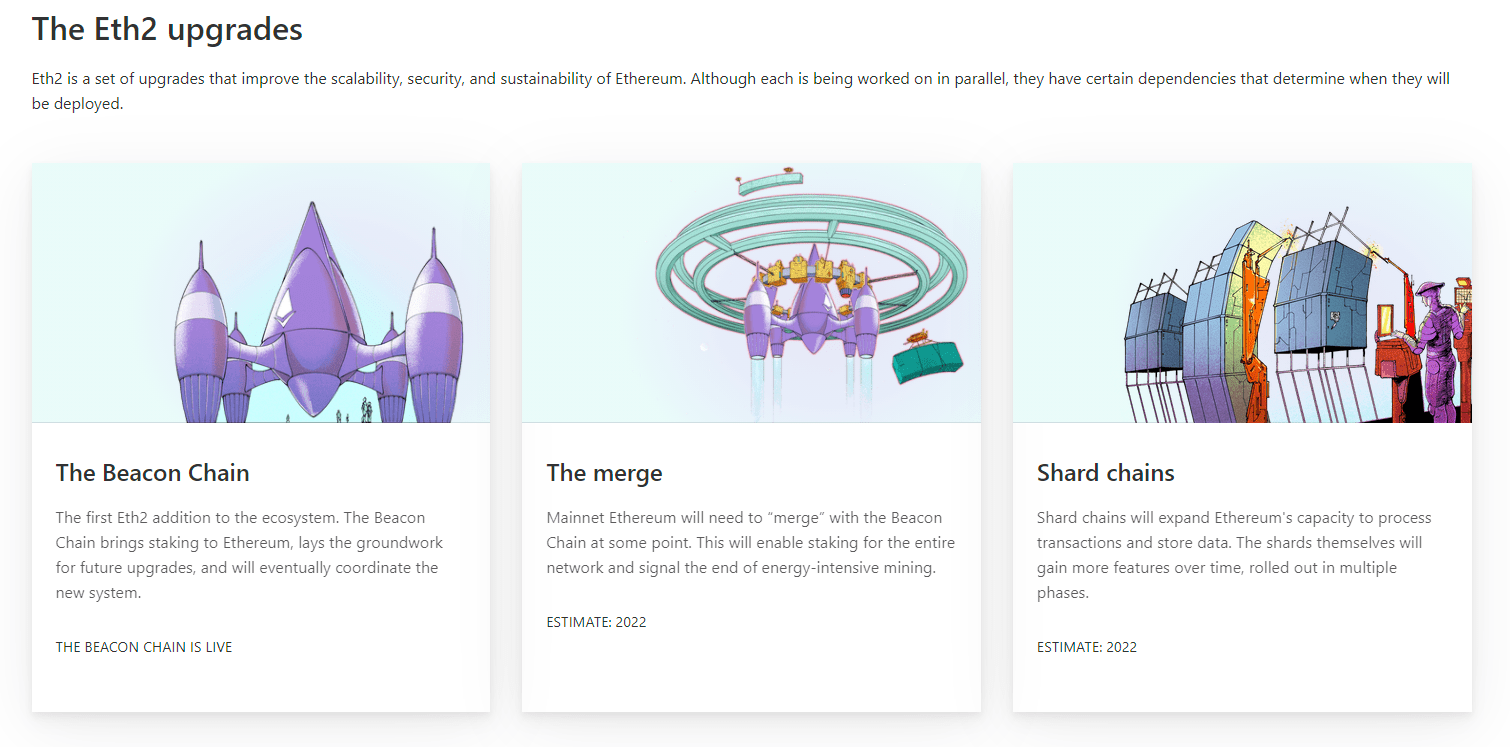 We've already discussed the future of Ethereum earlier in our blog, and we still believe that the upcoming upgrade will have a great impact on the ETH price. There are no prizes for guessing, so we will not be speculating on the numbers here, but if ETH 2.0 looks exactly like the Ethereum Foundation describes it, it will definitely attract many more investors and hedge funds than there are now, and thus will increase the demand and price of ETH.
Which crypto will rise in 2022? What is the future for other altcoins?
Every investor and trader who has at least some experience in the crypto world knows one of the most important golden rules of crypto investing: never put all your eggs in one basket. Surely, Bitcoin and Ethereum will remain the major cryptocurrencies in 2022, no doubt about that. But what about other digital assets? Which altcoins have a good outlook? Let's take a look at other major players in the market and what 2022 might bring for them.

Solana (SOL)
In case you've been living under the rock for the past several months, you might've missed the rise of one of the most noticeable superstars in the crypto world, Solana. Known under the name of "Ethereum killer", Solana can provide the world's first web-scale blockchain that uses Proof-of-History protocol, fast speed and incredibly low transaction fees. In case it will continue to draw the investors' and developers' interest, we might see it become an alternative to Ethereum platform. So if the Solana team continues to maintain momentum, it has a very promising potential in the near future.
According to Coin Price Forecast, Solana's price is expected to grow in the near future, and we might see a new price miracle that happened in the last months of 2021. In their opinion, SOL will rise to nearly $350 by the end of 2022.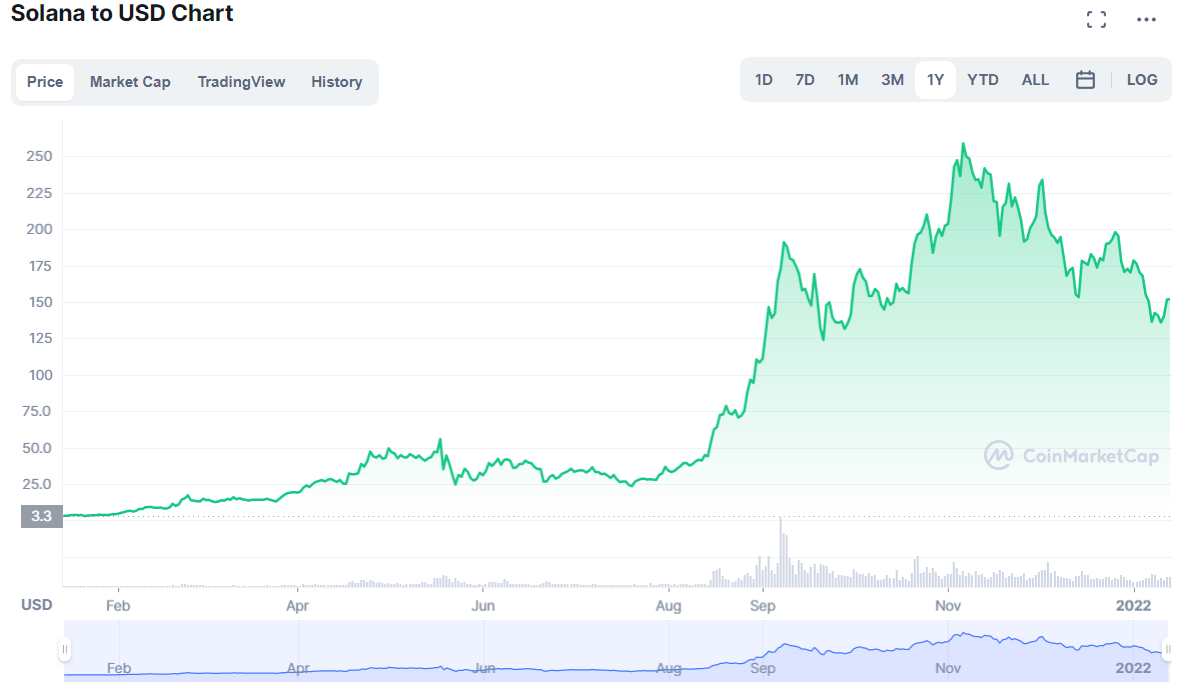 Binance Coin (BNB)
It took only four years for Changpeng Zhao, or better known as CZ, to make his crypto exchange Binance so successful that it became number one in terms of trading volume, with a market share of more than 26 billion dollars (as of November 2021). The success of the exchange, as well as the Binance Smart Chain network's popularity, just could not but have an impact on the Binance native cryptocurrency, known as BNB. And it did, to the point that BNB has gained more than 1,300% since 2021.
Currently, BNB is the number three cryptocurrency in the world by market cap, and it looks like it's not going to lean back any time soon. If Binance Smart Chain continues to expand and conquer the DeFi space, we can be confident that the BNB price will rise.
BNB may see steady growth throughout 2022, and its price may double, or even triple, in the next few years, rising from $472 (as of 20.01.22) to nearly $1,300 by the third quarter of 2023. Since Binance is doing great and continues to open new offices across the globe, we can expect BNB to stay strong as well.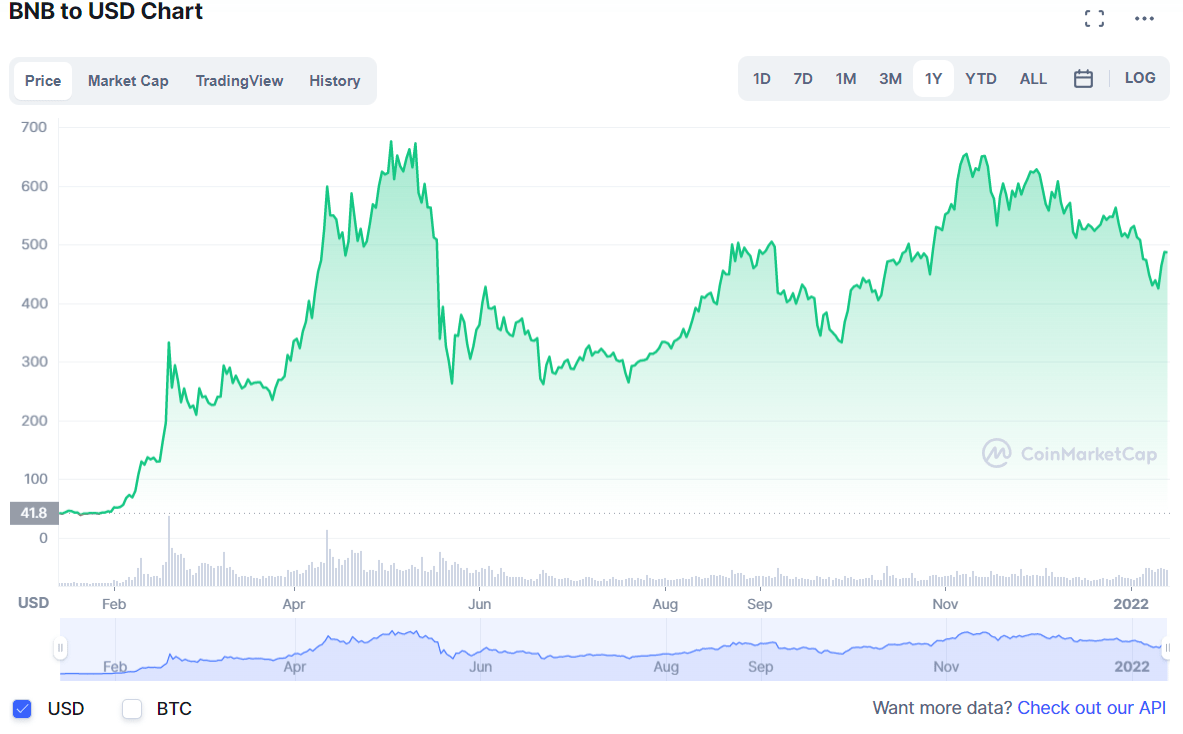 Cardano (ADA)


Cardano was not so popular among investors at the beginning of 2021, since its network was still trying to conquer the DeFi space. As time passed, however, more developers and investors became interested in it, as well as its native token ADA. Yes, ADA's peak price has barely scratched the $3 level, but do not be deceived by its "moderate" success when compared to, say, BNB, which went from $40 to almost $700 during the last year. According to Crypto Academy, Cardano can surpass $15 by the first quarter, and even may reach $20 as well. That is if BTC continues to rise during that period.
And since Cardano is still in the top 10 cryptocurrencies by market cap and its team continues their work to make it more popular and appealing to the masses, it is possible that we might see it breaching a new price level in 2022.
According to WalletInvestor, we might see ADA's price grow and reach a new all-time high of around $3.03 per coin. If Cardano's team continues to bring new updates, it certainly may become true.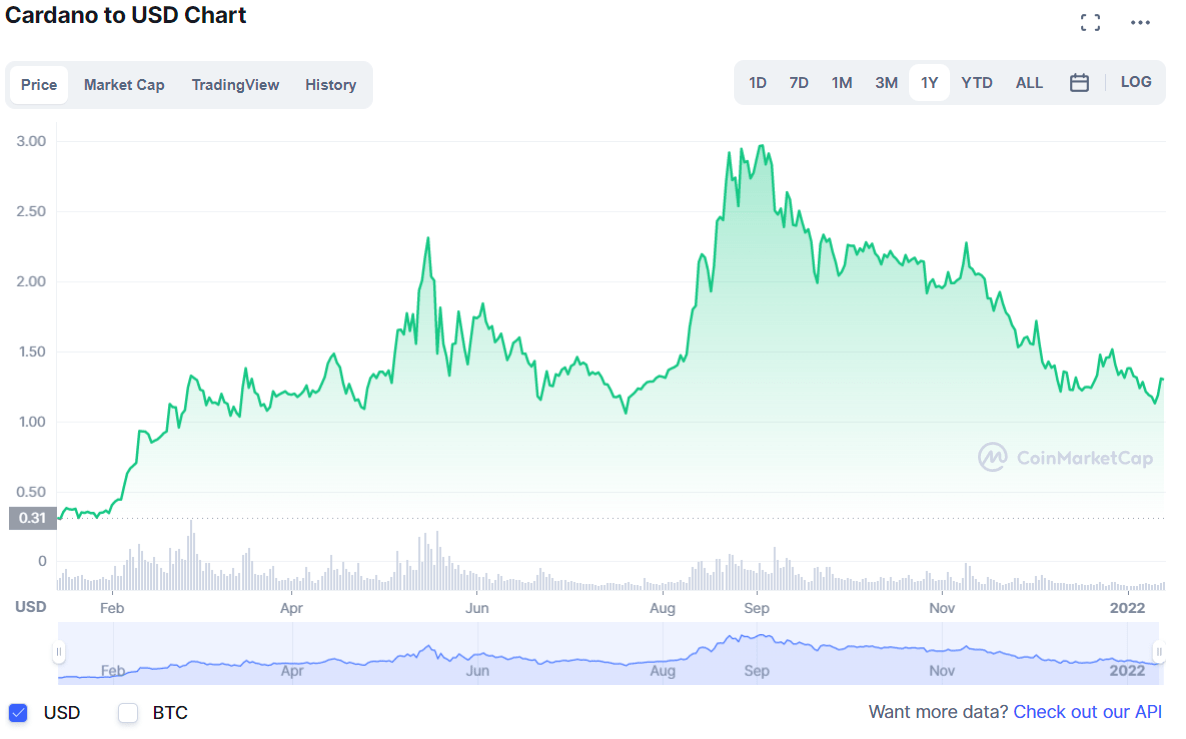 Ripple (XRP)
XRP is the native cryptocurrency for Ripple. This payment technology was launched in 2012 by Ripple Labs, a fintech company that decided to make international money transfers cheaper, faster and easier.
Ripple collaborates and has partnerships with an incredible number of organizations, banks, and businesses. Bank of America, American Express, MoneyGram, Royal Bank of Canada, and a slew of other companies are among its clients. That fact alone can tell us that Ripple aims to make XRP as widely available and acceptable as possible. And as we know, the better the reach, the more investors will be interested in acquiring it, thus increasing its overall value.
The fact that Ripple is still involved in a legal battle with the Securities and Exchange Commission (SEC) may have harmed investor trust in XRP. Still, it appears as if it never happened, and you too shouldn't make judgments quickly here. If Ripple wins, the price of XRP might skyrocket, as it would not only be a success for Ripple, but a victory for cryptocurrencies in general.
According to WalletInvestor, throughout the 2022 we probably might see a steady growth for XRP price, and it has a chance of reaching a $1.7 mark by October. By the end of 2022, XRP might reach a $2.00 level and still continue its climb. However, a lot is at stake in the SEC vs. Ripple lawsuit, and its outcome might change everything for the best or worst, depending on the outcome.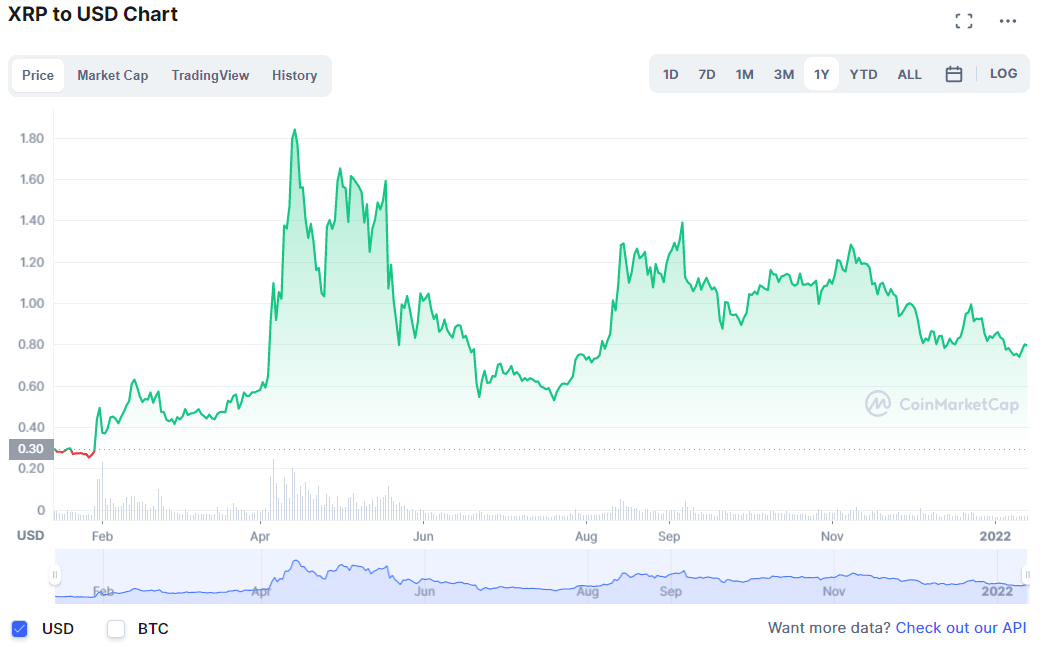 Polygon (MATIC)
Situation with Polygon is somewhat similar to Solana: in 2021, we saw MATIC gain almost 100x, an incredible result. The platform for Ethereum scaling found its investors attention, and 2022 might be a good year for it. Since it is unclear when ETH 2.0 will be completed, Polygon remains a number one aggregator of Ethereum layer 2 solutions with a clear structure and design. Still, even when ETH 2.0 upgrade is ready, Polygon will remain relevant, as the upgrade won't solve all the scalability problems at once.
As for the price prediction, MATIC might reach $6.37 by the end of 2022, according to Coin Price Forecast. Currently its price is $2.06 (as of 20.01.22), so we might see a new ATH this year.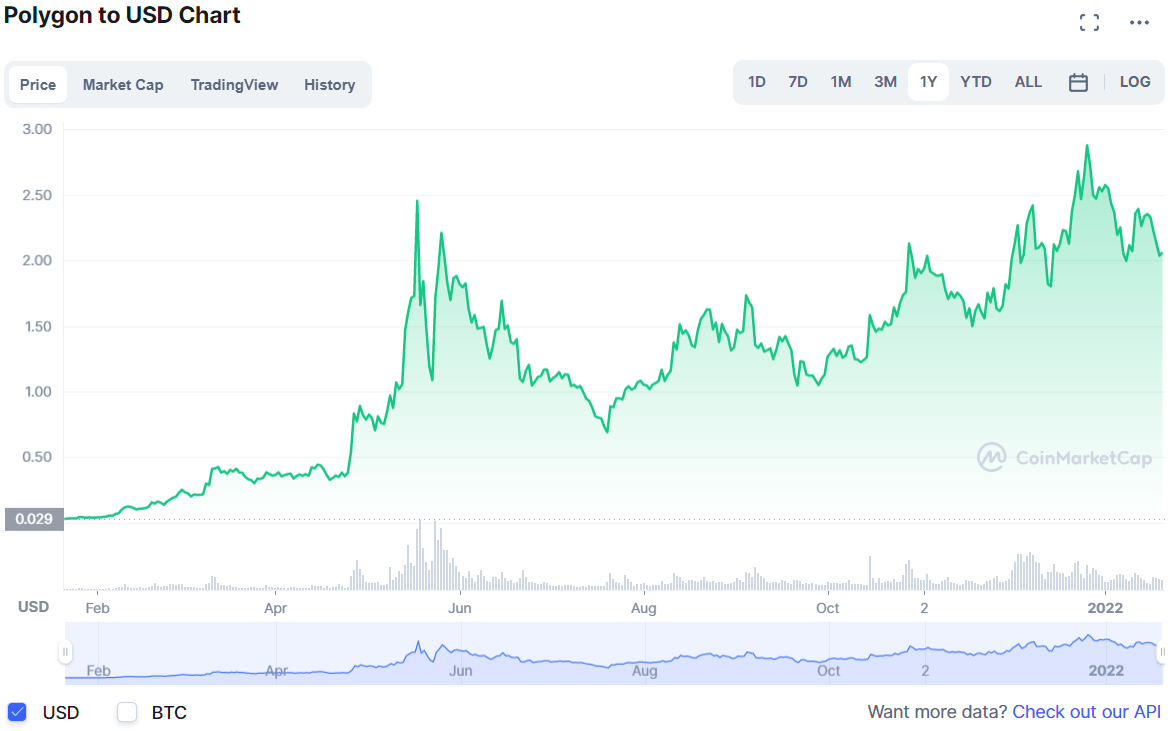 Terra (LUNA)
Terra is another representative of top performing cryptos in 2021. Created as a competitor to DAI, its unique minting mechanism between LUNA and UST stablecoin has brought a major success to Terra's coin. Even though Terra's been out in the market since 2019, the first noticeable financial success and recognition happened only last year. It currently offers stablecoins pegged to the US dollar, the Euro, South Korean won, Mongolian tugrik, with more currencies on the way.
Terra is currently in the Top 10 cryptocurrencies by market cap, and it holds its position strongly. According to the Price Prediction forecast, Terra might reach a maximum price of $133 per coin this year. Moreover, in 2023 the growth will continue, and it might cost almost $200, so this year could be a great opportunity for investment.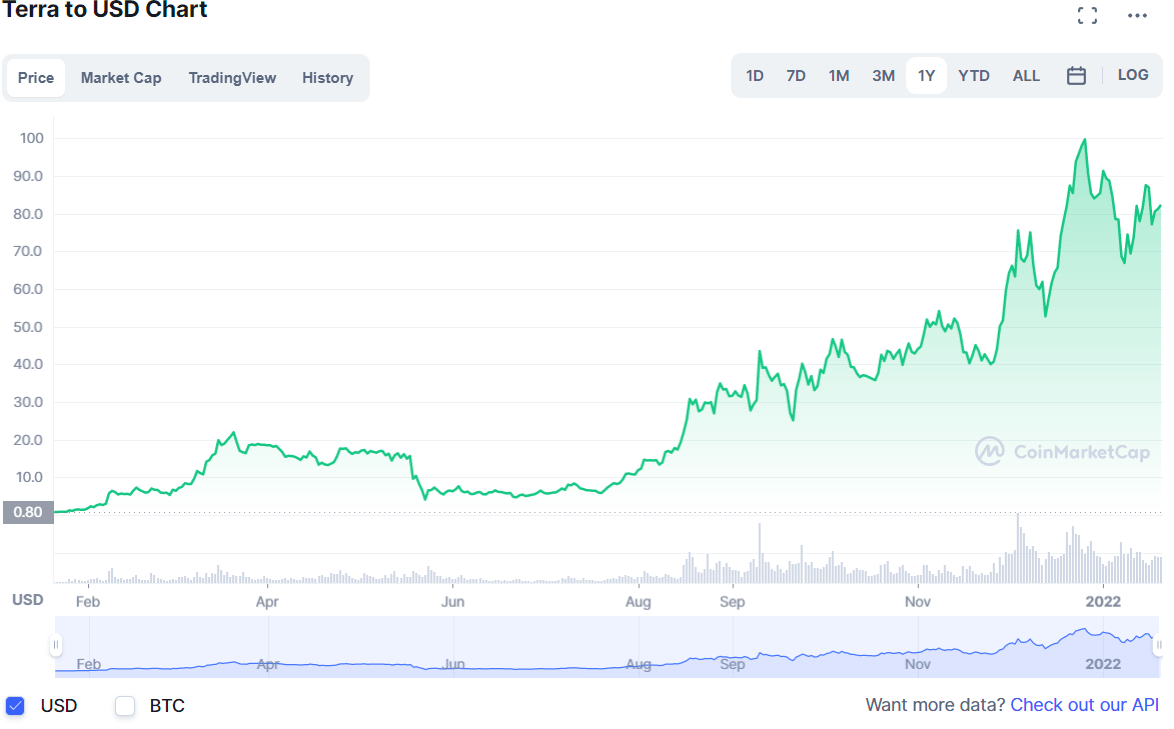 Certainly, there are many other altcoins that should be taken into consideration.
The main idea when searching for a potential top-gainer is to focus on the coins that have already proved themselves to be trustworthy and study their year-to-date charts, and never put all your trust and investments into one specific cryptocurrency, because you can never know for sure which one will succeed first.
What new or evolving trends in the crypto industry might we see in 2022?

We've already touched some of the predictions that might happen during 2022. However, we believe that during this year we might see more new trends that will impact the crypto world:
Digital assets become more accessible as a payment method
Throughout 2021 we saw how banks and fintech companies either decided to allow their customers to use crypto as payment method or finally started to view them as legal tender. For instance, in November Ripple launched a new product for US banks that allows their customers to invest in and trade cryptocurrencies. But there is more to that: PayPal, Sotheby's, Microsoft, AT&T and more, all these companies accept cryptocurrency as the way of payment. And we can be sure that 2022 will add more companies to that list.
More countries will accept crypto as legal currency
One of the most notable things that happened in the crypto world this year was the adoption of Bitcoin as a legal tender by El Salvador. It became the very first country in the world that took such a step. And we can expect more countries to follow this year.
According to Nigel Green, CEO of independent financial advisory deVere Group, at least three more countries will accept Bitcoin as a legal currency in 2022. Panama, Paraguay and Guatemala may likely follow El Salvador's steps.
More banks and governments will issue their own digital currencies
Some countries create their own central bank digital currencies (CBDC) in effort to minimize the potential threat from existing cryptocurrencies. China's digital yuan and Nigerian eNaira are just one of those examples.
However, countries like Canada, South Korea, Japan and The UK who are also planning to issue their own CBDC in the near future want to provide an alternative electronic payment method and increase financial inclusion. The USA is not yet in that list, however the Federal Reserve is exploring the technology and might implement it to digitize the dollar in the future.
Issuing their own digital currencies while restricting or even forbidding the use of existing cryptocurrencies allow countries to have their own small and entirely controlled digital world and avoid the decentralized and unregulated nature of crypto. And since there are still enough countries on the globe that wish to stay away from crypto, we can expect more national currencies to be issued as digital assets.
The rise of metaverses
Microsoft, Facebook, Nvidia and Tencent are just some of the very few names that are planning to or already developing their own metaverse. We are currently at the stage of developing a new form of online social engagement via metaverse, and it seems that nobody wants to stay behind and miss the hype train, since it can become a new and true form of digital life. Alternatively, the oversaturation of the internet space with the metaverses can lead to a huge bubble burst, and the interest in metaverses might gradually fall dramatically. In any case, we can all expect metaverses to pop up during this year like mushrooms in the rain.

NFT and DeFi evolving
It is safe to say that the DeFi and NFT were the biggest and most important drivers of the crypto market in 2021.
NFTs, or Non Fungible Tokens have shaken not only the crypto world, but everyone who is not in crypto by any means, like major video game companies. While some people continue to ask why some pixel art pieces can cost millions of dollars, others just became millionaires solely by selling their NFTs. This technology is still very new, and there is no end to it until at least this year, so we can expect more news regarding it.
As for DeFi, it is destined to change the financial system, and not only within the crypto space. At the moment it has quite a few causes for concern, such as not being 100% secure and lack of regulation. However, as it continues to evolve, it will play a big part in shaping the crypto space' evolution and 2022 will bring in more developments, so we should all stay tuned.
How does the crypto investor earn massive profits from price predictions alert?

Those who are already involved in crypto have no shortage of enthusiasm. In addition, investors, especially those who cannot afford to lose money, are fearful of cryptocurrency because of lack of regulation, extreme volatility, and the fact that it is so new. Price prediction will give you a clear vision to invest in. To get a sense of which coin will perform well in the coming years, you can better your investment strategies better.
Data aggregator site digitalcoinprice.com predicts the value of cryptocurrencies based on historical data and forecasts the next cryptocurrency to explode. Please look at its forecast feature and see the best cryptocurrency to invest in.
FAQ
Will ETH take over BTC in 2022?
This is the question to which even Bitcoin's firm believers would take some time before giving an answer. Yes, even now with the bearish cycle, the BTC price is not achievable for ETH. However, we've already seen cases (Shiba Inu) that can be described only with one word: miracle.
Which crypto will rise in 2022?
Solana, Binance Coin, Cardano, Ripple, Polygon, Terra