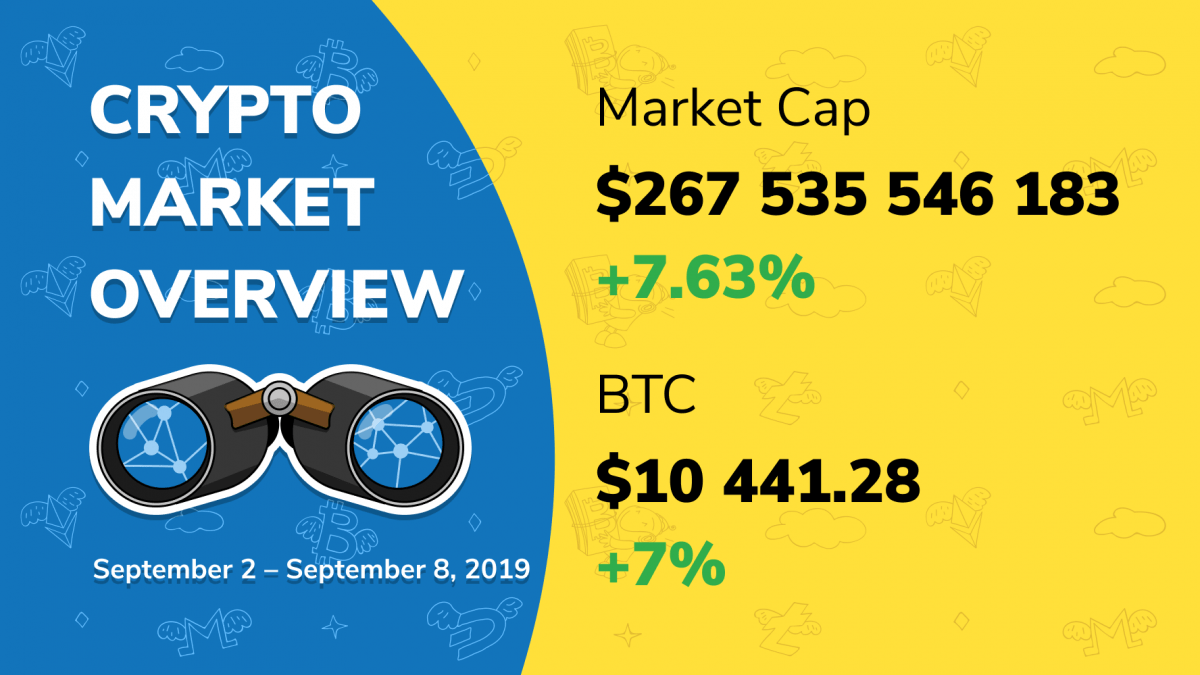 New TradeSanta's weekly digest is right here. We have collected the hottest stories of the past week in cryptocurrency and blockchain spheres. So, here they are:
Someone moved $1 billion in Bitcoin with $700 fee;

German Burger King will accept online payments in BTC;
Apple Pay vice president Jennifer Bailey admitted that cryptocurrencies have a "long-term potential".
Cryptocurrency Market Stats
Market capitalization rocketed to 267 billion USD, and gained 7.63% over the last 7 days. Check out this table below and keep up with a fast moving market at a glance:
Stat
Value (7d change)
Market Cap

$ 267 535 546 183

(

+7.63%

)
Markets
20 477 (

+0.73%

)
Cryptocurrencies
2 658 (

+4.19%

)
BTC Dominance
69,7% (

+0.2%

)
Major Coins' Price Stats
Bitcoin gained 7%. XRP and Ethereum closed last week in good spirits, citing an impressive rise of around 1.94% and 5.66% respectively.
Coin
Close
7d Gains
7d High
7d Low
Bitcoin

$

10 441.28

+7%

$10 898.76

$9 892.38

XRP

$

0.263084

+1.94%

$0.265279

$0.250805

Ethereum

$

181.36

+5.66%

$184.15

$168.34
Quote of the Week:
Anthony Pompliano, co-founder of Morgan Creek Digital Assets: "Satoshi should win the Nobel Peace Prize. We finally have a currency that can assume global reserve status without anyone having to engage in violence."
In Case You Missed It:
BTC wallet, first accessed late on September 5, 2019, has been involved in seven transactions. This case has become notable not because of its size (94,504 BTC) but because its sender spent far too much on fees: around $700.

Social media users were trying to guess the origin and destination of the funds, and blockchain analysis firm

TokenAnalyst

noticed that many of these transactions were from Huobi wallets. Huobi team announced that they are "looking into the validity of the claim".

According to the German version of Burger King website, it now accepts Bitcoin payments on its delivery website and mobile app. It is still unclear whether BTC is also accepted in restaurants across Germany.

Jennifer Bailey, Apple Pay vice president, recently

told CNN

that the company is "watching cryptocurrency", and she admits that it has a long-term potential. Apple's interest in crypto follows similar consideration from a growing number of tech companies, but it is not fully on the crypto bandwagon like other IT giants.
That's all for today. Don't forget to subscribe, share if you like it, and stay tuned for further posts from TradeSanta team!