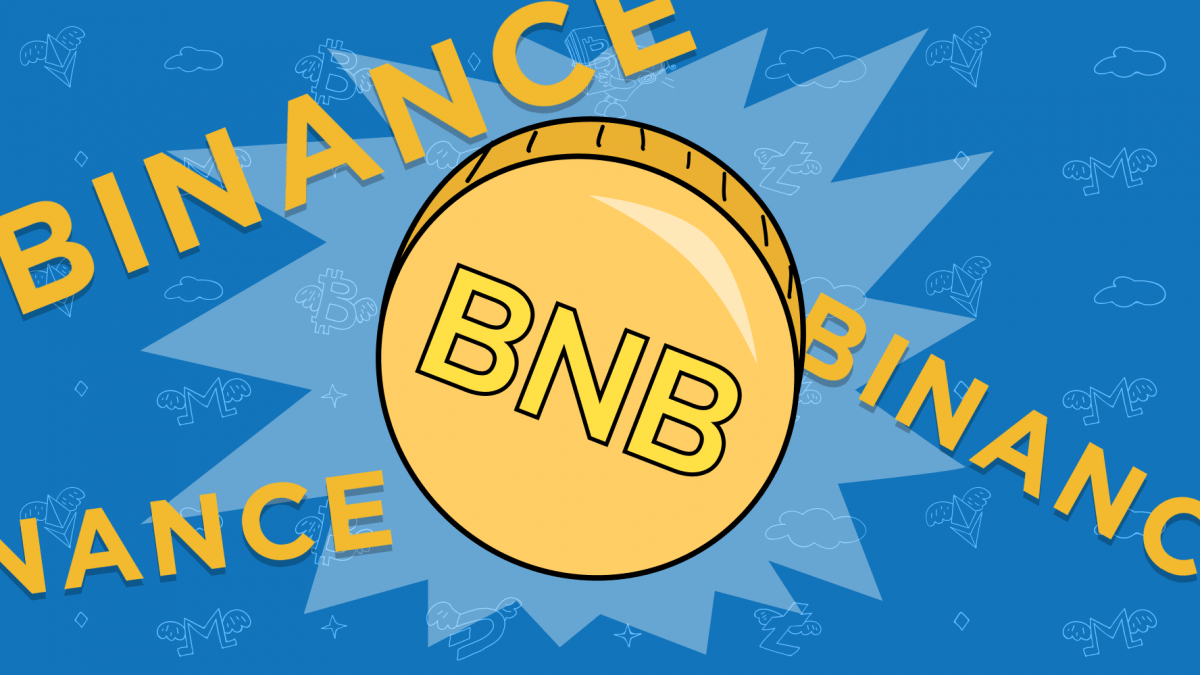 Binance was the first cryptocurrency exchange to launch its own token (BNB). This coin is now among the top 10 cryptocurrencies and its market cap is around $4,686,532,989 — according to CoinMarketCap at the time of writing. Here's what else you need to know about Binance Coin.
BNB in numbers
On July 5th, CoinMarketCap data stated that:
BNB market cap is $4,686,532,989

Volume is $272,731,774

Total supply is 189,175,490

BNB
Binance Coin Review
Binance Coin (BNB) is an ERC-20 token with a 189 million. total supply. It was launched on the Ethereum network and transferred to Binance chain in 2019. It's now traded on four exchanges, including Binance, HitBTC, Gate.io and Kucoin.
We can track its performance since its launch in July 2017 at a price of $0.105870. It's currently trading at around $33.15 as illustrated in the charts below.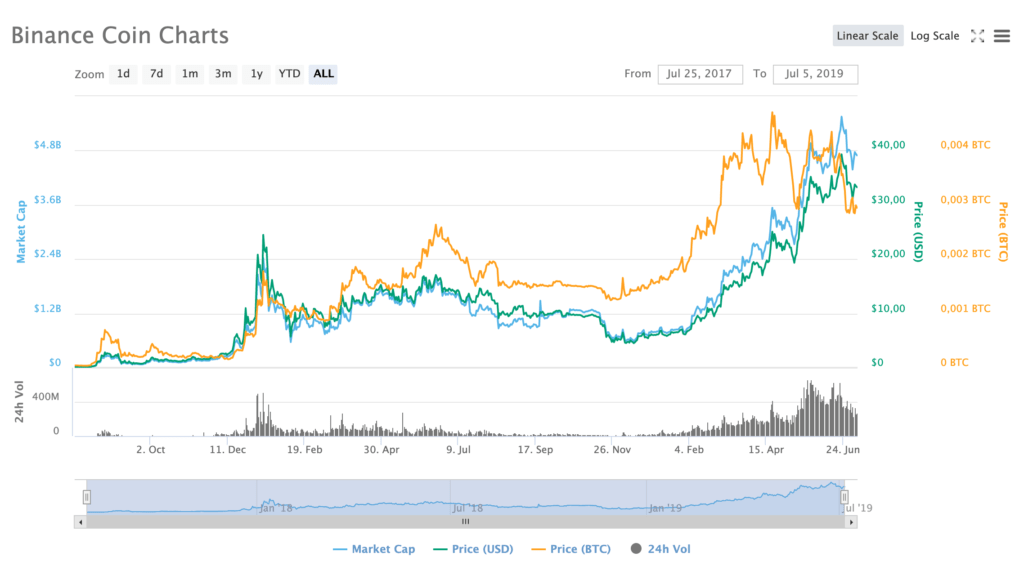 One of the measures Binance is taking to make BNB more valuable is reducing the number of tokens by buying out and burning an amount equal to 20% of their profits each quarter. The exchange will continue to burn BNB until only 100 million remains. The coin's value is already growing as traders use it to pay trading and listing fees on the Binance exchange and for services on other platforms. The following illustrates how Binance Coin (BNB) is being used.
BNB usage in the Binance ecosystem
Binance Exchange
Binance offers traders a considerable discount on trading fees if they pay with Binance Coin. This discount has decreased each year (on July 20) since the launch of BNB and is currently 25% (as shown in the table below). It will continue to decrease until it hits zero in 2021, but BNB will still be accepted as payment.
| | | | | | |
| --- | --- | --- | --- | --- | --- |
| Year | Jul 20, 2017 | Jul 20, 2018 | Jul 20, 2019 | Jul 20, 2020 | Jul 20, 2021 |
| Discount | 50% | 25% | 12.5% | 6.75% | 0 |
Binance Chain/ Dex
New ways to use BNB opened up in April 2019 when Binance launched Binance Chain and Binance DEX (one of its modules). Trade fees can still be paid with any asset (yet BNB will be charged first), but all non-trade transactions on the chain must be paid in Binance Coin.
Binance Launchpad
In January 2019, Binance announced that it would launch new token fundraising events every month through e its Launchpad platform. For every token sale, specific token is designated for purchasing a fundraising project token. BNB has been used for the majority of these sales, so Launchpad is definitely boosting BNB use.
External platforms that support Binance Coin (BNB)
Binance Coin is popular among other companies, and has been integrated as a payment method on entertainment and booking platforms. Cryptocurrency wallets and exchanges also support it. Check out the full list of organizations and projects using BNB: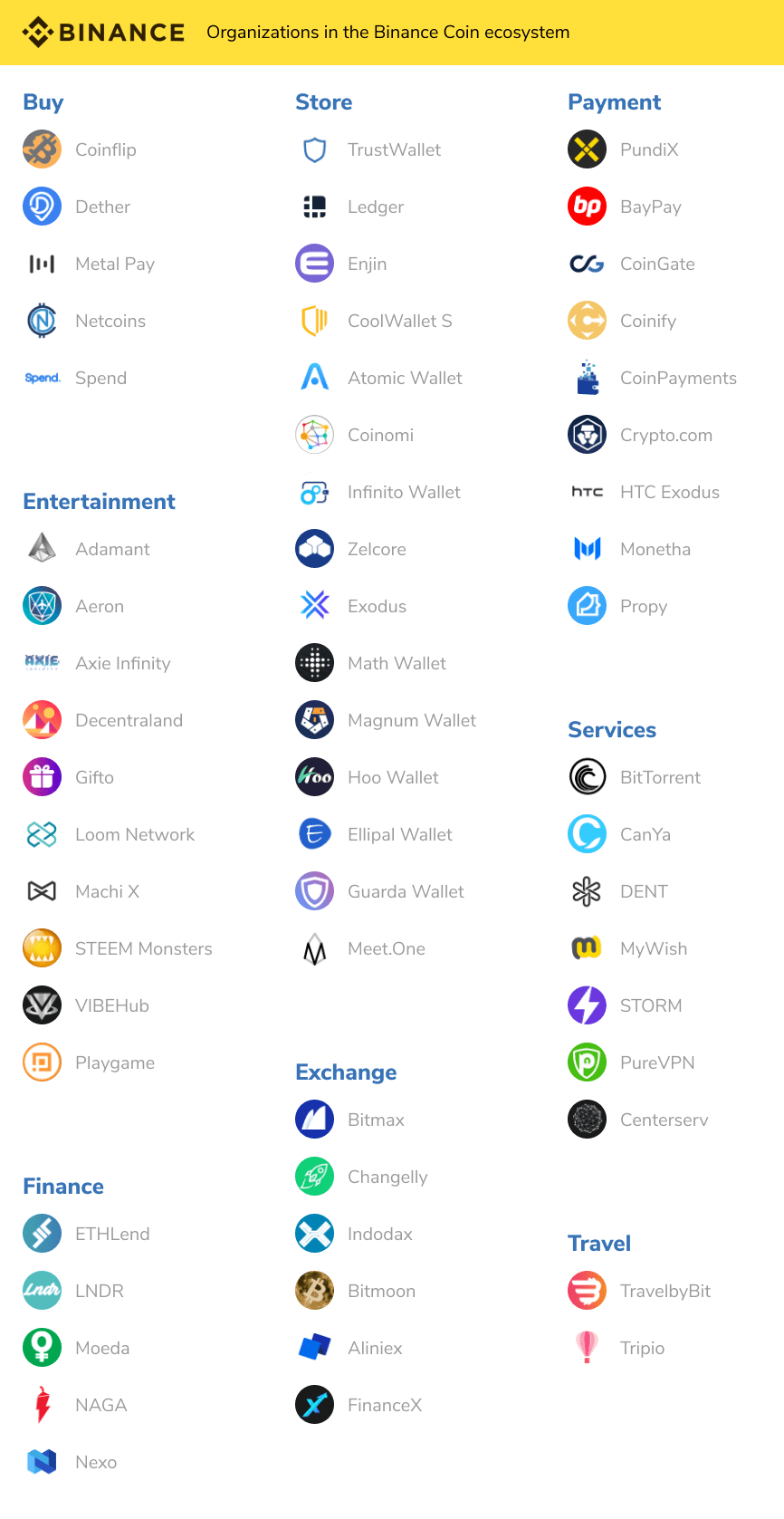 Conclusion
BNB has seen a spike in popularity thanks to its successful implementation on the Binance platforms and beyond. It has a good reputation among traders and cryptocurrency fans, and Binance CEO Changpeng Zhao even tweeted that Binance employees prefer Binance Coin over fiat currency. They receive both salary and bonuses in BNB, holding 32 million BNB ($1.2 billion) as long-term investments.
All this is definitely playing a big part in growing BNB's value.