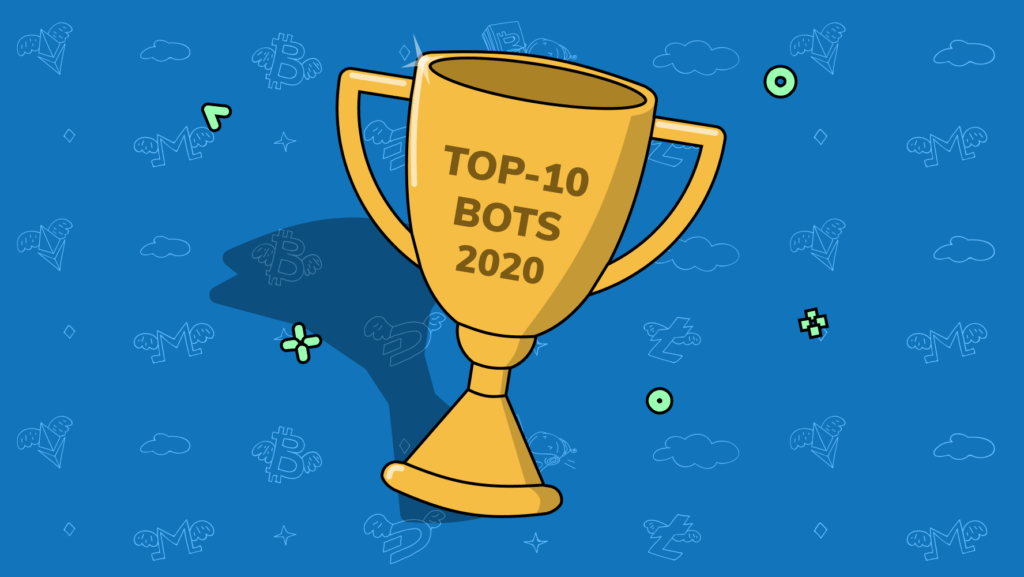 We know. You're tired of reading long essays about the importance of using best crypto bots while trading in fluctuating crypto markets. That's why this piece is different.
Because you probably scroll through long passages anyway, we are only discussing the essentials you need to know about the best cryptocurrency bots of 2020.
You're welcome.
Since you're reading this piece on TradeSanta's blog, there's a good chance you already have some experience with our super simple algorithms. If not, we'll start with a very quick overview of the product.
TradeSanta is a cloud-based solution for automated crypto trading that is famous in the niche for its low barrier to entry. The service's digestible dashboard suits either professional or novice crypto traders. Plus, you can buy and sell on the go using our iOS or Android app, which is quite convenient.
To date, we connect our trading bots to the most prominent exchanges and offer four plans to our clients: Minimum, Basic, HitBTC Promo and Maximum. Basic and HitBTC Promo cost $10.50 and $14, respectively, and Maximum is $70 per month.
The Minimum plan is free of charge and covers two DCA bots. Depending on the plan, you can use many more crypto bots, including grid and smart-order algorithms.
Now that we're done with your favourite bot, let's take a look at other platforms that do automated trading as well.

Bitsgap is a unique and fully automated trading bot used successfully by thousands of traders. These traders, ranging from beginners to veterans, are using Bitsgap every day to maximize their returns and optimize their trading
Prices:
By press time, their packages include a 14-day free trial, the Basic, Advanced and Pro sets for $19, $44 and $110 per month, respectively.
Bots:
Up to 15 bots, depending on package you buy
Exchanges:
Their bots are connected to more than 25 venues including OKX, Binance, Kraken etc.
Futures Trading:
Release in November
Manual trading:
Yes, via Trading Tab
Cryptohopper
Cryptohopper is a cloud-based platform for automated trading that saw the light in 2017. These days the service offers you different trading bot types, multiple strategies, technical analysis tools, paper trading and stop losses to manage risks.
Prices:
By press time, their packages include a 7-day free trial, the Explorer, Adventurer and Hero sets for $16.58, $41.58 and $83.25 per month, respectively.
Bots:
Automatomated Crypto Trading Bot, Exchange Arbitrage Bot, Market Making Bot.
Exchanges:
Their bots are connected to more than 10 venues including OKX, Binance, Kraken etc.
Futures Trading:
No
Manual trading:
No
3commas
3commas is a cloud-based service for cryptocurrency automated trading. While trading with the platform's automation tools, you can do either manual trading or automated trading. Also, the platform gives you access to 30+ indicators and 90+ candle patterns.
Prices:
As of writing, there are three plans available for 3commas users: Starter, Advanced and Pro for $22, $37 and $75, respectively. You can also build your enterprise plan with customized features, but you will need to contact the team directly.
Bots:
3commas's trading bot lineup includes Simple Bot, Composite Bot, Long and Short Algorithms as well as Bots that copy other traders' strategies.
Exchanges:
The list of exchanges covers more than 20 prominent venues including Bittrex, Binance, Kraken, BitMEX etc.
Futures Trading:
Yes
Manual trading:
Yes, using SmartTrade
HaasBot
Like the other services listed above, HaasBot is a platform for trading crypto with the help of bots, but you have to install this one locally to your PC. The solution is one of the oldest in the niche and offers a significant number of algorithms backed by 50 technical indicators.
Prices:
If you choose this crypto bot, you will have to deal with prices in Bitcoin (BTC). The Beginner package costs 0.047 BTC, the Simple set for growing investors is 0.083, and the Advanced traders will pay 0.135 BTC.
Bots:
There are many crypto trading bots available on top of this platform, for example, Scalper Bot, Market Maker Bot, Zone Recovery Bot, Crypto Index Bot and many more.
Exchanges:
There are more than 20 cryptocurrency exchanges presented on the platform, so the list includes Binance, Kraken, OKX, Gemini, Poloniex and many more.
Futures Trading:
Yes
Manual trading:
Yes, as an option
CryptoTrader
CryptoTrader is one of the oldest bots that has been present in the niche since Mt. Gox times. It's cloud-based, so you don't have to install it to your PC. Also, with CryptoTrader, you have an option to backtest your ideas before doing real-life trades.
Prices:
There are four plans you can go for to date: Basic+, Regular, Pro, VIP, Premium. All the prices are presented on their website. For now, Basic+ costs 0.0019 BTC per month, Regular is 0.0027 BTC, Pro and VIP are 0.005 BTC and 0.0094 BTC, respectively. Premium is 0.0234 BTC per month.
Bots:
Let's not forget that bots are algorithms that you can pre-program, and they are called templates with this particular client. Several of them are presented on the platform: Basic template, Margin Trading code example, multi-pair trading strategy and EMA crossover strategy. Note that the service has a marketplace where you can buy other traders' strategies or sell your own.
Exchanges:
There are more than 10 major crypto exchanges connected to CryptoTrader, including Binance, Coinbase and Huobi.
Futures Trading:
No
Manual trading:
No
Gunbot
Gunbot is the software for automated cryptocurrency trading you should install to your PC. These bots support all the popular operating systems: Windows, macOS, Linux or Raspberry Pi. While trading crypto with this client, you can do backtesting, trade on alerts sent from custom strategies at TradingView and use risk-management tools such as trailing orders.
Prices:
Several plans range from 0.050 BTC to 0,125 BTC, depending on the package. For example, with the Gunbot Settings pack you get access to two popular strategies and settings premade by professionals.
Bots:
In general, there are trading bots for two strategy types: regular strategies for spot trading and margin strategies, but there are multiple deviations that include settings that can be individual for each particular mindset.
Exchanges:
There are nine exchanges you can connect your crypto bot to, including Bittrex, Bitfinex, Poloniex and Kraken.
Futures Trading :
Yes
Manual trading:
Yes
Zignaly
Zignaly is an automated trading platform with bots running in the cloud 24/7. The service has integrated signals from such providers as Crypto Quality Signals and Mining Hamster Signals and lets you trade according to those signals. Its trading terminal allows you to open positions manually and it includes a trailing stop-loss feature that is not easy to find on most crypto exchanges.
Prices:
At the time of writing, Zignaly is offering a very special Beta Plan for users who buy the product in the Beta mode. It costs $15.99 and covers unlimited exchanges, unlimited coin pairs, unlimited positions and tech support.
Bots:
Basically, Zignaly is a trading bot that reacts to market signals from different providers. You just need to connect to an exchange and choose a signal provider, to turn the bot on. Also, there is an option to mirror other traders if you want to.
Exchanges:
Zignaly is currently integrated with Binance and KuCoin, but the team is working on adding Bittrex, BitMEX and Poloniex.
Futures Trading:
No
Manual Trading:
Yes
Zenbot
Compared to all the other automated bots listed up above, Zenbot is a cloud-based, open-source system that works from the command line. It might be tricky to set up for those of you who have never coded, but it does offer interesting features such as paper trading mode, backtesting strategies, sell-stops, buy-stops and trailing profit-stops.
Prices:
Zenbot is free of charge, and yet, you can donate Bitcoin to bot creators. Their addresses are easy to find on the GitHub page of the solution.
Bots:
This bot is basically a piece of program you have to configure yourself. On the one hand, it makes the cryptocurrency bot very flexible; on the other, you need to program a set of instructions into it yourself.
Exchanges:
It supports more than 10 exchanges including Binance, Bitfinex, GDAX, Gemini, Poloniex, Kraken and more.
Futures Trading:
No
Manual Trading:
No
Shrimpy
Shrimpy, also known as an older brother of Crabby, is a little bit different to the trading bots we've addressed so far. It's a cloud-based service built to rebalance your portfolio in the moments when the cryptocurrency market fluctuates.
A primitive example of this would be when altcoins drop with Bitcoin going up. In this case, the Shrimpy bot might rebalance your portfolio by selling your alts and investing the money earned into the most famous cryptocoin.
Prices:
Currently, there are three bots plans available on the service's website. "Hodler" for $0 per month, "Professional" for $13 per month and an enterprise plan that will be built up in accordance with your business' needs. All the plans connect you to multiple exchanges, give you access to the balance tracker and let you monitor your performance. But only higher-level options allow you to backtest your strategies, build custom indices and enable cross-exchange rebalancing.
Bots:
There are several automated strategies you can use on top of the platform: bots for portfolio rebalancing, dollar cost averaging and smart-order routing.
Exchanges:
The list of exchanges covers more than 10 trading venues including such top dogs as Coinbase Pro, Binance, Bittrex, KuCoin, Gemini, Huobi, HiBTC, OKX, Bitstamp and more.
Futures Trading:
Yes
Manual Trading:
No
Kryll.io
Kryll is a cloud-based platform for automated crypto trading with such distinguishing features as Drag and Drop Editor, Marketplace and Smarttrading. You don't need to be a programmer to create your own strategy while adding MACD, ICHIMOKU, Bollinger and other technical indicators to your trading process. You can also rent out and try a strategy that has proven to be profitable and backtest as many strategies as you like.
Prices:
Depending on the number of Krylls (KRL) you hold on top of your account, you will pay either less or more for the Kryll trading bots. As of writing, if you hold 5,000 KRL on top of your account, you will only have to pay $8.50 per month. With 20, 000, your monthly fee will be $6.50, and so on.
Bots:
There are multiple trading bots you can purchase on top of the platform from the community of traders. For example, NeoParty Evolution is ideal for long-term profits and is based on moving averages, MACD and RSI. This is just one example out of multiple choices.
Exchanges:
The service currently supports Binance, Binance.US, Bittrex, Liquid, KuCoin, HitBTC and Bitstamp.
Futures Trading:
No
Manual Trading:
No
To sum up…
Hopefully, after reading this review, you now know that there are multiple trading strategies out there, and you will have to work hard to find the solution that will eventually become a great fit for you. When choosing a crypto trading platform, make sure that the product has a good reputation, is connected to the exchanges you've got an account with, supports the signals and technical indicators you constantly use and offers you a free trial – just like TradeSanta does!
FAQ
What should you look for in a crypto-currency trading bot?
A solution that is famous in the niche, a digestible dashboard, iOS or Android apps, and most prominent exchanges connected.
What are the benefits of crypto trading bots?
They save you time, they earn money for you while you're away from the screen, you can use successful strategies of other traders