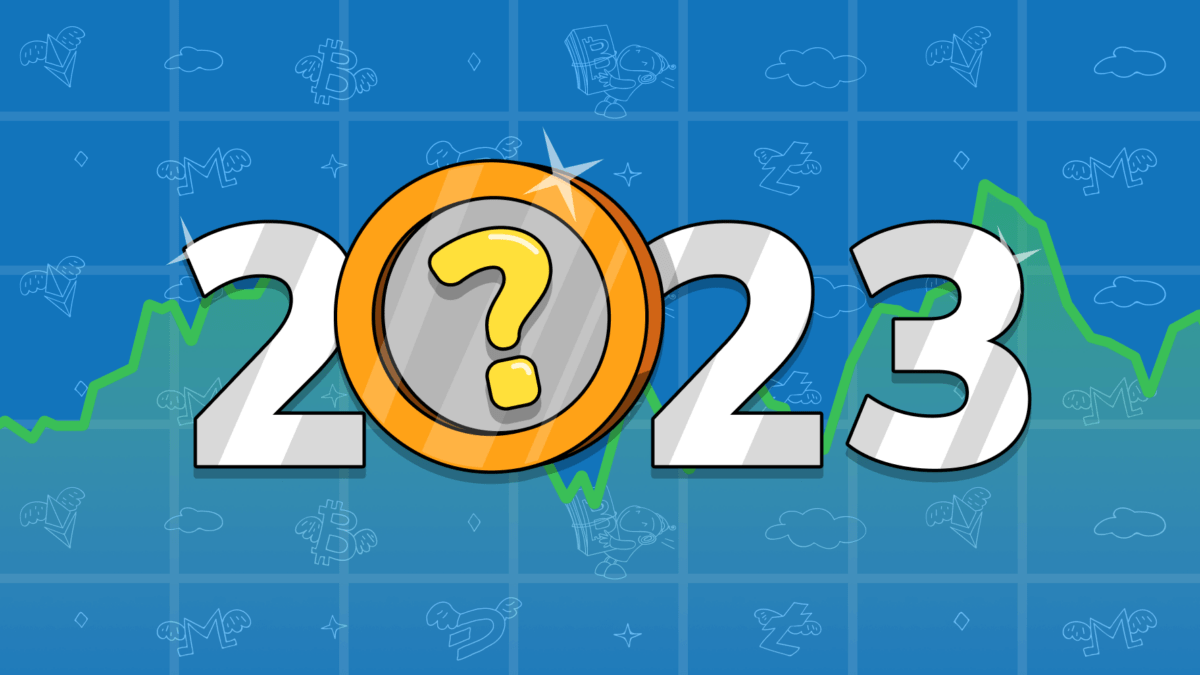 Since the beginning of the year, the prices for most of the cryptocurrencies have decreased significantly, and currently the whole market is in a bearish trend. But should that stop you from making cryptocurrency investments then, especially if you feel like some of them have the potential to grow next year? Definitely not!
In this article, we'll provide a roundup of the best cryptocurrencies that, in our opinion, can potentially explode in 2023. So let's begin!
What to look at when picking a crypto for investment?
However, before we move on to the list of cryptocurrencies itself, let's take a look at some of the major criteria for choosing a digital asset for your investment. Certainly, following those criteria is important; however, that doesn't guarantee you imminent success, and since the crypto world continues to be quite an unpredictable place where memecoins can have more value than currencies with real-life use cases, you can expect everything.
Still, if you want to minimize the risks and have a certain level of confidence, you must always consider the following criteria, which are:
Utility & Tokenomics
Tokenomics refers to the project's underlying economy. Tokenomics is one of the prime reasons that encourages investors and traders to buy, hold, sell for a profit, and then buy the dip later.
This, in turn, refers to a realistic use case that a project has. Digital assets that have real-life utility are much more likely to succeed, attract more investors' money, and grow in value over time.
Technology
Those digital assets that can introduce innovations or unique technologies that are capable of solving existing crypto problems have more chances to become successful and thrive in the future than those coins that cannot provide anything new to the crypto world.
If a project cannot compete with its rivals, who have much more advanced technology and realistic use cases, then how is it going to gain attention and survive in the long run?
Dev team & Their projects
Since the cryptocurrency industry is still somewhat "green" and developing, this option may occasionally be unavailable. Some teams and developers may lack prior projects, and occasionally the entire team may prefer to remain anonymous, making it impossible to determine who is behind a project.
However, if the project comes from an experienced team that has proven that they are capable of doing everything right, then this should definitely be a green flag for investors.
White Paper & Road Map
The project's white paper and road map are essential parts for determining a coin's or token's long-term value. A solid and reliable crypto project will always have a detailed and well-structured white paper and roadmap.
A proper white paper should provide technical information about a project's concept so that you can assess its potential merit, and a road map should outline how a crypto project intends to evolve in the future.
Investors & Partnerships
In the event that it is possible, determine whether the project already has investors. If it does, learn more about who they are. It's a good sign if the project has already been invested in by well-known investment firms or big-time investors. It means they've done their due diligence and believe in the project's success.
Moreover, promising projects also have partnerships with big brands and tech companies from "traditional" financial institutions. This can also provide an additional layer of confidence.
Best Coins To Buy Now For 2023
This list of digital assets might provide you with some ideas if you're looking for a crypto that can potentially grow in value in 2023. Some of these cryptocurrencies have already proven themselves to be reliable and successful so far (with ups and downs, for sure). With that in mind, here are 7 projects we believe you should consider.
Bitcoin
How could we start our list without the number one cryptocurrency in the world? Due to its market cap, which is higher than any other cryptocurrency, it is obvious why Bitcoin has the leadership.
The last ten years have shown that Bitcoin is only getting stronger. Although thousands of new coins have been developed over the last decade, Bitcoin's position has not changed, and its future still looks promising.
Even though Bitcoin has lost value due to an ongoing bearish trend, it still holds its ground as the number one cryptocurrency, and no other digital asset can boast such results. On top of that, the fact that Bitcoin has been with us for more than a decade already makes it look like a more reliable investment than recently developed projects, which have yet to gain investors' trust. Bitcoin still owns around 40% of total market capitalization, so it still remains the main driver of the crypto market due to its complete dominance.
Ethereum
Ethereum, just like Bitcoin, doesn't need any introduction, as the blockchain network has become the go-to for decentralized application developers all across the crypto world. Since Ethereum was developed as an open-source platform, anyone who knows how to code can develop their own DApps, from DEXs like the Sushiswap to GameFi like Axie Infinity.
Ethereum is currently the second-largest cryptocurrency by market capitalization, and it is the most popular platform for all types of DeFi projects, from crypto wallets to NFTs.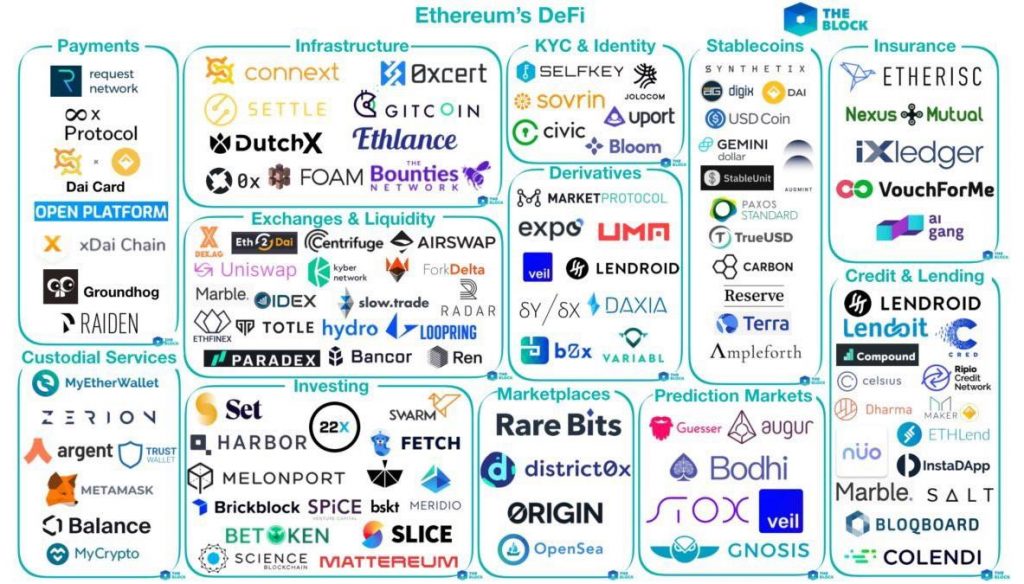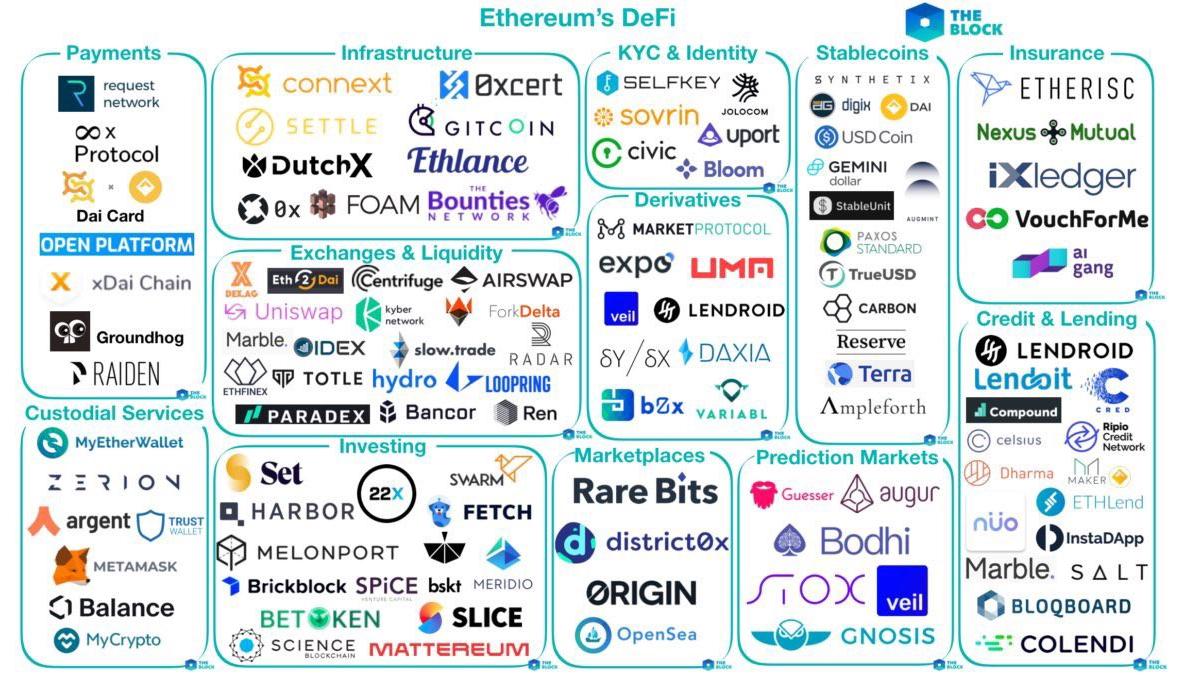 Given its use cases and massive rallies, Ethereum is undoubtedly one of the hottest cryptos to buy right now.
Although Ethereum's gas fees have been a massive headache for traders and investors for years, things have gone better due to the recent upgrade called Ethereum 2.0. The Ethereum Merge upgrade, which took place in late 2022, switched Ethereum to a proof-of-stake protocol. This greatly improved its blockchain's ability to scale and decreased costs. This upgrade may lead to a rise in the number of people choosing to purchase Ethereum in the upcoming months.
Ripple
Ripple is a peer-to-peer, open-source, decentralized platform that enables the quick and seamless transfer of any type of money, from cryptocurrency to traditional fiat currencies such as euros and dollars.So in terms of technology and use cases, Ripple has more than enough potential to make it big.
However, Ripple still has a court battle with the Securities and Exchange Commission (SEC), and so far it is still unclear when it will be over. The SEC launched its court case in December 2020, and that caused XRP to lose out to other tokens in the 2021 bull market. The coin was even suspended from exchanges such as Coinbase, and, as a result, investors stayed away.
The legal and executive teams at Ripple have recently been very optimistic and appear to believe that the SEC cannot win this battle. In case Ripple wins, it can expect a substantial rally in 2023.
Ripple collaborates with a plethora of renowned institutions, banks, and companies. Just a few of its clients include Bank of America, American Express, Western Union, MoneyGram, and Royal Bank of Canada. We can conclude from that fact alone that Ripple wants XRP to be used as widely as possible. And that implies that the greater the reach, the greater the interest from investors to buy it, increasing its overall value.
Huobi Token
You probably know that Binance has its own native token – Binance Coin. However, Huobi also has its own token, the Huobi Token (HT).
Huobi is a Seychelles-based cryptocurrency exchange, founded in 2013. The exchange was first targeted at the Chinese market, but now it is available worldwide. It is one of the oldest and largest cryptocurrency exchanges by trade volume.
The Huobi Token aims to improve Huobi Exchange users' experiences with new ways to lower trading fees, gain access to new cryptocurrencies, and vote on decisions about the future of the platform.
The Huobi Token is part of the Huobi Eco Chain which, in turn, hosts DeFi applications like decentralized lending, crypto wallets, play-to-earn games and borrowing platforms. In fact, the Binance Smart Chain, a well-known exchange-based blockchain, and the Eco Chain are relatively similar.
HT is an ERC-20 token that, on the backend, functions pretty much like Binance Coin (BNB). It also uses tokenomics that are comparable to BNB's buyback or coin-burning strategy. Using this strategy, Huobi uses 20% of the revenue generated from contracts to buy back the HT from the network and remove it from circulation to increase its value. the value of the asset
So far, it looks like Huobi Token might have a decent chance of making it big, just like Binance Coin. However, its success is strictly linked to the overall success of the Huobi exchange, so if it continues to grow and evolve, then we can expect HT to grow as well.
Chainlink
Chainlink is a decentralized blockchain oracle network built on Ethereum that has a native currency, LINK, an ERC-677 token that in turn is an extension of the ERC-20 standard.
Chainlink's decentralized oracle network represents an open-source technology infrastructure that allows any blockchain out there to securely connect to off-chain data in a fully reliable, secure, and efficient way. That is why it is called "Chainlink": it allows chains to be linked.
Chainlink significantly expands smart contract capabilities by allowing access to real-world data and off-chain computation while maintaining blockchain technology's security and reliability guarantees. They're a major player in the data processing field, with a large number of reliable partners.
Currently, there are more than 1,600 projects that have joined the Chainlink ecosystem and boosted their adoption as a result.

Binance Coin
Binance Coin, or BNB, is the native token of Binance, the world's largest cryptocurrency exchange. It's
The Binance ecosystem extends beyond the Binance exchange and also includes the Binance Chain, Binance Smart Chain (BSC), Binance Academy, Trust Wallet, Binance Research, and Binance Launchpad projects.
One of the measures Binance is taking to make BNB more valuable is reducing the number of tokens by buying out and burning an amount equal to 20% of their profits each quarter. The exchange will continue to deplete BNB until there are only 100 million left.The coin's value is already growing as traders use it to pay trading and listing fees on the Binance exchange and for services on other platforms.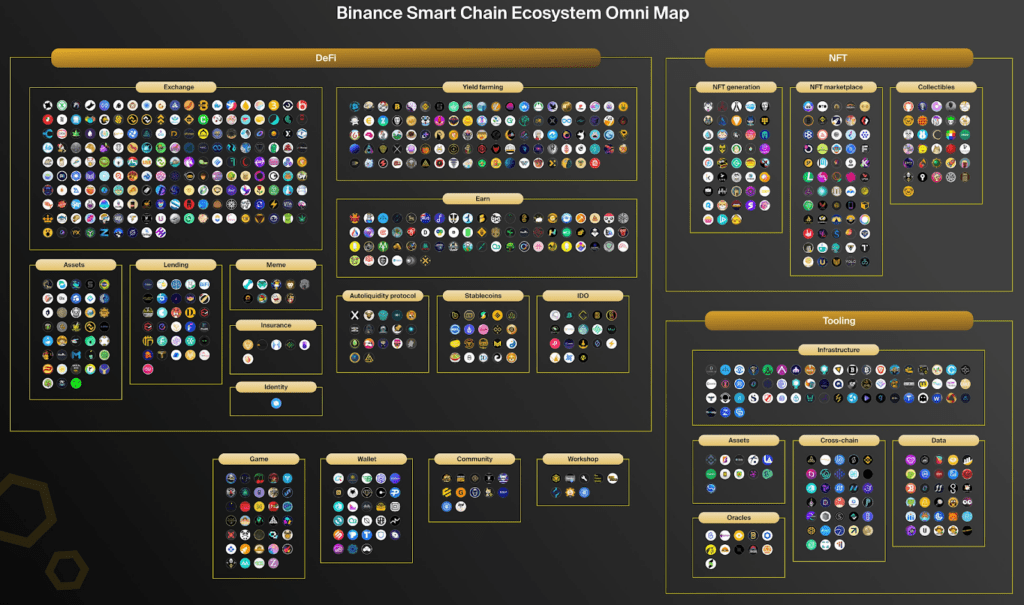 Enjin
Enjin Coin is a GameFi-focused project from the crypto world that aims to become the "largest gaming community platform online." In fact, the Enjin team is the one that created ERC-1155, the current standard for defining video game tokens on the Ethereum blockchain. Enjin distributes software development kits (SDKs) to developers in order to facilitate the rapid deployment of integrations into games.
As for gamers and traders, they can use Enjin Coin as a currency and use the Enjin wallet to buy, sell, and trade NFTs. For instance, MMORPG players may buy an item in Enjin usable across multiple games and easily tradeable or sellable in an online marketplace.
Currently, because of the bearish trend, the GameFi and NFT segments of the crypto world have dipped significantly, you can't deny it. However, when the bullish trend starts again, we can expect these segments to thrive again, just like they did in 2020 and 2021.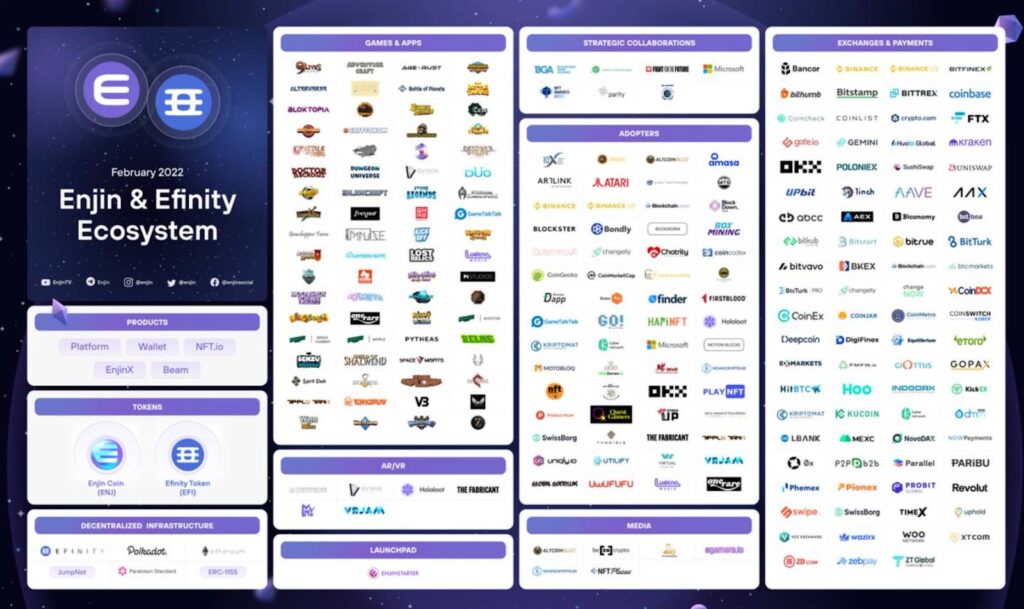 The Sandbox
The Sandbox game is a decentralized NFT gaming metaverse based on the Ethereum blockchain that has its own native token, SAND. Visually, it reminds me of Minecraft or Roblox, two extremely popular PC games, with their virtual worlds being built out of 3D blocks. The game is one of the most extensive and well-known projects in the GameFi and metaverse spaces.
The Sandbox game is one of the GameFi projects in which the entire game universe and in-game content are created and maintained by the players. You play the game and receive NFTs during gameplay, which you then trade on the marketplace for cryptocurrency.
The Sandbox offers three unique features: VoxEdit, a software that allows users to create their own NFTs and import them into the game; a marketplace, where users can buy and sell lands, avatars, and game assets; and a game maker, a software that allows users to create minigames using the 3D voxel art created by the community.
The Sandbox game can offer a very deep level of integration between user-generated content (UGC), gaming, and economy, and it is hard to find something equivalent to it.
Trust Wallet Token
Trust Wallet is probably one of the best and well-known crypto wallets in the world. It launched its own token under the ticker TWT on the Binance Smart Chain. Moreover, early before Binance actually acquired Trust Wallet and actively supports and promotes the project. So having a backup in the face of the world's largest crypto exchange is a major advantage that many projects lack.
Trust Wallet has been on the market for years, and has won recognition from traders and investors due to its quality, security and user-friendly interface.
In fact, TWT made through this year quite well, at least much better than numerous other cryptocurrencies.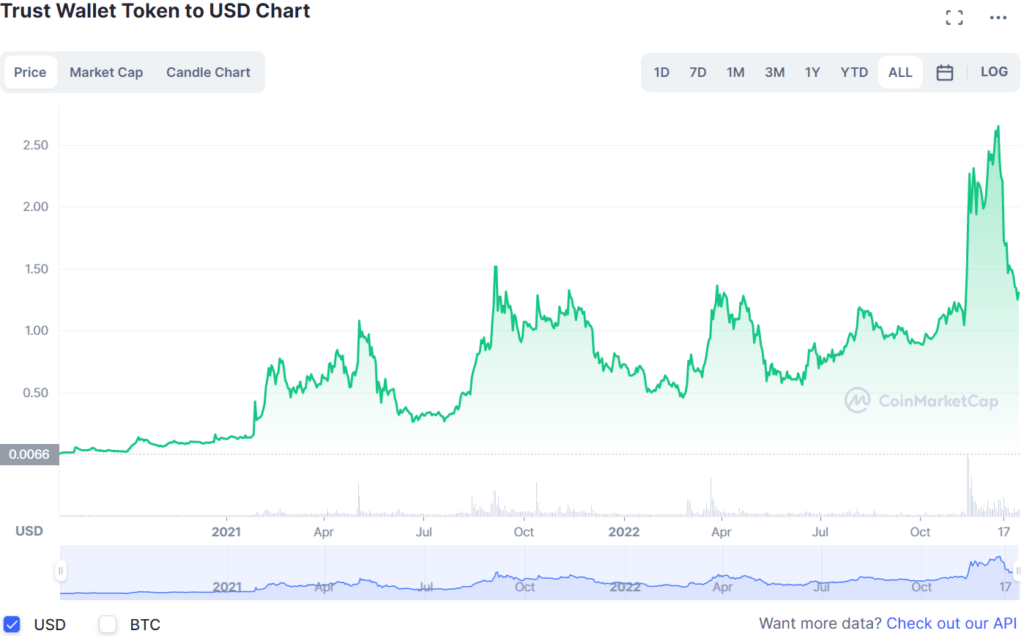 Shiba Inu
Shiba Inu (SHIB) was launched in August 2020 as an "experiment in decentralized community building." Following that, the price of SHIB skyrocketed by millions of percent (46,000,000% in 2021), propelling Shiba Inu into the top tier of cryptocurrency projects around the world. This was one of the most impressive market runs in the history of cryptocurrencies. The whole crypto community was watching a simple meme coin evolve into something much bigger than it was at the beginning.
Over the last few years Shiba Inu anonymous team has created a unique ecosystem which includes NFTs, staking, Shiba Eternity play-to-earn mobile game, DEX and more.
It seems like the Shiba Inu team does not plan to stop delivering any time soon, and the development of Shiba Inu's ecosystem and community will continue in the future, so Shiba Inu might be a solid investment, since the price for the coins is more than affordable at the moment.
Bottom line
As is always the case in the crypto world, a thorough analysis of a crypto project requires a lot of time and patience, and nobody can promise you a 100% return on your investment.
Even if it appears that the crypto winter will last forever, the bullish trend will eventually replace it. And hey, when the bear is awake, it's a great opportunity to fill your portfolio up with different projects, so when the market takes a U-turn, you'll be stacked and ready.