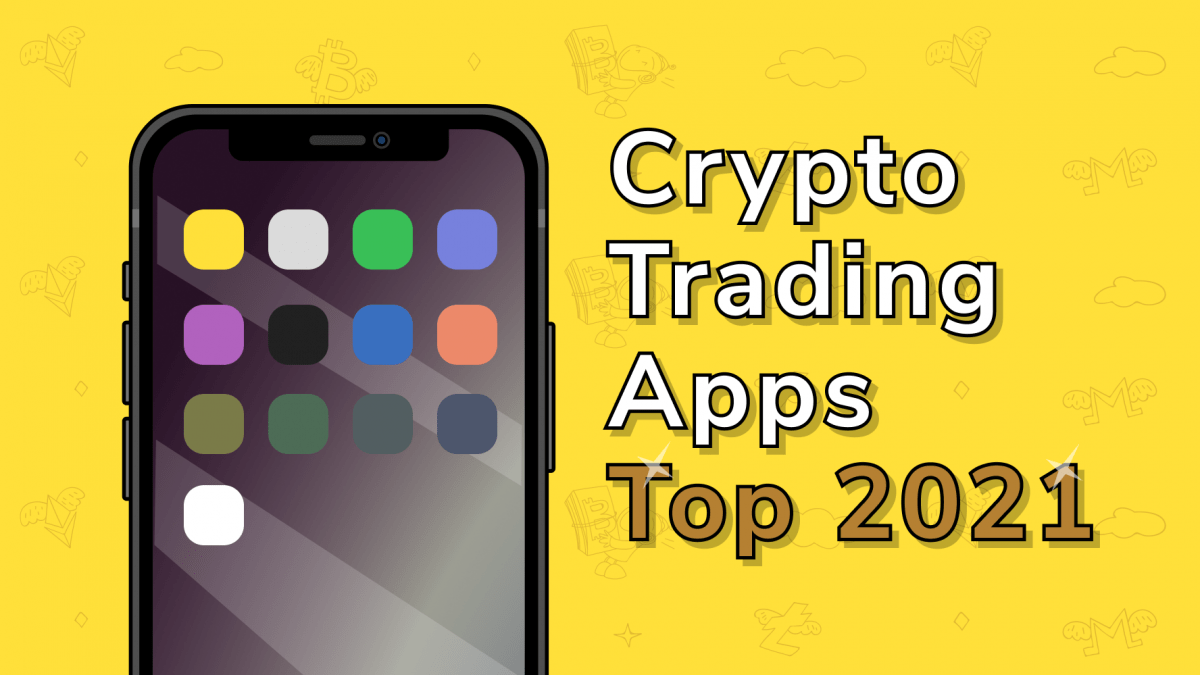 Cryptocurrency trading has become the norm as most institutions and big companies adopt the trend. Also, more and more retail traders keep joining the cryptocurrency business, and Bitcoin's price and popularity soar. Bitcoin hit an all-time high (ATH) of $64,804.72 on April 14, 2021.
With cryptocurrency trading becoming more mainstream in 2021, we decided to look at the best apps for cryptocurrency trading this year. We've categorized crypto trading apps by their nature i.e.
Best crypto exchange apps for spot trading (by exchange score)
What is an exchange score?
Exchange scores by CoinMarketCap rank cryptocurrency exchanges on a scale of 10, based on their trading volume, Web Traffic Factor, Average Liquidity, as well as user confidence. They also verify that the trading volume reported by any exchange is accurate.
Best crypto bots for algorithmic trading (by features)
Best crypto apps for crypto futures trading (by trading volume)
So if you're a first-time trader, or you're looking for better alternatives to your current crypto app, keep reading.
Content
Best exchange apps for spot trading
What exactly is a cryptocurrency exchange?
A cryptocurrency exchange is a platform (website or software application) for buying and selling cryptocurrencies. Crypto exchanges help you trade one cryptocurrency for another. For example, trading Bitcoin for Ethereum or even purchase crypto with fiat currency. A crypto exchange's strength is often measured by its trading volume.
What is spot trading?
Spot trading in crypto involves buying and selling cryptocurrencies on the spot market. Spot trading happens in exchanges or over-the-counter spot markets (directly between traders).
So here are the top apps for crypto spot trading:

Binance (Exchange score: 9.9)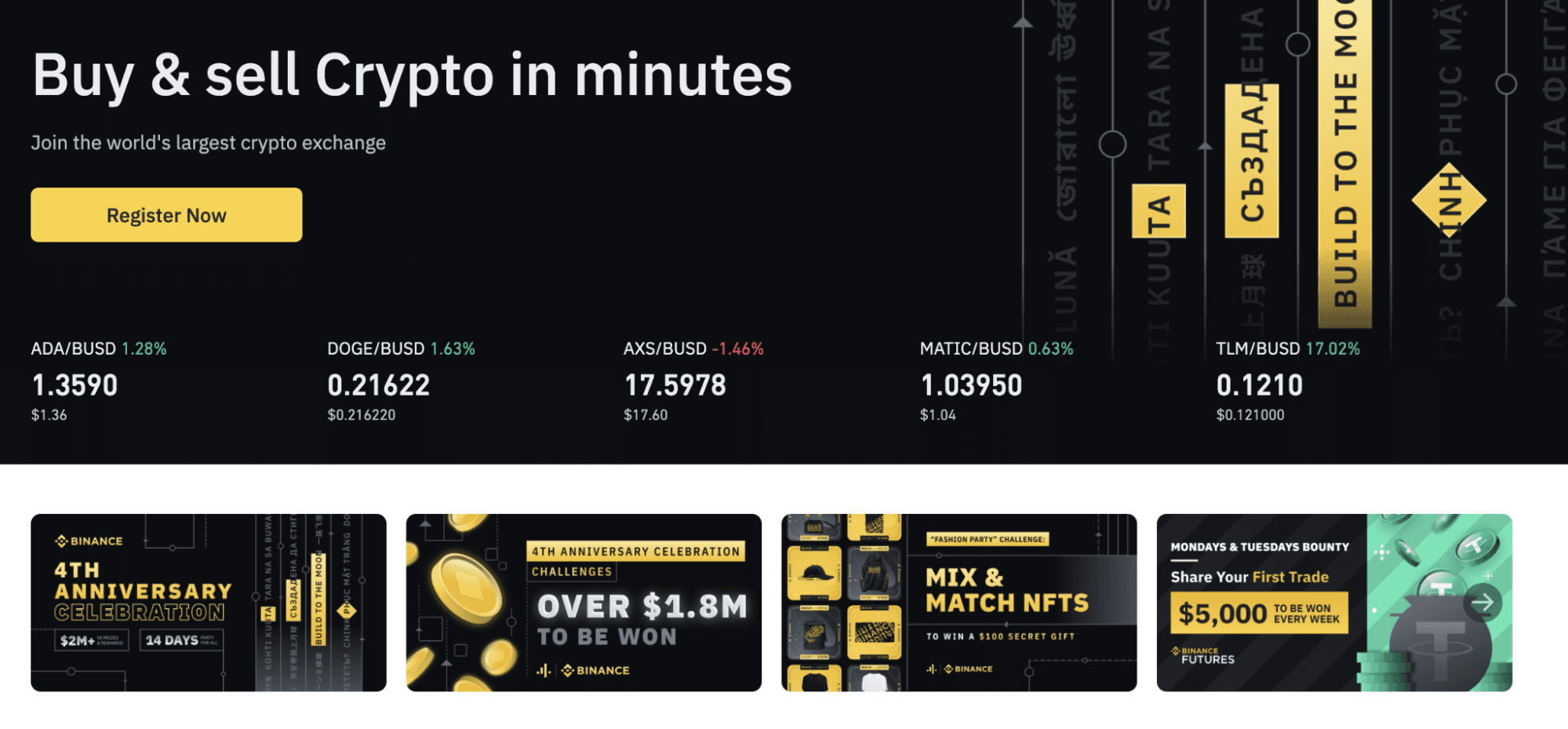 Average Liquidity: 711
Weekly Visits: 45 million users
Markets: 1354
Coins supported: 376
Fiat supported: 43 fiat currencies, including USD
It's easy to see why Binance is so popular. With low fees, many tradable cryptocurrency pairs, and an intuitive platform, Binance offers some perks that no other exchange provides.
This crypto platform supports over 100 different cryptocurrency trading pairs. Additionally, it shines through with a lot of fiat-crypto trading pairs.
Pros
Low trading fees compared to other popular exchanges
Hundreds of cryptocurrencies and trading pairs, including Bitcoin, Ethereum, Litecoin, Cardano
Peer-to-peer trading (crypto and fiat)
More sophisticated charting
Cons
Designed for more experienced users.
Binance.US does not support 17 states in the United States, including New York and Texas.
Binance is so big that it dominates the global crypto exchange space, accounting for a sizable portion of the daily crypto trading volume. It has many withdrawal and deposit options, including US Dollar deposits via SWIFT from global users. You can directly purchase cryptocurrencies using a credit or debit card.
Binance is ideal for users interested in trading or investing in new or lesser-known altcoins. In a nutshell, its features, advanced charting capabilities, trading pairs, reliability, and low fees put this exchange at the top of our list.
Coinbase (Exchange score: 8.9)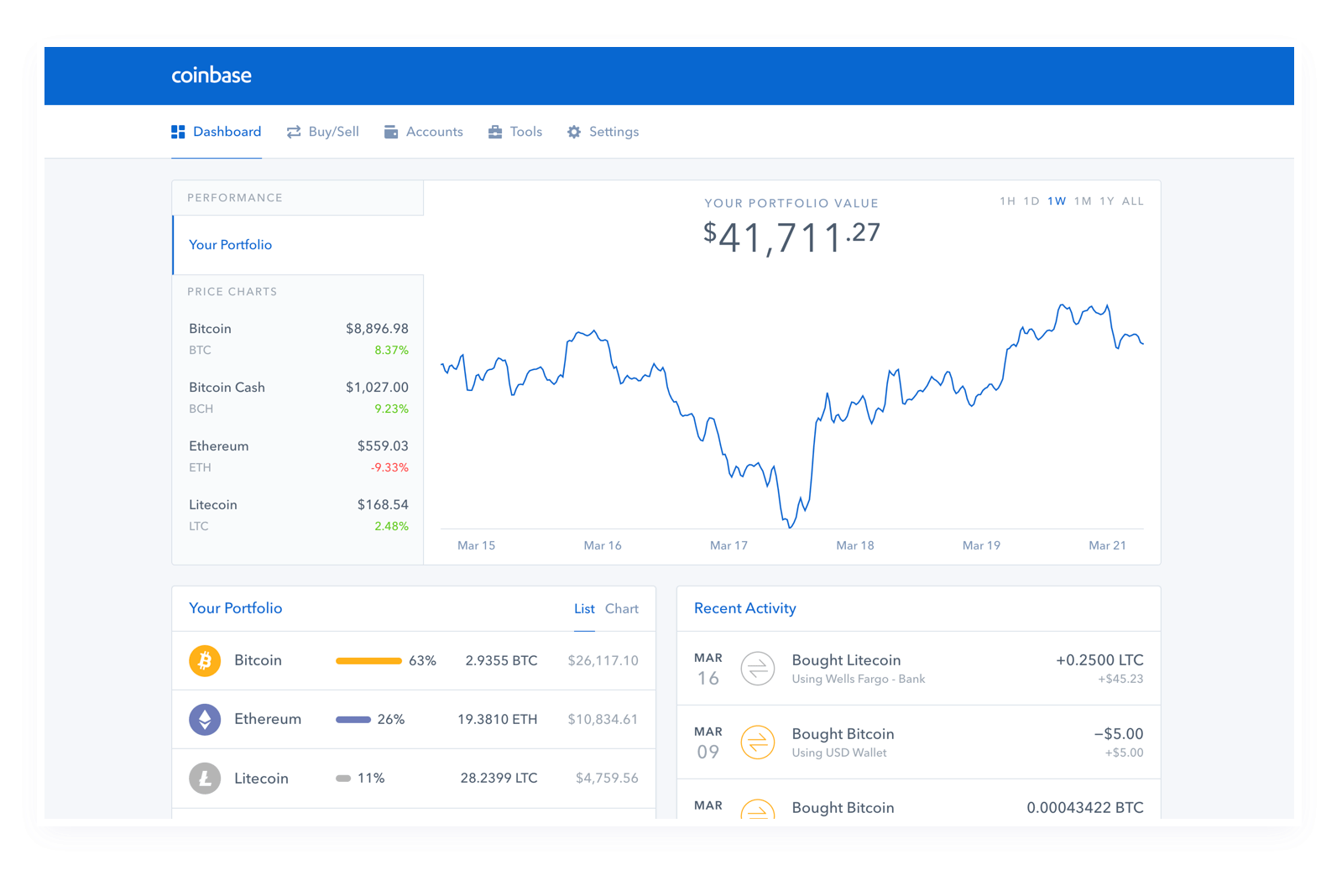 Average Liquidity: 579
Weekly Visits: 5.2 million users
Markets: 248
Coins supported: 81
Fiat supported: USD, EUR, GBP
Coinbase is a fully licensed cryptocurrency exchange and public-traded company based in the United States. With over 43 million verified users in over 100 countries and over $90 billion in user accounts, Coinbase remains one of the world's largest cryptocurrency exchanges.
Pros
Highly regulated and widely accepted in the US
An intuitive user interface on both mobile and web
Reliable mobile app with good ratings
Good liquidity
Low minimums ($25)
Debit card to spend crypto anywhere Visa is accepted
Cons
Transaction fees are much for smaller trades
A low number of tradable cryptocurrencies
Supports only US dollars, Euro, and British pounds
Coinbase provides investors and traders with insured custodial wallets for storing their crypto assets. With protection against data breaches and hacking, your funds are safe in FDIC-insured bank accounts.
Coinbase Pro is a newer version that features a different but more affordable fee structure with significantly more charting and indicator options for advanced traders.
Best crypto exchange apps for futures trading
What is crypto futures trading?
Futures trading is a way to speculate on the value of cryptocurrencies without actually owning them. For example, Bitcoin futures allow traders to speculate on the price of Bitcoin in the future. Learn more about futures trading in our guide.
Best app for crypto futures trading:
Binance Futures (Trading volume: $57 million)
Binance Futures Exchange is the undisputed global leader in Bitcoin and cryptocurrency futures trading. You can trade cryptocurrencies like Bitcoin, Ethereum, Ripple, Chainlink, and others against Tether (USDT) with up to 125x leverage on their platform.
Binance Futures Fees: Binance Futures fees are relatively low compared at 0.1% per trade and better than many industry competitors such as OKX and ByBit.
Binance Futures Coins: Binance Futures offer a healthy list of tradable coins including, Bitcoin, Ethereum, Dogecoin, Binance coin, Cardano, and 45 more.
OKX (Trading volume: $13 million)
OKX has long been the market leader, not only in terms of BTC futures but also in terms of the variety of derivatives products it offers in addition to traditional futures. Skew data revealed at the beginning of last month that OKX had one of the most competitive exchange rates in the industry, giving traders another reason to choose OKX as their platform of choice, particularly for going long on BTC in a bull market. OKX had the second-lowest swaps funding rates of the nine major cryptocurrency derivatives exchanges in August, with an average of 0.0052 percent. OKX currently offers leverage of up to 100x, depending on the cryptocurrency.
Best crypto bots for algorithmic trading
What are crypto bots?
Cryptocurrency trading bots are computer programs that buy and sell various cryptocurrencies at preset times and prices to earn you profit.
Bots have become a popular way to trade cryptocurrencies. Crypto trading bots do most of the work for you instead of keeping an eye on the crypto markets and looking for entry and exit points.
TradeSanta is the most advanced cloud-based cryptocurrency trading platform that lets you manage and trade assets across multiple exchanges. It's also a fully automated crypto trading platform with bots and many other features in the works. TradeSanta supports seven exchanges: Binance, BitFinex, Bittrex, HitBTC, Huobi, UPbit, and OKX.
TradeSanta Features:
Choose the trading strategy that fits your trading style and the current market, and our bot will handle the rest — whether you choose to take profit on each buy separately (Grid) or average the price across all orders(DCA).
Extra orders allow you to profit even when the market does not support your initial strategy. If the price moves in the opposite direction, the Santa trading bot places additional orders to buy (or sell) more coins at the current price, allowing you to take profits with a smaller price change in the future.
Long And Short Strategies
TradeSanta allows you to launch long and short strategy automated trading bots simultaneously. TradeSanta's cryptocurrency bots will cover any price change.
TradeSanta's technical indicators help the crypto bot enter the market at the right time. In TradeSanta, users can choose between RSI, MACD, and Bollinger Bands or use all three filters at once.
Set a Stop Loss to exit the position if the trade goes against your strategy.
Benefits
Highly user-intuitive. Even first-time traders will find TradeSanta easy to use.
Cutting-edge algorithmic trading technology.
Reliable and secure.
Real-time notification system to keep you updated.
Buy or sell cryptocurrencies across multiple exchanges on one platform.
Round-the-clock customer service via email and Telegram.
2. Cryptohopper
Cryptohopper is an excellent crypto bot that works with over 100 tokens listed on 13 exchanges and has thousands of users. Experts can create and test their own auto trading strategies, while beginners can find a wealth of educational resources, templates, and signals for trading. Cryptohopper's deep toolbox and user-friendly interface make it a great all-around choice.
Cryptohopper offers a cloud-based platform that can manage numerous crypto positions on eight major cryptos (officially supported) exchanges: KuCoin, Binance, Coinbase Pro, Bittrex, Poloniex, Kraken, Huobi, Bitfinex.
Although this crypto app is simple to set up and use, it also includes a comprehensive range of trading features, including:
Trailing stop-loss
Trailing stop-buy
Dollar-Cost Averaging
Shorting
Trailing stop-short
Backtesting
Benefits
Doesn't charge a monthly fee in addition to their commissions.
Access to high-level analysis tools.
Advanced security features in a comprehensive mobile app.
3. 3Commas
3Commas is a cryptocurrency trading platform that provides beginners and experienced traders with the tools they need to succeed. Its library of bots and algorithms, as well as its educational resources and dashboard for tracking your different exchanges, can give you a significant advantage.
3Commas offers a variety of low-cost plans and an easy-to-use trading platform where you can set and tweak your trading parameters.
Features
Manual trading with Smart Trade
Smart trade from start to finish
Concurrent Take Profit and Stop Loss
Stop Loss timeout
Sell by multiple targets
Charts and Signals from TradingView
Take Profit and Stop Loss Trailing feature
Smart Cover
Benefits
Comprehensive education and learning resources.
Affordable and scalable pricing plans for every trader.
User-friendly dashboard.
Accessible library of crypto bots.
Conclusion
The best cryptocurrency apps in 2021 are subject to your interpretation. With top crypto trading platforms, buying and selling crypto assets via bank account transfers of fiat currency is available. You can also earn interest while locking your coins in cold storage. The most common cryptocurrency apps are exchange platforms, but more advanced trading platforms with additional features are rising. Start investing today with TradeSanta.
FAQ
Which app is best for crypto trading?
Binance is the most popular and one of the best cryptocurrency exchanges available today. Their mobile app for iOS and Android is equally significant. With Cash App, you can manage your personal finance and digital assets, including Bitcoin, stocks, ETFs, on just one account. With TradeSanta, you can start trading crypto assets across multiple exchanges. So the idea of the best cryptocurrency apps entirely depends on how or what you are buying and selling.
What app sells the most crypto?
According to Coinmarketcap, Binance sells the most crypto daily, followed by Coinbase.
Which crypto app has the lowest fees?
Binance. With their 0.1%, the fees are likely to be the lowest on the market. It gets even cheaper if you pay your trading fees in their cryptocurrency, BNB.
What are the safest cryptocurrency exchanges?
Although Binance and Coinbase are safe and secure, the latter has a stronger position in the US market having a license and having a successful IPO on their hands, plus recent government action against Binance in certain countries make some traders consider other platforms.